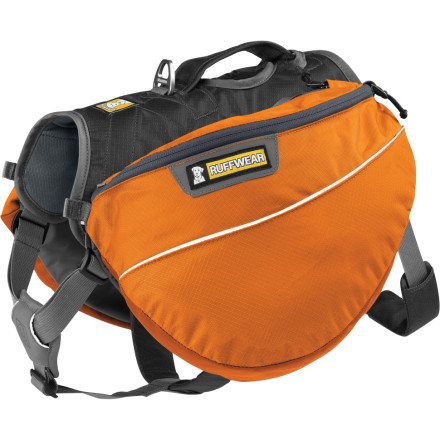 Colors

Detail Images
Your dog loves to keep you company on day hikes, and she's even more excited if she feels like she has a job to do. Stash some treats, a collapsible bowl, and a leash or some small water bottles inside saddlebags of the Ruffwear Approach Pack and let your pooch haul her own supplies. The Approach features a harness designed for comfort and stability under light loads, and the saddlebags have a low, streamlined shape that complements your dog's balance. A padded assistance handle gives you a quick way to lift your pooch over otherwise-insurmountable obstacles, and Ruffwear's designers were careful not to include any excessive straps or attachments that might hang up in bushes or low-hanging branches. This Ruffwear dog pack comes in five different sizes so it'll fit securely on pint-sized pups or burly beasts.
Durable nylon material withstands season after season of running, hiking, rolling, and other dog-like activities
Web Master Harness uses an adjustable system of wide, synthetic webbing that feels comfortable around the chest and haunches
Web Master Harness and attached saddlebags were designed to provide a balanced weight distribution so your pooch will feel balanced on her feet
Padded Assistance Handle makes it easy to grab this pack and help your dog over large obstacles or lift her into a vehicle
Single-piece, v-ring leash attachment point makes it easy to secure a leash to this pack when necessary
Other features include stash pockets, coated zippers, and external gear loops
Reflective trim improves visibility at in low-light situations like dusk or dawn
Ruffwear recommends your dog carry no more than 25-30% of his or her body weight in the pack. If your dog is new to packs, start with a light load and slowly work up to heavier loads as he/she gets used to the extra weight.
Very impressed!
Familiarity:

I've put it through the wringer
We bought this pack for our Goldendoodle Teddy and have been very impressed with the versatility and quality of the pack. Teddy is unusually tall 80lb doodle and medium fits him perfectly. He has carried his provisions on many 8+ hour hikes and seems to have no issues with comfort while wearing the pack. The material and build quality is at a level you would see in an Osprey pack. Very impressive product!
Gary P.
Great purchase!
Familiarity:

I've used it once or twice and have initial impressions
My dog Creed just used the pack today hiking, after a few warm ups through the neighborhood to get used to it. He did great! He did not seem to mind the pack one bit.
The pack is very nice quality. Each bag has two spaces. One very large pocket and another smaller one that you can fit little items in. The straps are generous in length and are covered with a light padding to avoid rubbing. The straps stay secure and it appears you only need to adjust once to fit, then you can leave them be. It takes a little bit of time to fit to the dog but mainly if they are squirmy. Once it's set, you just need to get their right paw and head through and you're on your way. The orange is a nice bright color and easy to see. I would recommend this item for sure. A few sidenotes: it is not waterproof. Creed dipped up to his belly in the water today and it got wet but dried relatively fast. I knew it was not waterproof so placed nothing in his bags that would be hurt if wet. Also, there is a loop under the left saddle bag that you place the strap through so the bag doesn't bounce and flop around. The tiny loop has its own clip which I did not notice the 4 times I put it on him. Now I can put the pack on him, snap it all in place THEN worry about getting the strap through the loop (hard to explain but if you buy it you will see what I mean! It makes it easier!)
Also I believe the other 2 bags in this line come with collabsible water bottles and this bag does not :( however, I went to a local sporting good store and bought two 1liter collapsible bottles and they fit great, one on each side for balance, and they sorta mold to his body.
Lastly....sizing....Creed measures at 32" girth and weighs 68 lbs. This puts him right in the middle of a M and a L/XL. Some reviews suggested sizing up, so I did. I wish I had went with the M instead. I have a significant amount of excess strap that luckily can be hidden away within the light padding that covers a part of each strap. Otherwise the strap would be dragging around. I also question whether the saddle bags are too large for his size. So be sure to look at sizing guide.
Hope this review is helpful.
Happy & safe hiking to you and yours!
Nicole G.
Trail Dog!
Familiarity:

I've used it several times
I love this thing. Saves space in my pack that used to be filled with dog food and having our super energetic dog carry some weight tires her out (at least a LITTLE bit).
Amy Skowronski
Another Great Pack From Ruffwear
Familiarity:

I've used it several times
This pack is a great day hiker pack for the ol pup. Did take a bit of adjusting to get the pack on there alright. One thing I did notice is the size scaling is a bit different from the website to the card on the actual pack. Just make sure to double check you are buying the right size. :) Happy Hiking!
Evan O
Nice pack with padding on the straps for extra cushion. Seems to fit well even with the differences in the sizing that comes on the pack and what is on the website.
Michael Lancianese
High quality
Familiarity:

I've used it several times
This pack is perfect! For a long time we had a cheap knock-off pack for my GSD. Unfortunately, the quality was lacking and it refused to stay in place. It needed constant adjusting and did not seem to be very comfortable for my dog. We finally picked up the Ruffwear pack and it is worth every penny. It is clearly constructed much better and with quality materials. It has a lot more structure and stays in place. Once adjusted, the straps did not loosen up, and my dog sure appreciates the padding on the straps! My dog is 64 lbs with a pretty slim/lanky build and a medium fits her great. The size chart worked well for us, so I would recommend measuring your dog before ordering. Overall we are super impressed with the quality of this pack, and my dog seems to like it a lot better as well.
Liat Ankonina
After some adjusting, works well
Finally got the chance to take this for a spin with our adventure pup. The back sizing strap seems to come loose and needed adjusting several times. Other than that though, fit well once adjusted and she was happy with it. We had a good time hiking the Guadalupe River in Texas!
Richard C.
Great pack!
Familiarity:

I returned this product before using it
I ordered the Approach and the Palisades dog packs as I wasn't sure which one would be best. I am actually returning the Approach bag, but I have to say it's not because it isn't a great bag.

Things I love about the Approach:
*The Approach is a VERY beautiful color; I'm super in love with it.
*It holds a ton of stuff, (about the same volume as the Palisades)
*The same sturdy harness system as the Palisades
*Great quality and construction
*Nice reflective piping and two storage sections per bag
*Great fit and lots of adjustability

The only reason I chose the Palisades dog bag over the Approach:
1) I super love that you can remove the bags from the harness (The bags don't come off the Approach.)

2) I live in the PNW, where it rains literally 8 months out of the year, so the water proof zippers are a nice bonus, (though ruffwear does make a nice waterproof cover you can put over the pack.)

3) I love that the Palisades has an extra interior pouch that you can put the water pouches in (The Approach does not come with two water pouches for your pooch like the Palasades does.)

Honestly, I think both the Palisades and the Approach packs are really great bags and you can't go wrong with either of them. If the Approach bag had removable bags from the harness, I actually would have chose it over the Approach, as I reeeally reeeally do love the color of the Approach bag.

I purchased the size medium and small to try on my 50 lb pit/boxer/something mix as he's sort of between sizes being a leggy, skinny boy. The small fit, but didn't leave any room for my two year old to grow as the stomach straps were maxed out. The medium allowed for ample room for him to get fatter, or possibly fill out more, (he's two.) I kept the size medium.
Melissa C.
Unanswered Question
What would be an appropriate size for a 20-22 lb. Boston Terrier, with a 22-23 inch chest girth? I am assuming a small, unless the sizes run small. The manufacturer suggests a small. It is hard because he is borderline between 2 sizes.


Eric R.
Not much to add. Great pack. Medium fits my 55 lb pit mix. Also, here's a pic because he's pretty awesome.
Patrick Coleman
Pull their own weight!
Familiarity:

I've used it several times
I purchased this pack for my pup for hiking, skiing and backpacking trips. We put it to good use on a 3 day backpacking trip where Mika was able to carry her own food. It carried about 6 cups of food on each side. Mika is a 50 lb, 26 in girth, and the size Medium fits her great! The pack stayed put even after a swim and a roll in the grass. When we loaded up her pack for the hike out, she sat next to it until I put the pack on her - she was so excited to wear it again!
Sara Gemmell
My friend's boxer loves this pack. The dog now packs in and out all of his own food and water.
mp
Dog mule status!
Familiarity:

I've used it once or twice and have initial impressions
The ruffware pack that we bought for our dog was generally wonderful. We took her on a 7 mile in 5.5 mile out backpacking trip. She carried about 5 lbs. and had no problems with it. The pack fits her well and distributes the weight evenly. It is nice so she can carry her own food and water, if necessary, freeing up space/weight in our packs for other items. It also has a nice loop for the leash as we were coming back to population and wanted to keep her close. There is also a nice handle to help her over large logs or debris that she would not be able to clear by herself. The one downside is the straps under her front legs seemed to rub a little. But she was no worse for ware, but I will be cautious the next time we go that distance or farther. All in all it was a great purchase and was exactly what we expected it to be.

Jenn W
In the Cohutta Wilderness
This was only the second time out with his pack. He gets excited when I pull it out to put it on him, he knows that we're going on a hike.
roy F.
Great Doggie Pack
Familiarity:

I've put it through the wringer
I bought two of these for my dog, Shiloh. One a small and a medium she grew from the small into the medium and it is the only pack she really likes to wear. It synches down well and can hold up to 5 days worth of kibble(she uses kibble and freeze dried patties) The only downside of this pack is I have to make sure to pack everything really well because I can't take off the bags when she goes for an inpromptu swim on trail.
Catherine F.
Great backpack
Familiarity:

I've used it several times
We love using this for the dog! It is easy to use. Our dog carries hours own treats and water on hikes now.
MoN!c@
No more hauling his gear!
Familiarity:

I've put it through the wringer
I love this pack and so does Potter! I got this for my roommate's dog so that he could haul his own food and water on our climbing trips. There is plenty of room for a day or two's worth of water, food, and treats. The pack also acts like a harness with a great leash point and carry handle just in case your pup needs help over something, or if you need to hold on to them tightly.

Please contact me directly if you have any questions about this pack or any other dog gear on our site.
Trey Schanzenbach