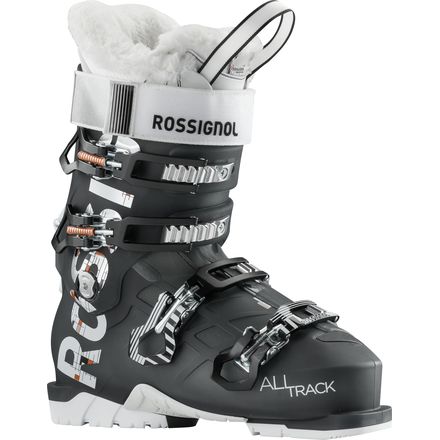 Colors
First tracks, last tracks, and AllTracks.
Waking up early and being first in line when the lifts open is awesome, but having to steer clear of certain zones or take an early pit stop because your feet hurt puts a cramp in your morning. There'll be no stopping or shying away with Rossignol's AllTrack Pro 100 Women's Ski Boot, a warm and comfortable boot that truly embraces the do-it-all versatility that all-mountain boots are meant to deliver. Lasted at a comfortable but precise 100mm and built to deliver a moderate 100 flex, the AllTrack caters to confident skiers who split their time between groomers, powder, and trees, even if they're not necessarily trying to set land speed records while they're doing it. Rossignol made the shell with its Sensor Grid foot-mapping technology, so the fit is modeled on real-life feet, not the platonic ideal of what a foot should look like. The AllTrack also has a wider, lower cuff designed to follow a women-specific calf shape, so you don't have to worry about being forced into an excessively aggressive position or dealing with bruised calves after a long day of skiing powder.
Combined with the heat-moldable women's OptiSensor 3D liner, the AllTrack's thoughtful design provides a wonderfully comfortable and efficient fit, so you can enjoy immediate power transfer and edge control without worrying about your foot slopping around, getting blisters, or feeling uncomfortable. The liner is also outfitted with Thinsulate Platinum insulation to keep your toes from turning into ice blocks. True to its all-mountain design, the AllTrack also features Posi-Block ski/hike technology, which allows you to switch between a locked-down cuff for bomber descending and a freely rotating cuff for easy parking lot strolls and above-the-lift hikes.

Sensor Grid shell
Women's OptiSensor 3D liner
Thinsulate Platinum insulation
Posi-Block ski/hike technology
Women-specific cuff
Available WTR soles
Awesome resort boots
Familiarity:

I've put it through the wringer
These have been my resort boots for a couple seasons now and I love them! I wear a 6.5 usually and have these in a 22.5.
They provide stiffness and performance without the pain-- my feet are generally super comfortable all day. The walk mode is nice for quick bootpacks with a little extra range of motion. I usually run really cold but these boots keep my feet nice and toasty and the layer of fur is a nice touch!
Lily Krass
Rossignol Alltrack Pro 100
Just a fair warning, before I get started, I have a ridiculously small foot that is wide as hell and I have a narrow heel with a normal size calf. I am also 120lbs to put in context how the flex feels to me. I also like to ski powder but enjoy anything else the mountain has to offer except for jumping off cliffs.

This boot is a solid fit for wide feet. Lots of volume in the toe box, no upper pressure on the top of foot & it has low to medium arch support with the current footbed. The last says 100 but feels like a 102. IMO I love it, but be aware that if you don't have a wide foot to fill up that volume your feet will get cold.

The liner is stock, nothing fancy here other than the crazy amounts of fuzz / fur at the top of the boot making me feel like a diva. The fit around the ankle was a bit loose for me causing my foot to pull up which I would have to pay $5 to get a pickle pad from a boot fitter, not a big deal. But maybe better liners would give a more performance fit.

The flex says 100, but compared to other brands it feels more like an 85 at best. I would say this is a solid boot for any lady who is on the border between intermediate / expert. It will charge when you need it to but you'll still get the comfort you desire with the wider last.

For me, I had to return, BUT I'm trying on the 110 because I think it will have the flex & performance I desire.
LIZ KUZ