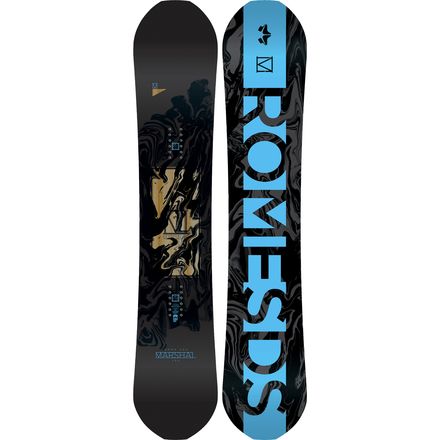 There's a new sheriff in town.
No terrain can evade the wrath of the all-mountain slaying Rome Marshal Snowboard. New for this season, the Marshal is a no-nonsense deck that delivers the stability, response, and power needed to do everything from carving up groomers and pointing down steeps to tweaking method grabs and spraying powder.
The flat profile offers the edge hold and stability needed when carving groomed runs at high speeds and negotiating technical terrain, while keeping it floaty enough for the deep days. Its responsive and lively FiveGnar sidecut helps you weave through trees and explode out of pow slashes. There's also a TurboRod Carbon Single Barrel running down the middle for popping big ollies, and a fast SinterSpeed base for going all-out on every run.
New board designed for conquering the entire mountain
Flat profile is stable, grippy, and forgiving
Directional twin shape adds a bit of float and drive
FiveGnar sidecut increases response and liveliness
Blend of five different woods offers light and lively feel
Mid-stiff flex is powerful and stable at speed
Carbon Single barrel adds pop without extra stifness
SinterStrong sidewalls can take a beating
A new shape constructed for exploring new zones, stomping new tricks and expanding your snowboard horizons. Flat cambered for the edge hold and float you crave, while its flex pattern provides the stability for both deep landings and high speeds. With enough tech under the hood to make an IT department jealous, the Marshal is the new go to for all-terrain agility.
Brad G