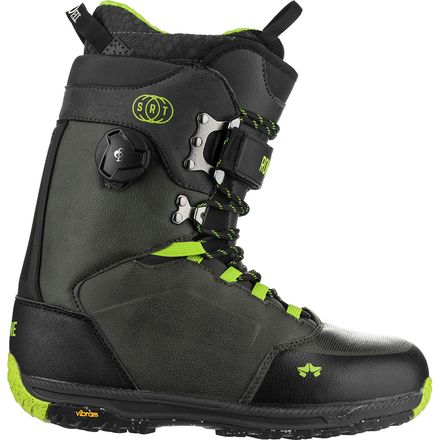 Colors

Detail Images
Beefed up for big mountain exploits.
Building on the proven freestyle-favorite Libertine boot, Rome gave it free-ride worthy upgrades to satisfy the needs of riders seeking untouched lines and gnarly terrain. With a stiffer flex, response-enhancing Boa HeelLock Harness, and a burly Vibram outsole, the Libertine SRT is ready to join you on your wildest freeride missions.
The new PowerStay strap gives you customizable control over the boot's flex. Cinch it down when you need maximum support and response for steep, exposed lines, or leave it a little looser when surfing low-angle powder. Delivering seamless response when navigating technical terrain, the Boa HeelLock Harness prevents heel lift from sapping your turning power and tiring out your legs. And since you'll be venturing beyond the resort boundaries with this boot, Rome hooked it up with an aggressive Vibram IceTrek.2 for reliable grip on icy hikes to the peak.
Upgraded tech fit for hard-charging freeride fiends
Tunable responsive ranges from medium to medium-stiff flex
Boa HeelLock Harness prevents heel lift from sapping response
Traditional laces + PowerStay Strap for greater support
Vibram IceTrek.2 sole provides aggressive grip for hiking
Pro F.I.T. liner with dual-density, heat-moldable foam
Pro F.I.T. Foambed for plush support and cushioning
Direct-print rubber toe prevents toe strap slippage
Sized a half size down from my normal shoe size 10.5-10 and the boots were too small Liked the boot overall but the do not have a 10.5 now
Cameron B.
I have narrow ankles and feet. Will these boots be secure enough to keep my ankle locked in? And should I size up or down?
Luke
I also have narrow ankles and ride the Rome Guide boot which has a similar heel harness. I suggest going a half size down from your normal shoe size for the best fit.
Brad G
Initial Impressions
Familiarity:

I've used it once or twice and have initial impressions
Very few reviews out there for this boot, so even though I've only had 1 day on them I thought I'd report.

I downsized a lot for this boot, I had been riding 10.5/11 for years like my normal shoe size, but when I actually measured my feet the charts said size 9. So I did go to a size 9 for this boot, and I was astounded by how easy the boots are to put on and take off. Far faster than any boot I've ever had.

But I think part of the reason it's so easy on/off is my main complaint about the boot, and it's that the liner has no internal lacing system - just some velcro that holds the liner tongue into the liner cuff. The suggestion that the Boa heel harness is a liner locking system is absurd, you can clearly see the Boa cables on the outside of the tongue.

That said this boot actually rode good. First day out, while the boot was pretty snug from downsizing, I rode 6 hours before my feet hurting became an issue. No heat molding or anything. It wasn't quite as responsive/stiff as I was expecting, but it wasn't bad. It was hard for me to get my heel locked down, but cranking on the Boa and finding the right lacing configuration got it pretty solid. Not great but workable. I took a stiff freeride board and a noodly rocker board out that day and the boot was pretty fun on both of them. Even though the boot felt pretty soft/not locked down to me while walking around, I have no complaints about the performance once locked into bindings. They charged well on my freeride board and buttered well on my noodle. Really just felt like a good solid boot, I wasn't thinking about them at all when I was riding so they must have been doing their job.

I would guess durability is going to be good. There's not a lot that could go wrong on this boot, everything seems solid but obviously I just got them so I don't really know. The sole is pretty nice, I was slipping in the icy parking lot a little bit but I like how flat it is to get a lot of boot to binding contact. Seems rugged.

Long story short - so comfortable. Really easy to take on/off. I wish there was a liner lacing system as I think it would make it much easier to lock heel down. Seems a little softer than I expected but rides well and I'm hoping they won't soften up much with age. I don't agree with the product description of it as a hard-charging freeride boot, I think it holds its own well charging but is probably more of an aggressive all-mountain boot. The flex works well for me since I'll ride in different styles depending on conditions, but it's simply not a super stiff boot. Will update as i get more days on them.
James P.