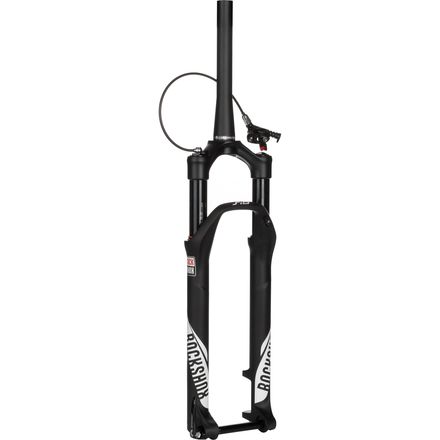 Colors

Detail Images
Sharp.
The RockShox SID XX Solo Air 100 (51mm Offset) 29in Fork trades out it's top-tier World Cup cousin's single-piece carbon steerer and crown for a more price-conscious yet admirably functional alloy steerer and crown, while keeping the Power Bulge bushing reinforcement for stiff, responsive handling. This particular model adds a bit of rake, which decreases the bike's trail to make low-speed finesse sections more manageable. The result is less "dead" space between the steering axis and the hub, which offsets the floppy, low-speed steering issues that arise from the longer trails produced by today's taller wheels and slack geometries. Handling stays 26er-sharp at all speeds, whether climbing, shredding, or cleaning switchbacks and tricky terrain.
Despite the change in materials, the SID XX includes the same top-end, race-ready Motion Control DNA damping system found in the World Cup model. Fighting off gravity and wallow is in this system's DNA, and it uses external rebound and incorporates separate circuits for low- and high-speed compression. The damping is remotely adjustable with the included XLoc remote, so you can dial it for high-riding sensitivity over consecutive bumps or larger impacts to maintain speed across flats and descents and protect the gap you worked so hard to open up on the previous climb.
The Solo Air spring is also easy to tune with a single Schrader valve, which adjusts both the negative and positive chambers at the same time, and RockShox's Bottomless Tokens, which alter the chamber's effective volume to dial in the compression curve and meet individual ramp-up preferences. Pairing all this with a Rapid Recovery valve that rebounds quickly after full impacts to prep for the next hit means you'll stay in control across root-latticed climbs and rocky descents.
A race-worthy cross-country fork
Offset decreases trail for snappy handling
Alloy steerer tube and reinforced lower legs for stiff control
Motion Control DNA damper dials in the lockout levels
Dual Position Air spring adjusts with Bottomless Tokens
Includes XLoc remote