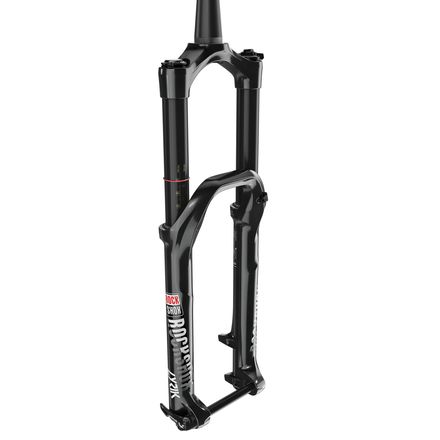 RockShoxLyrik RCT3 DebonAir 150 Boost Fork (51mm Offset) - 29/27.5+ - 2018 
View Larger Image
Colors
Go aggro.
Push your all-mountain riding to aggressive realms with the unflappable support of the RockShox Lyrik RCT3 DebonAir 150 Boost (51mm Offset) 29/27.5+ Fork. From lift-accessed downhills to timed enduro stages, the Lyrik RCT3 delivers precise tracking with its stout 35-millimeter stanchions preventing torsional deflection. Beefed up over its Pike sibling with thicker stanchion walls, the Lyrik RCT3 is RockShox's premiere fork for aggressive styles of all-mountain riding and enduro racing. For 2018, it's been revised with a DebonAir spring and Charger 2 damper improving its overall suppleness, small-bump traction, and mid-stroke support.
As the go-to choice in RockShox's line for longer travel applications and aggressive riding styles, the Lyrik is the stiffest fork this side of a dual-crown Boxxer used exclusively on downhill bikes. The secret to its rock-solid feel lies in 35-millimeter stanchions with thicker walls versus what you'd find with a Pike, meaning it tracks more precisely when you're thrashing the living hell out of this fork on downhills with intimidating drops and huge rocks.
Newly introduced for 2018, the Charger 2 damper improves the fork's small-bump sensitivity, which equates to better traction when you're riding over sections of jarring roots and rocks. The new damper widens the range of low-speed compression tuning, giving you heightened levels of adjustment to your preferred riding style. Also, it's easier than ever to turn the lever of the 3-position adjust knob, meaning it now works with RockShox's OneLoc handlebar remote (sold separately) for quickly locking the fork during racing scenarios.
Another brand new addition, the DebonAir spring is borrowed from RockShox's Deluxe and Super Deluxe rear shocks. This technology increases the negative air spring volume of the fork, lending higher levels of suppleness off-the-top, which in turn makes it all the more sensitive to bumps and small imperfections in terrain. This DebonAir spring also increases its mid-stroke support to prevent you from blowing through excess travel.

Since it's made exclusively for the newest Boost axle standards, the Lyrik now clears tires up to 2.8 inches when you're riding it on a 29er. If you desire a long-travel fork for your 27.5+ rig, you'll find it clears monstrous 3-inch tires for plentiful traction and bump compliance. Another design feature inherent to this particular fork, the 51-millimeter offset reduces the "dead space" between the steering axis and hub. This offset negates the sluggish handling at low speeds inherent to many 29ers with slacker geometries.
RockShox's stiffest enduro and all-mountain fork
3-position adjust: Open, Pedal, and Firm settings
35mm stanchions with thicker walls for precise tracking
Charger 2 damper increases range of low-speed compression tuning
DebonAir spring enhances bump sensitivity and mid-stroke support
Boost axle spacing clears 29 x 2.8 and 27.5 x 3.0-inch tires
Torque Cap compatible for extra stiffness (not included)
OneLoc remote compatible (not included)