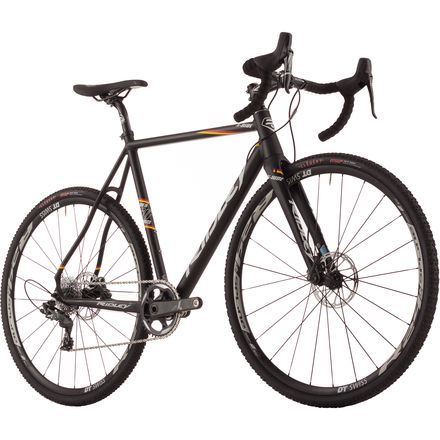 Colors

Detail Images
Harness your forces.
Falling leaves and scattered rainstorms mean one thing: it's cyclocross season. You spent last autumn clanging cowbells and cheering on your friends, and this year you're jumping into the fray with Ridley's X-Ride Force 1 Complete Cyclocross Bike. Aluminum frame builds at this price point usually come outfitted with more entry level components, but Ridley goes big and outfits this X-Ride with SRAM's Force 1 drivetrain and hydraulic brakes, which can be found gracing the machines of many a pro on the international circuit. Adding in DT Swiss wheels and Clement's renowned MXP tires, this bike arrives ready to tackle all the twisting grass fields, loose sandpits, and leaf-shrouded single track the local promoter can throw your way.
Ridley fashions the X-Ride from triple butted 7005-T6 alloy with seatstays carefully shaped to mop up energy-zapping vibrations out on the course. The Belgian brand also incorporates internal cable routing along the frame for crisp, clean lines that eliminate annoying cable pinches when grabbing the top tube to navigate a set of barriers or shouldering the bike for a long slog through the sand. Race-driven geometry paired with wide tire clearance means this bike is roaring to go fast, with ample clearance for mud-caked tires if the clouds roll in and you find yourself navigating a sloppy mess.
The X-Ride comes outfitted with an Oryx Disc carbon fiber fork for a plush ride and a stiff, responsive front end. This fork features a barely perceptible asymmetry that counters the torsional forces applied to the left fork leg during braking to reduce flex and promote a long fork life. You'll find stainless steel inserts in the dropouts that protect the carbon from damage, and a scuff plate affixed to the inner left fork leg to fend off errant discs during hurried wheel changes and prevent gouging or scratching.
A 'cross bike that's not afraid of abuse
Pairing classic 'cross geometry with light, durable aluminum
Asymmetrical carbon fork manages braking forces
Stainless steel inserts increase fork lifespan
Internal cable routing maintains clean lines
Single chainring simplifies gearing
Versatile tires are appropriate for a wide variety of terrain
is it possible to get this one with the X-Night frame instead?
M S
Tommy Liao
Solid. Raced mine about 10 times so far.
Familiarity:

I've put it through the wringer
Didn't give 5 stars because mine arrived in an unsatisfactory condition. Both brake rotors were not attached even finger tight. Additionally, the derailleur was way out of wack and needed serious adjustment. I should at the CC has a customer service agent that provided some direct assistance, but it was mostly just to make me feel better and didn't provide any real answers. Wait. That's not entirely true. They did prevent me from buying a 10-42 cassette by reminding me that I only had a medium cage rear mech. so that was useful.

One more odd thing about the bike... the front through axle hub is a 12mm which is a pretty unusual size. I had some new wheels built, and the hub was a 15mm so it didn't fit. One MORE thing... they say that the wheels are tubeless ready. While that may be true for the wheels, the MXP tires are NOT tubeless ready. There is another variant that is tubeless for the MXP, and that is not provided. I'm now running some verified tubeless ready tires and it seems to be holding fine so far. I was bummed that the MXPs didn't hold a bead though, thus necessitating new tires. One MORE, one more. I dropped on a carbon seat post and a race seat and I saved 9 whole ounces. That's the better part of a pound. Just sayin'.

Lastly, I really like the bike. I mean, I REALLy like the bike. I've put hundreds of trail / gravel / road miles (and 10 CX races) on it in the last month or so, and it is fantastic. Just remember all the nits when/if you purchase.
I'm 5'10.5" w/ 31" inseam. I got the 54" and it's a pretty good fit.
Demian B.
20 lbs with added Xpedo XMX24MC Pedals
Familiarity:

I've used it once or twice and have initial impressions
Solid bike for the money. I got the deal last week. After many hours of research this bike stood out for me. Great value for a well designed bike with geometry and mechanical parts designed by a very reputable bike builder.

I'm currently over weight and weigh 243 lbs. The wheel-set on this bike is rated for 240 lbs. So I'm a little heavy for the bike but I have confidence this bike is going to help me lose weight fast and help me get in shape.

Every time I see this bike I feel like going for a ride. I'm going for a ride in the morning.

Sure a carbon fiber frame may have been nicer and lighter but overall the bike is built just as well as most other high end carbon fiber framed bikes for a much lower price. I feel very satisfied with the deal.
Howard J.
What model year is this bike?
Anonymous
I was told its a 2017 frame set. The SRAM Force components may have been built in 2016 and sat on shelf till installed on bike build.
Howard J.
What is the maximum tire width clearance for this bike?
William Black
Did you get an answer...I want to know as well, also on the carbon frame???
John W.
I read the DT SWISS R24 Spline DB will effectively fit up to 40mm wide tires. Frame appears to have clearance.
Howard J.
I wouldnt go more than 40mm in the back. Theres a little more in the front
Grant L.
Gravel for your Travel
Familiarity:

I've put it through the wringer
From riding Trail / DH / XC for the past 25 years the Force 1 X-Ride is a responsive bike which handles it all. Have been adapting to the bike since June and have dialed most of it in. The Frame Sizing is larger-than most; it is a comfortable fit and have ridded the notion I could step down a size. Alot of it was my utilizing a new riding position, which has become more compact.

Gearing on this bike is ultra compact and depending the terrain can be altered to suit the course. Quiet. Stuff some moto-foam inside the lower cable-port and it becomes stealthy silent.

BSA BB is a huge plus, the Force 1 crankset is very smooth and stiff like the e*thirteen LG1r on a different bike. Rim / Tire package is great also - quick acting freehub and very wide range of tire pressure inside. The Clement Tires are excellent.

6ft - 185lbs - 31" inseam. 56cm Frameset

Happy to have made the decision and to be a CC Customer now.

Thanks to Scott Gartman for treating me to professional service, getting the bike readied for next-day shipping!
James J.
Good fun
Familiarity:

I've put it through the wringer
Bought this bike to help me ease into road biking. Have been an avid MTB guy for many years. So far, this bike fits the bill. Loving it! Getting into cyclocross too. Frame is a little big, but I can deal with it. Pay attention to the sizing chart. Got the 54cm frame on a recommendation from friends. I am 5'8" and some with 30" inseam.
Mark V.
Can you give me the stem size, crank arm size and handlebar width for the 56cm? I am 6' with a 33" inseam and ride a 58cm Scott road bike. I believe the 56 will fit based on what I have read but will also depend on the other measurements that I asked about. thank you
James B.
Im 184cm and had the 54cm 2009 X-Ride. Fits perfectly. Remember, crossbikes were usually bougth a bit smaller anyways and the 54cm CC size is similar to a 56cm CT. a 58 road bike is imho too big for you anyways.
M S
Both the tires and wheels are listed as tubeless ready. Is sealant the only thing needed to make this a tubeless bike?
Sandor D.
My new favorite bike in the stable
Familiarity:

I've put it through the wringer
I have never had a cross bike before but I am in love with my x-ride. It can easily go from technical single track to dirt pack roads to paved roads.
I live in an area where the single track is not particularly technical and spread out. This bikes makes it very fun to jump from park to park.
Sandor D.
Does this frame have a front derailleur hanger? Could it be converted to 2x? I couldn't see one in the images nor could I find any info regarding this. -Thanks
jeep_freek425516
that would defeat the purpose of this setup. get a different bike.
Demian B.
Two fairly precise questions I could not find answers for. In the 54 what length crank and width handlebar does this build use?
Sandor D.
Cranks on the 54 are 172.5. Handle bars are 42-compact (I think). I really don't know why CC doesn't list this type of basic info. I wanted to know these answers before I purchased as well.
Demian B.
Which Force 1 rear derailleur is on this bike? Is it the medium or long?
Geoff
Hey Geoff,

That is the Medium cage Force 1 derailleur. You can use up to a 36T cassette with that derailleur.

If you have any additional questions, fell free to reach out to me directly at 801-204-4688 or ekilbourn@competitivecyclist.com
Ed Kilbourn
Demian B.
Great CX Bike
Familiarity:

I've used it once or twice and have initial impressions
Sizing is large which is typical of Ridley, so pay attention to the seat tube length to base your size.
No detail is overlooked, from the group to the wheels. While the wheels are a bit on the heavy side, they are solid training wheels or even race wheels for the daring!
Please note that these bikes are cyclocross racing bikes; that is all ridley makes in the cross world, but this bike can easily double as a gravel bike.

Honestly this is probably the best bike purchase I have made in a few years right out of the box. OH and did I mention it comes tuned up and ready to ride right from the box? Thank's Competitive Cyclist!

Timothy B.
Really nice bike
Familiarity:

I've used it several times
I bought this bike shortly after Christmas and have about 150 miles of road riding so far and a little bit of gravel. I'm looking forward to putting the (great) MXB tires back on and doing some trail riding, but so far can really only comment on it as a commuter bike. The only change I've made so far was to put Gatorskin road tires on. The bike is light, responsive and the components seem flawless. As other people note: Ridley bikes to run large. I'm 5'8" with a 30" inseam, and bought the 52" bike. I really like the fit, but wouldn't want it any bigger. With other brands, I'm usually between a 52 and a 54.
Ben W.
what is the max tire size you could fit to the rear wheel? I'm looking for a bike that could take a 40C tire...
Corser
I read 40C is max effective width for the Spline 24db wheel-set.
Howard J.
Hello, does the frame have fender mounting holes?
Fede A
Best Answer
I see a rear mounting bracket above the tire, but can't tell if there is a support for the bottom bracket. I would also like to know if this bike can support fenders, back and front.
David Y.
Unanswered Question
What year is this model?

horn.andre1697664
What size is the large in cm? Thanks.
Brendan D.
Hi Brendan the large is the 56cm.
Scott Gartman