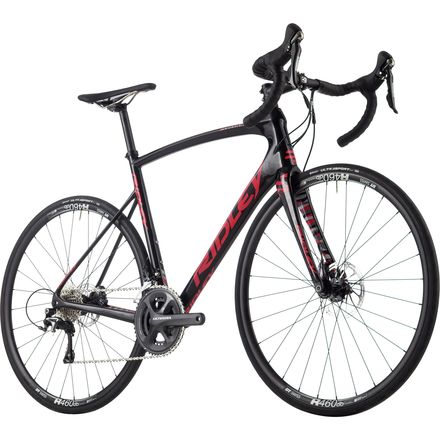 Colors

Detail Images
Expand your horizons.
The peloton is notoriously averse to change, so when disc brakes start to voluntarily appear in the top tiers of European racing, you know that the technology isn't just a marketing gimmick. As such, Ridley's 2017 Fenix SL Disc Ultegra Complete Bike brings all the Flanders-worthy elements we loved in the rim brake version and ups the braking modulation ante with Shimano's Ultegra hydraulic braking system. Add in our own custom colorway, the legendarily trustworthy Ultegra mechanical drivetrain, and stiff, responsive thru axles, and you have a race-ready ride that's as functional as it is prepared for the bike industry's future.
While this Fenix is more than capable in Flandrian sprint finishes and animated road race tactics, its combination of powerful disc brakes and artful layup of vibration devouring unidirectional carbon fibers expand its capabilities beyond buttery smooth pavement into roads (and paths) less traveled. In comparison to the super-stiff featherweight frames in Ridley's line that use up to 60-ton moduli, the Fenix SL utilizes a blend of 30-ton and 24-ton carbon to strike a balance between road-smoothing compliance, rigid efficiency, and race-worthy weight. Poorly graded gravel, cobbles, and other road hazards that would otherwise feel like jarring punches on a 60-ton carbon take on all the disagreeability of crosswalk paint—though the stiff, tapered head tube does provide responsive steering to dodge the unrideable obstacles.
Compared to the original Fenix, the Fenix Disc also has a slightly bigger wheelbase, measuring 2mm longer for a size medium. While this difference is more pronounced in the smallest sizes, even the bigger frames benefit from a more stable footprint for loose gravel and packed dirt roads. The adventure-minded cyclist will also appreciate the Disc model's increased tire clearance, allowing bigger tires for maximum plushness and reliability on everything from summer chipseal and sun-soaked logging roads to loose limestone gravel.
An endurance bike with expanded, all-terrain capabilities
Endurance geometry blends comfort with responsiveness
Carbon construction balances stiffness and compliance
Beefy bottom bracket shell transfers power efficiently
Responsive tapered head tube tracks confidently
Hydraulic disc brakes increase stopping power
Ultegra drivetrain delivers precise, reliable gear shifts
Special colorway specific to Competitive Cyclist
Ridley Fenix SL Disc
Familiarity:

I've used it several times
Incredible bike. Very smooth and comfortable. Beautiful paint job. The bike climbs better than my Scott Addict and feels better going downhill. My Fenix has a 50-34 crank, 10-32 cassette, medium cage rear derailleur. The 50-10 has higher gear inches than a 53-11. Great for top end. Love the Ultegra and disc brakes. The bottom bracket is stiffer than my '14 Noah. This is a very impressive bike. Glad I bought it.
Steve J.
I honestly can't fault this bike. The quality of frame construction is incredible, the paint is absolutely flawless (and looks very fetching in real life), the ride quality is sublime, and the whole bike is oozing with common sense. The biggest impression I got while riding the Fenix SL disc was that Ridley knows how to make really, REALLY smart bikes. They didn't use any silly axle standards, integrated/proprietary cockpit 'solutions', and they didn't abandon everything in the same of light/aero. This bike is simply very comfortable, very stiff under power, and presents incredible value. I would take this bike over a Dogma F10, especially when you consider value. Of course, this takes into account the fact that the Fenix SL is much more reigned-in in terms of handling (they're not really comparable bikes), but the point stands. The Fenix SL is the 'buyers-remorse-proof' bike. For the same money you'll spend on the aforementioned Pinarello (or Factor, or Wilier, or Bianchi), you can have a Fenix SL with a better build kit, that will ride better, and cost you less.

Feel free to contact me directly at jdraper@backcountry.com if you have any questions!
Joe Draper
Just can't get enough
Familiarity:

I've used it several times
I've had this bike for about a month now and am having a blast. What happens after one ride is, I'm starting to plan my next one. The bike
is light and fast, and feels super-sturdy on downhills. I particularly enjoy climbing, and the Fenix is great for that. This is the first set of disc brakes I've had on a bike and they make a huge difference to my braking ability and thus confidence. I have yet to try putting on 30 mm tires in order to ride on gravel, but it's great knowing that I've got that option. Overall, for the price-point, I'd give this bike my highest recommendation.
Mitchell G.
Is the ultegra derailleur on this bike the short or the long version?
Ryan W.
Steve J.
Fantastic! My Audax Bike!
Familiarity:

I've used it several times
This is my 2nd Ridley from competitive cyclist. 1st one is Noah w/ Di2 & Mercury M5, vert fast bike and I love it. Now having tried my new Ridley Fenix SL Disc with couple of modifications:

1. Replaced the wheels to Giant SLR1 w/ Pro One Tubeless 25mm (much lighter and stiffer than stock)

2. Replaced brakes and rotors to ultegra



This bike is amazingly fast!!! I weighted it at 7.7kg (no pedals). Not as stiff as Noah but its really good!!!
David A.
Get this bike
Familiarity:

I've used it several times
I picked up the Ridley Fenix SL Disk to replace my 20 year old Trek 5500 (Greg Lemond's tour bike). There has indeed been a lot of progress made in bike design over the last 20 years.

The Ridley is a really fantastic bike, and quite frankly, at this sale price, it's an incredible deal. I was nervous purchasing this bike online, not being able to test the sizing. I read that these run large. However, the medium fits me perfectly. I'm not a large man, 5'9", but I have a long body and long arms and I like to be stretched out a bit when I ride to flatten my back. The medium fills the bill for that.

What is so great about this bike? Well, first off, it really just goes. Sometimes I feel like the power transfer is so wonderful it's like it has an electric motor. It accelerate and climbs really well. I honestly didn't think my old bike was that bad until I got on the Ridley.

Secondly, the handling is just perfect. Today I took the Ridley down a long bumpy tight decent, and the steering was rock steady, even over the bumps. And with the disk brakes, which are so linear and powerful it fills you with confidence. I've always liked descending fast, and frankly, I'm pretty good at it. But the Ridley takes it to a new level.

Third, the bike is really comfortable, soaking up the bumps. It's crazy, because it's so stiff in transferring power to the ground, but at the same time, it soaks up the rough stuff really well. There must be a lot of engineering behind how they designed this bike, but I can tell you, it really works. Of course, this helps my descending fun too.

Also, the bike actually looks very cool to me. I was hesitant getting a black bike, but the Ridley logos and all the accents inside the forks and stays really looks quite good.

On the bad side, for me at least, the seat is an implement of torture. Even though it doesn't look that narrow, it somehow misses my sits bones altogether. Also, the bike could come with nicer wheels, but they're not that bad. At least they're tubeless ready rims, and they can easily be replaced later on.

What else can I say. I don't know how many of these Competitive Cyclist has left, but if this is in your budget, grab one of these bikes. You won't be sorry you did.
jon111137437
wow, just, wow!
Familiarity:

I've used it once or twice and have initial impressions
Took my inagural ride today and I must say Im impressed.

First let me say that backcountry / competitive cyclist? did a great job. Made it to my house in Oregon from Utah in 3 business days and arrived very well packaged. All I had to do was install the wheels and handle bars. Came with all the Ridley documents and a thorough assembly checklist from competitive cyclist. When I say checklist I mean a 42 point list of all the things you would expect from a proper, professional, build. everything is perfectly aligned, and properly torqued. Its the kind of thing that's very reassuring to see especially when buying a bike online.
Speaking of buying online, Ridleys run stretched out! They have LONG TOP TUBES. Believe the reviews when they say you might want to size down. This Fenix is replacing my Ridley Orion so I already had experience with the brand. I'm 5ft 6.75 inches on a good day with a 31 inch inseam. Most brands say I'm a small or even medium frame. Ridley its definitely extra small.
Now the bike. For 2600 bucks you're getting full ultegra kit, shimano hydros, and a bad a** frame. This is a lot of bicycle for the cash, even with the kinda clunky stock wheelset. Lets be honest if you're a wanna be racer, weight weenie like me... you're probably going to replace the wheels anyway. For the majority of folks these wheels are fine. Mine are DT Swiss rims with Formula hubs, they weight about 1850g. The bike is great just the way it is, but with a hand spun 1500g set o' hoops this thing would be like having a time traveling, flying, DeLorean.
Clearly from reading the other reviews there are slight variations on what's being shipped out. Mine came stock with 25mm contis, I'll probably switch to 28s. Mine is apparently the climbing version because it came with a 10-32 cassette; nice. Spinning is winning!
How does it ride? this is a stiff, comfortable bike. Its more comfortable than my orion due to the compliant rear end (seat stay configuration), and stiffer than my orion due to the carbon layup, thru axles, and bottom bracket. It's very comfortable on a medium length ride (50 miles) but still jumps when you put the hammer down. Would a Specialized Roubaix or Trek be more comfortable with their head set spring, and iso decoupler thingy, maybe. But you'd be ridding a specialized, or trek, along with everyone else, and their mom. The modern tapered head tube makes the bike feel nimble but not twitchy. It enters a turn with a little bit of an effort but once in and copping a lean it goes through the apex like its on rails. With this handling and excellent braking descending is a hoot.
This is just a great bike. Made by a Belgian company with racing pedigree. Sold by some folks who clearly know what they are doing.
It was a little over priced for the competition when it first came out, but at this price do yourself a favor and buy one.
Any one interested in a well loved Orion? :-)
john B.
Disc Road
Familiarity:

I've put it through the wringer
I love that it comes stock with a 28c tire. I experimented with 25c tires years ago and swore I would never go back to 23c, I wouldn't ride them if they were free. The 28c tire as a stock tire, with plenty of clearance really sends the message that this bike is ready to incorporate a dirt road or two into your loop, and frankly I like that option. This is far from a gravel bike though but fits nicely into the endurance road category. I feel like Ridley is ahead of the game here, through axle disc, flat mount brakes, and 28c tires stock, I am willing to bet it will be another year or two before some of the other bikes in this category are coming with this setup, but it will happen. I would buy this bike all over again too.
Ridley's tend to run long, so pay close attention to the numbers. I typically ride a 54cm frame from the big red S and felt right at home on an XS
Forrest
I'm new to biking. I did some research and bought this bike. It's sweet to ride and the friends I ride with say it makes me look like I've been riding for years. I have disc brakes on my mountain bike and wanted them on a road bike. Excellent.
Mack
great all around roadie
Familiarity:

I've put it through the wringer
The Fenix replaced one of my favorite bikes of all time, the Ridley Excaliber. I was a little worried it wouldn't live up to the predecessor but I was really pleased when I got my new Fenix. It's really a comfortable bike and probably ideal for 80% of road riders out there. I have it set up with ultegra and been very impressed with what a great bike it turned out to be especially considering the cost. It's a competitive bike but if you a really serious racer I think you'll find the bottom bracket a little soft/flexy when in a high speed sprint and that's really the only downfall in my opinion. Feel free to contact me with questions on builds or specifics on the frame. they run pretty big and at 5'7" I ride an XS and can actually ride an XXS if I want to get really aggressive
Kyle Br
This is one of my favorite bikes of the year so far - Hard to beat this build and price.
Great bike for endurance rides or the 60-minute morning ride. The High Modulus carbon keeps the ride smooth and the overall weight low (18lbs). Easy to lighten the bike up over time if weight is a concern…cassette, carbon bits, wheels etc.
Gearing is great on the bike. Comes with a sub-compact 52/36 and a 28T cassette on the rear. This gearing will allow you to tackle just about anything.
You may be wondering why you are not seeing this color frame anywhere else. Competitive Cyclist has worked with Ridley to get this custom paint job, so you won't be seeing this rolling around in the local shop. If you want to run this tubeless you will have to swap tires and get a tubeless conversion kit (Item # EAS001N) – happy to do this for you just give me a call or shoot me an email.
Please feel free to reach out if you have any questions or if you are interested in it.
Sizing: I'm 5-10" Saddle Height 71.5cm, I went with a Med for more of a upright riding position.
Bill Sherman
Customer Account Manager
801.204.4545
bsherman@competitivecyclist.com
Bill S.