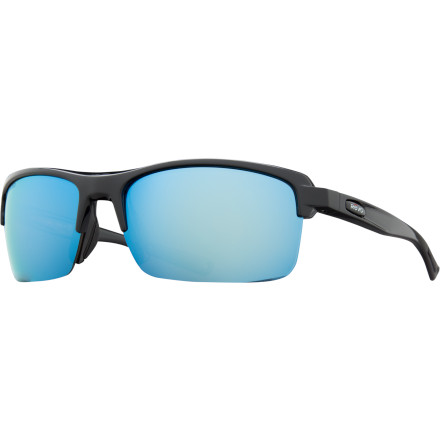 Colors
Send it in the Crux.
As its name suggests, Revo designed the Polarized Crux N Sunglasses for rock climbing, which means that it's tough enough for nearly every sport out there. Their impact-resistant Serilium lenses stand against pebbles and falls without a scratch while Revo's High-Contrast Polarization filters out any glares to leave you with natural, clear, and comfortable eyesight. The Element Shed and anti-reflective coatings keep water, dirt, oil, and nasty reflections off these high-performance lenses.

Revo made its proprietary Eco-Use frame partially out of castor beans in order to make it more flexible without harming the environment, and the frame's open-edge design reduces weight and enhances comfort whether you're on the wall, the trail, or in town. Motion-Fit technology ensures this pair positions itself to ideal locations on your ears and nose, and temple pads make sure these sunglasses don't slip off your face when you work up a sweat. Revo included a detachable leash that acts as a buoy in case you drop the Crux in the water.
Proposition 65 Warning for California Consumers: This product contains chemicals known to the State of California to cause cancer and/or birth defects or other reproductive harm.
Revo High-Contrast Polarization
Serilium lenses
Element Shed and anti-reflective coatings
Eco-Use frame with open-edge design
Motion-Fit
Temple pads
Detachable leash buoy
Please see size chart for information on lens tints
Revo Crux N Sunglasses - Fight for Sight
Together, Revo, Bono and The Brien Holden Vision Institute are committed to preventing vision impairment and blindness in more than 5 million children and adults by 2020. When you buy Revo sunglasses, Revo donates $10 a pair, up to $10 million, to help those fighting for their sight.
Javas