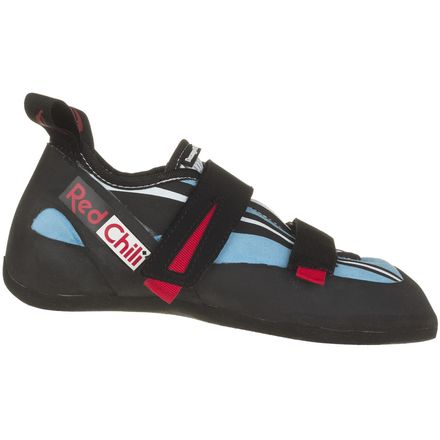 The first step to sending.
Follow friends to the climbing gym and enter the vertical world with the Red Chili Men's Durango VCR Climbing Shoe underfoot. With a flat profile and neutral asymmetry, the Durango balances between beginner-specific performance and novice-friendly comfort. Its RX1 rubber sole lasts long enough for you to learn the difference between edging and smearing. The synthetic upper reduces stretching, and the mesh tongue enhances moisture management and ventilation. There are two hook-and-loop straps for a secure fit that's also easy to take on and off.
Synthetic upper with mesh tongue
Two hook-and-loop straps
RX1 rubber sole
How much do the shoes stretch (if at all)?
Alex P.
Hey Alex, since this shoe is made out of synthetic and not leather the stretch will be very minimal. Typically synthetic shoes will "stretch" up to a half size. However this "stretch" is less of lengthening of the shoe and is more of a molding as the shoes break in. If you have any other questions feel free to reach out via the information listed above.
Wesley Eads