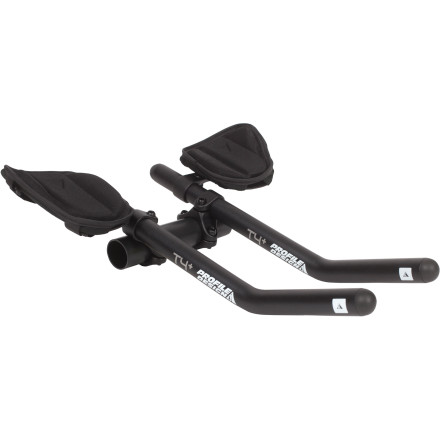 Colors
Instant aero.
The Profile Design T4+ Clip-On TT Bars instantly transform your road bikes' drop bars to aerodynamic, tri-worthy bars, thanks to their convenient clip-on design. Ideal for beginner to intermediate-level triathletes, these clip-on bars make use of a shallow ski-bend shape with a low extension length for enhanced aero efficiency when every second counts.
These bars are constructed of 6061-T6 aluminum for lightweight, highly durable performance. The bar's J2 Bracket is independent from the basebar bracket, allowing for easy length adjustment and angular rotation. The F-19a aluminum armrest provides fore/aft positioning, as well as 15-degrees of rotational adjustment for a truly dialed fit. Plus, you'll appreciate the comfy EVA foam pads, which easily attach with their hook-and-loop straps. Note that these clip-on aero bars fit both 31.8mm and 26.0mm bars (shim included for 26.0mm bars).
6061-T6 aluminum construction
Clip-on aero bars work with 31.8 and 26.0mm bars (with included shim for 26.0mm)
Length adjustment and angular rotation
Aluminum armrest with EVA foam pads
What's the best way to determine what length Aero bar you should use?
Bryan W.
Hey Brian,



There aren't a lot of different options for length in Aero bars. If you find that you need to shorten them, you can cut them down. However, there really aren't length differences.



The main difference that you'll find is the type/degree of rise of the bar.



Please feel free to reach out if you'd like to discuss some options for aero bars!



-Kody
Kody Gubler
Let them laugh.
Familiarity:

I've used it several times
There are armies of Freds combing your local cycling thoroughfares, right now, just looking for triathletes with clip-on bars to later make fun of while showing off their carefully cultivated tan lines in their too-short casual shorts at the coffee shop next the local bike shop that they don't frequent because they buy everything online through a discount retailer based out of Germany that doesn't include a single word of English on its website. These are despicable characters. Let them laugh, and get on with your brick workouts in aero comfort. After all, you're actually training for something more strenuous than being glared at by the barista for buying a $4 latte with a credit card.
Rob Ware