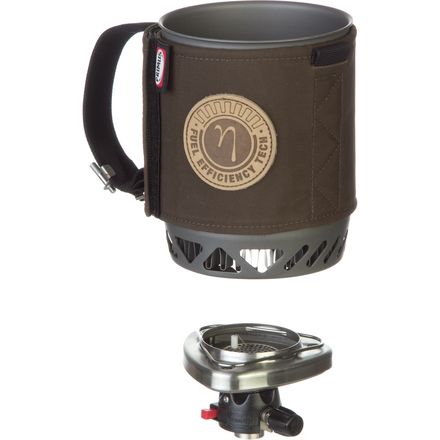 Colors

Detail Images

Community Images
Setting the standard of compact all-in-one stoves.
The Primus ETA Lite Plus Stove is an excellent choice for solo backpacking trips or if you want to make coffee for two before your partner wakes up. Laminar Flow Burner Technology gives this compact stove a lower burn-rate to make it more convenient and lightweight than most all-in-one stoves. A patented mechanism locks a 3.5-ounce gas cartridge (sold separately) to the anodized aluminum pot in order to make it sturdier and more stable so you can cook over precarious terrain more easily; it also features a foot support for even more stability on uneven surfaces. You can also suspend it from the trees with the safety strap on the heat-resistant case. The lid cuts cooking time significantly and keeps all the parts together during travel, and it doubles as a mug so you don't have to bring more gear than you need.

Laminar Flow Burner Technology
Locking mechanism
17-fluid ounce anodized aluminum pot
Heat-resistant case with safety strap
Lid doubles as mug
Foot support
Get aother OFF 20% discount code from www.outdoorback.tk
Josh cart
Occasionally the Dyrt offers gear to top campground reviewers to demo. Today, I had the opportunity to test the Primus ETA Lite gas stove. This stove is my new favorite piece of camping gear! It is compact and light ans boils water in a hurry! I have used by boyfriends Jetboil before an I like the Primus stove much better. It is simple to assemble, ignites with the first click and boils water faster. It is smaller than the Jetboil, but that makes it easier to squeeze in your pack when camping in the high country. 5 STARS for the Primus ETA Lite Stove!
Carrie Canestorp
Good Stove
Familiarity:

I've put it through the wringer
Overall I am satisfied with this stove. The boil time is right around the 3 mins advertised, and the convenience of the stove, and a small fuel canister fitting in to the cup is great and helps store space in my backpack. I'm sure there are lighter options out there but I am definitely a fan of this stove. It works for backpacking trips, as well as weekend camping trips. Easy way to boil some water. And the three screws that come to adapt the stove to any pots/pans are super convenient.
My only issue is that the ignition doesn't always work. But, for the sale price especially, I would highly recommend this product and just urge the importance of taking matches/lighter to ignite it and you'll have no problems!
Tonya H.
Eta Lite Review
Familiarity:

I've used it several times
Thank you to Backcountry.com and Primus for hand selecting me to review this piece of gear for the benefit of the Backcountry.com community. I have been using the Eta Lite by Primus for a few weeks and want to share some thoughts with you. This is a decent cook system. What you get in the box is the Eta Lite stove, Eta Lite pot, and stand for your canister. The pot includes a sleeve that protects you from the heat, and handle and three screws that you can attach to the stove so you can use other pots.



The stove had decent burn times. It achieved 3:10min boil time with the GSI Minimalist, 3:05 min boil time with a .6l kettle, and 2:30 with the Eta Lite pot.



The stove and a small fuel canister fits in the pot so you can keep everything together. This made it handy when you were needing to save some space in your set-up, and grab and go. The pot has measurement markings that really help you out when you are trying to boil the right amount of water for freezer bag meals.



When you are ready to boil the pot connects to the stove with a quarter turn and is securely in place. The lid is clear so you can see when the water starts to boil and can also be used as a cup.



While this stove worked fine I have to say that the boil time was slower than the other Primus stoves I have used, and just did not seem as versatile. Yes, they give you little screws so you can use other pots, but they seemed really unstable.



The stove is pretty cool, and works well. I have had no issue with the stove lighting up with the piezo igniter, and have always had a steady flame. It just comes down to personal preference for me, and I prefer a more versatile system. I can't fault that stove for that because it does what it is supposed to well. If I had the choice between the Primus Eta Lite or Eta Express I have to give the not to the Eta Express.



I will update this review as I use the stove more.
Steven Smith
Falls short in a couple of areas
Familiarity:

I've put it through the wringer
I bought the Primus ETA lite thinking it would be a step up from my Jetboil Sol, which had a problem with a loose lid that made it difficult to pour boiling water. I have used the Primus ETA Lite on 3 multi-day backpacking trips and have arrived at the conclusion that the Jetboil Sol is a better stove for the following reasons.

1. Boiling times: the Primus ETA is significantly slower to bring water to a boil. I have not measured the actual boiling times but don't need to because the difference is so dramatically obvious. The Jetboil boils water almost immediately - it seems like you just turn it on and the water is boiling - but with the Primus ETA, you repeatedly spend time just sitting and looking at the stove, wondering when the water will boil. Huge advantage to the Jetboil

2. Ergonomics: Both stoves have issues with their stove lid. The Jetboil lid is soft plastic that is can come loose and easily fly off when water comes to a roiling boil. The lid gets very hot which makes it hard to hold the lid down to pour boiling water. The Primus stove has a strap that holds the lid down and it works very effectively. But, the Primus stove is difficult to pour because the pouring hole is recessed, an awkward designed that makes it hard to pour water into your cup. Advantage: the Primus, but not by much.

3. Weight: The Primus ETA light weighs 15.8 ounces for the pot with lid, stove, and canister legs (which I consider mandatory on both stoves for stability). The similarly sized and equipped Jetboil Sol weighs 11.8 ounces. The Jetboil uses lighter materials yet doesn't seem in any way flimsy except for the lid.



In conclusion, the Jetboil boils water faster than the Primus ETA Light and is a quarter pound lighter to boot - so I'm retiring the Primus and putting the Jetboil in my pack instead.


Jim Hamel
Can I use an 8in GSI Pinnacle pot with...
Can I use an 8in GSI Pinnacle pot with this stove?
Pablo
Best Answer
Again it would heat the pot just wont be pretty. These style of stoves really try to keep everything super tight fitting with their brand. Take a look at some of the MSR Whisperlites, they can and are meant to be used with any ol pot.
Bill Porreca
What are the three screws on the pot handle...
What are the three screws on the pot handle for? No where in the instructions or on the Primus u-tube video does it explain what these screws are for? Primus ETA Lite


Norris
Screw them to the top of the burner and they act as a support for other types of pots -- just in case you want to use the burner with a different pot.
David Thiel
Just got it and so fare I like it.
For rehydrating and coffee it should work great. I'd like to see mybee more pots that would lock in but I got it for what it's made for rehydrating and coffee.
Jason P.