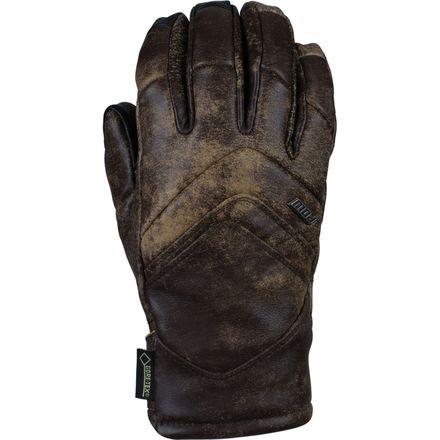 Sneak away.
When the resort is getting skied out by the holiday crowd, the Pow Stealth Glove provides versatile, low low-profile hand protection for mid-winter off-piste missions. The Stealth's goatskin leather shell resists damage well and breaks in over time to improve the fit the longer you wear them. The waterproof/breathable Gore-Tex insert keeps your hands dry as you help yourself to well-hidden face shots, and the super-warm PrimaLoft One insulation ensures warmth while you sneak in an extra lap or two.
Insulated gloves for getting out in the pow
Gore-Tex membrane offers waterproof, breathable protection
Synthetic insulation provides powerful warmth in a storm
Gauntlet style cuffs protect the wrists from cold snow
Touch compatible for fiddling with your phone on the lift
Hook-and-loop closure easy to maneuver one-handed
I wudnt wear these to shovel s***
Familiarity:

I returned this product before using it
FULL DISCLOSURE: This review does not in any way reflect upon Backcountry. Backcountry is a phenominal online merchant, with great products and customer service!



But these might be the worst gloves I have ever laid my eyes upon. I had to disinfect my mailbox after these things delivered to me, looking like theyre made out of a rotten chinese food. Backcountry and it's customers definitly deserve some sort of explanation or added-reimbursement, from "POW Glove Company". Maybe like an apology cake or food coupons, 'cuz I havn't eaten since seeing these. What is pictured by this manufacturer is a complete lie. Do not buy these gloves thinking they are a classy looking brown leather that has some nice antique distretions. I thought I'd be rocking these slopeside this weekend, looking like a salty Bode Miller. But I think If I wore these in public someone would starting wrapping my hands up with little blue plastic baggies mistaking my hands as dog crap. If you are looking for gloves that you would consider committing a crime in, during a light flurry, and then burning them in acetone. I would definitly recomend wasting $71.97 on them then.



"Grade A leather" ...the only thing "grade A" about these is the capital gains $$$$ Pow is recieving as a result of false advertisement. They claim to be both "grade A" and "goatskin", I find that highly unlikely. I spent some time in Aghanistan...Ive prepared dead goat for consumption. Little billy's hide was something to be impressed with, not this stuff. Whatever it is, it's cheap and frail, the stitching looks like it would split on my second run. The liner is some sort of fleece similar to the jumpsuits booty-shakers wore in 90's rap videos.



Im glad I ordered a pair of Astis Gloves as well, because I almost would have had to ski barehanded this weekend. And then I would have developed frostbite on top of partial blindness.



Thank You Backcountry for your understanding of my utter disapointment, and processing my refund.
John M.
Product Picture is very misleading.
Familiarity:

I returned this product before using it
I should have listened to other reviewers (i.e., Steve); his picture is exactly what my "distressed" pair looked like. I bought them in hopes that he just received a poor copy because the distressed product pictures look completely awesome. I am very disappointed with the product marketing of this and feel it is a bit misleading. The fit is also small; I typically wear a Large, but based on reviews sized up to an XL, and I am glad I did. However, the glove itself seems to be exceptionally made and warm.
Robert C.
Disappointing for sure
Familiarity:

I've used it once or twice and have initial impressions

Fit:

Runs small

Size Bought:

XL
I bought 6 of the top gloves after doing a fair amount of research on Snowboard/Ski gloves for resort riding in PNW. These were my deadset favorite before receiving them because of the look and reviews, though I was a bit worried about them being too warm. Would buy several other gloves for sure before ever buying these though now that I got them on my hand compared to everything else. FYI just follow whatever outdoorgearlabs . com says. They aren't messing around with their testing of anything.

1- POW Stealth - I bought the Distressed Leather option, they look insanely cool in the photo. See my attached photo for the garbage that they actually look like. It was the ugliest glove I've seen. Like my kid took old gold paint and rolled it over them. Nothing near the photo. Total deceptive marketing from only what I can assume was a manufacturing failure that they tried to slide under. The other colors look fine, though the tan leather will dirt out over time. Aside from the color situation, the gloves are way too small for an XL. All other gloves I bought fit fine but these were tight and short. Finger design sucks and is far to squared off compared to other high end gloves and some cheaper. Even worse was the dexterity which was weak for a 90$+ Glove for sure. There is a bit of baggy room at the finger tips etc. POW is good company and local to the NW, I'd give them a chance again but wasn't impressed with a few things for sure though, far from just some personal preference.

2- POW Royal - better looks in the distressed but still "gold painted distressing" is total garbage. These were still small but had less of the "reservoir tip" than the stealth. Below average dexterity. Still too small for an XL standard for sure. Not overly warm which is what I like.

3- Dakine Titan Leather - Big and baggy glove. Pretty flexible. Low Dexterity. Big reservoirs in the tips which doesn't help anything. Reminds me of old school burtons etc. Same design. Very nice for that big baggy glove design though. You won't need the liner as they have insulation in the main glove, which I really liked. Note that the leather version doesn't have the screen touch designed into it.

4- Outdoor Research Ridgeline - great dexterity for being so bulky glove with all the padding on back hand. I'm not sure who needs all that padding though. Very well fitted, Lots of articulation in the design. No reservoir tip nonsense.

5- Outdoor Research Southback - awesome glove, just the right amount of insulation for me (I'm not riding in sub zero stuff on the PNW snow). Great design. Great fit. No reservoir tip non-sense. Their warranty is the best by far. For the price these were awesome. Only issue would be the gauntlet is small. It won't fit over many boarding jackets but is small enough to fit under. Cool quick release design on the wrist harness. Buy these if this is your budget. Very nice. outdoorgearlabs was right. Best glove under 100$ for sure.

6- Outdoor Research Mute Sensor - outdoorgearlabs were spot on again after getting these in. These things ROCK. I got them via outlet for around 68$ too. Perfect insulation. Perfect fit, no tip gaps at all. VERY nice finger tip design for thumb and index finger. Great articulation design and just the right amount of EVA padding on the back without really noticing it. The grab loops, the wrist holsters etc. All awesome. The touch sensor is sooo nice. Works better than cold fingers. I'm able to text on Galaxy S7 Edge with glove. Best gloves I've ever bought by far. Perhaps the Hestra Morrisons are better (probably) but they are expensive.
Steve
Bought these as a gift for my nephew. He has used these a few times already this ski season and says they keep his hands warm and dry. That's all you really need.
Don West
THESE GLOVES ARE SO DOPE!
Familiarity:

I've used it once or twice and have initial impressions

Fit:

Runs small

Size Bought:

Small
I don't write a lot of reviews, normally only for products that are horrible or just too good to pass up. For starters i want to say that backcountry.com is amazing. I accidentally ordered something i didn't realize my gf already bought. Spoke to a rep named Andrew through the live chat 2 minutes later.. He refunded my money (Took 3 business days i believe) fixed the order and everything was straightened out in a matter of minutes. Shipping was crazy fast .. only took 3 days and i ordered on a Sunday.. (Also thanks for the FREE $100 wine voucher, and some cool little extras. ill take it!)



SO now for the gloves. Im a smaller dude, basically your typical skater rat build. Pretty thin. I was going to order a medium because reviews said they fit a bit small, but decided on going with small instead. Glad i did. For a guy with my build they fit perfect! They look and feel f*cking sexy. Cant wait to break them in this season. They get better the more you break them in.



Thanks backcountry you guys kill it!
Skyler F.
Height:
5'8"
Weight:
135lbs
Bought these as a gift, but the person said that that were great. Fits small. Keeps hands warm and dry.
Don West
Outstanding durability and warmth
Been using these for about 4 years and since they have held up so well, decided to get another pair. Same design more or less, except Pow seems to have adjusted sizing along the way. Used to wear small, but now the medium fit like the old smalls. Current sizing chart is legit.
These are well insulated cold weather gloves so they are a bit bulky. Don't expect them to fit like surgical gloves.
Rick
Awesome Leather Gloves
Familiarity:

I've used it several times

Fit:

True to size
Just spent a week in Argentina where it snowed/rained everyday and hands never even got damp.

They kept me warm and dry and were great for handling ropes, shovels, equipment etc.
Jonathan R.
awesome sauce
Familiarity:

I've used it several times

Fit:

Runs small
I bought these to go carve out some snow and still look classy doing it, I have medium sized, desk job type hands and these felt great and just the right amount of snug. These gloves were also great at keeping mother nature's devastating cold at bay protecting the money makers from the elements.

Did i mention they look awesome, cause they do.
Leo Mata
Short fingers with reservoir tips
Familiarity:

I've used it once or twice and have initial impressions

Fit:

Runs small

Size Bought:

Large & X large
These gloves fit and feel terrible. I bought both the large & extra large because I was not sure on size. Large fit, but the cuff was too small to get my hand into. The large glove has a medium cuff & the extra large has a large cuff. Try pulling on a glove with too small of a cuff with cold wet hands. The second issue is the liner, it is sewn into the glove so that your fingers stop 1" short of the end of the glove & your actual fingers start 1" before entering the gloves fingers. I went into the store to try to see if I got a bad pair, but it turns out that this is just how POW gloves fit. I had much better luck with my old pow gloves & more recently burton & volcom. The fingers are just way to short and misaligned in these golves

Justin T.
Some details and action shots for y'all!
Sarah
Does fit small, but one size up and set!
Familiarity:

I've used it once or twice and have initial impressions

Fit:

Runs small

Size Bought:

Large
I normally wear M gloves, but luckily went with L after reading this reviews. They fit perfect. I think they fit smaller b/c of how much insulation there is. These babies are warm and comfy. I got them to replace my Burton AK yeti's that couldn't stand up to the below freezing temperatures. So warmth is awesome on these. They also come with NikWax leather treatment that is a huge plus. They do have a shorter cuff but I actually prefer that vs longer cuffs that bunch up. HIGHLY RECOMMEND. Drop the dough, you won't be disappointed!
Jake
Height:
5'11"
Weight:
150lbs
My main glove of choice
Familiarity:

I've put it through the wringer

Fit:

True to size

Size Bought:

Medium
I buy this glove every year but could easily get two years out of it , but i like to have a back up, im a big fan of the short cuff design , and usually rock this glove all season ,until its time for park gloves , this glove keeps my hands warm on the coldest of days with a light liner underneath , i highly recommend this glove for anyone looking for a short glove design.
Dave Cichone
Height:
5'8"
Weight:
155lbs
great glove
Familiarity:

I've put it through the wringer
I love this glove. It's super easy to handle shit with these on and their great for strapping on and taking off your bindings. The high quality leather shows greatly as mine are still in perfect condition after 2 seasons.These will with out a doubt keep your hands super warm and dry, get these gloves bottom line.
BC SOVBONGS
Killer leather, great feel.
Familiarity:

I've put it through the wringer

Fit:

Runs small
I have used these bad boys for a season and a half now, and the leather still looks brand new with only a little minor stitching fray. Over that period I would say 40 days on the slopes and 10 or so winter hiking. The size for me ran a bit small because I have giant fingers, so the length was spot on, but the fingers are slightly stubby. I have no regrets buying these despite that because the quality of the build is so great and the dexterity of the gloves is still amazing despite the fingers being too short.



If you want to keep the leather looking new and feeling great I would suggest buying a thing of sno-seal, heat them with a hair dryer for 30 sec - 1 min until they are warm to touch, then saturate them and let them dry back to room temperature. After they are dry, reheat the gloves and wipe off the excess with a rag. This both enhances the waterproofing and breaks the leather in for a more supple feel.



The only other thing I would suggest with this glove is to buy a silk liner for days under 10 F.



Great glove and price reflects the quality.
WillyDee
Warm and durable
Familiarity:

I've put it through the wringer

Fit:

True to size
These gloves look sick, Feel good, and keep my hands warm and dry. Between the leather and the gortex these gloves seem bomb proof.
Brenden Johnson
POW Stealth GTX Glove and Mitt
Durability, Waterproof/Breathable (THANK YOU Gore-Tex), Warmth and Dexterity. The Stealth has it all.
pow1341922307-0
These gloves rock!
Familiarity:

I've put it through the wringer

Fit:

True to size
These gloves are absolutely amazing! They have the perfect amount of insulation to keep your hands nice and toasty. The gore tex allows your hands to breathe and it keeps them dry at the same time. I also dig them because they have no gauntlet. They also ride pretty close to the skin--super low profile!



**I like them so much i picked up the stealth mittens!
Greg Adams