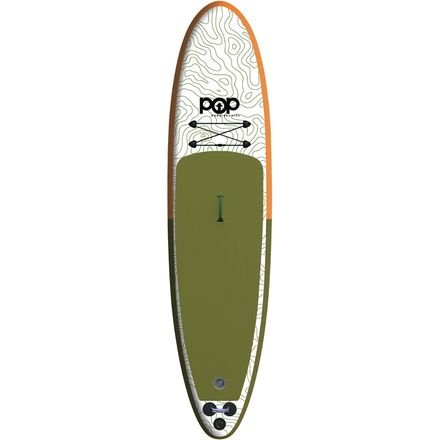 Buy the board and book a ticket.
Weighing in at an exceptionally lightweight of 23 pounds and made to travel to distant islands with secluded bays, POP Paddleboard designed the Backcountry.com exclusive Inflatable Limited Edition Paddleboard. Built with POP Paddleboard's FUSION technology, this board is made with military-grade PVC and reinforced with three layers at the seams to ensure a bomb-proof seal and rigid construction. With an extra-wide shape, this board offers excellent stability and smooth glide and tracking with its single fin set-up so you can tour and explore with ease all-day long. And with it's 360 Diamond Traction Pad, the deck pad is made with sticky and cushioning EVA to guarantee a comfortable and supportive ride for spending hours on your feet.

This limited edition board is ready to book a plane ticket the minute it gets delivered to your house—an extra-burly carrying bag is included with the board. With comfortable shoulder straps and weight-bearing hip straps, this travel-friendly backpack includes robust wheels for easy traveling through the airport. It also includes extra space for your snorkel and fishing gear, beach towels, and more. A part of the inclusive package, a three-piece adjustable paddle, dual-flow pump, and coil leash are included with your board.
Limited edition inflatable stand-up paddleboard
Lightweight and stiff construction using military-grade PVC
Reinforced with extra layers to ensure seal and rigidity
Firm yet forgiving ultra-sticky EVA deck pad keeps you connected
Single fin supports steady tracking for smooth maneuvering and touring
Adjustable paddle included so you can start adventuring right away
Included bag designed for hauling gear and going the distance
Great product and design!!
Really enjoying our Pop inflatable paddle boards. They take a little effort and about 10 minuets to pump up. These boards paddle great on smooth water and sit high out of the water making it perfect for lounging in the water or padding with an extra person or furry friend.
mikeSwellwood
A good all-in-one package
Familiarity:

I've used it several times
This is a complete package and a pretty good one at that. I was able to head out paddling the first day, as it includes a board, adjustable paddle and pump. The included bag (while not super bomber) is awesome. It has wheels, backpack shoulder straps and waist belt and multiple carry handles. Pretty sweet kit making it easy to get into SUP.
I dinged it one star because the screw that holds the fin was stripped and lost to the Great Salt Lake on day one. This made tracking very difficult, but I just chalk it up to skills building and I've replaced it with a better after market fastener (and spares). Additionally, there was absolutely no documentation, tags, etc... So using the pump (one example) took some time to figure out.
Overall I'm loving this kit!
Douglas N Mackay
My Favorite Inflatable SUP
Familiarity:

I've used it several times
The Pop Paddleboards Inflatable SUP is easily my favorite inflatable board. I have tested it several times and I can attest that it is everything you want in an inflatable SUP. It is a very stable inflatable board that is great for yoga and takes waves like a champ. It isn't quite as stable as a hardboard, but is as stable as you can ask for in an inflatable board.. It has a single fin on the bottom that helps track the board really well and makes turns super easy. It can be a little tricky putting the fin on the first time, but once you get it , it is super easy.

I also love the carry system. It comes with a rolling backpack and only weighs 23 lbs, so it is great for hiking it in to your favorite alpine lake or just your favorite recreational lake. The backpack has a very comfortable carry system with lots of padding, so it is easy to carry.

The board also comes with a really nice adjustable two-piece paddle with a super comfy padded foam grip.

Pump time is pretty quick, but you have to make sure you pump it up very firm and into the green zone on the pump or else you won't get the best performance. As far as ease of use goes, this board is great for beginners and advanced riders. This was the first SUP I ever rode and I loved it then and still love it now. I've demoed most of Pop's boards and still love this one. My sister-in-law had never paddleboarded, so I had her try this one. She absolutely loved it and was hooked instantly.

I highly recommend this board. If you have any questions about this board, feel free to reach out to me directly at 801-204-4562 or amcclary@backcountry.com .
Ashleigh McClary
Highly Recommend
Familiarity:

I've used it several times
I was nervous that an inflatable SUP would be hard to set-up and this board was incredibly easy. It comes with everything you need in the bag (pump, fin, paddle). The bag makes it really easy to carry with shoulder and hip straps and it felt like I was carrying my backpacking bag and about the same weight. There are wheels on the bottom, which make it easy to maneuver when in the drive-way or parking lot. Once the SUP is inflated, it's super stable and didn't feel like an inflatable SUP. People at the high alpine mountain lake I hiked to couldn't figure out how I got it down there. I would recommend this board to anyone who is interested in purchasing a SUP. Especially if you don't want it to take up much space. This one packs down nicely. Would be great for apartment living.
Jessica van Jaarsveld
Sturdy and easy to inflate!
Familiarity:

I've used it once or twice and have initial impressions
I was finally able to use this board last weekend and loved it! The carrying bag is great, it has durable shoulder and waist straps for a short hike to a lake or it has rolling wheels to roll the bag instead of carrying it across easier terrain. This board comes with everything that you need - the pump for inflating, a collapsible/adjustable paddle and the fin. It was quick to blow-up and the pump has two valve options for quick inflating when you just start blowing it up and then a valve that you can open to help inflate quicker at higher PSI. It is very sturdy, I took it out on Deer Creek Reservoir and floated it down the Lower Provo - it did great on both. And, when you are done with it, it is easy to deflate by attaching the pump hose to the valve and packs easily back into the bag. I would highly recommend this board for anyone looking to add a paddle board to their summer gear that is easy to store, durable and has a one-of-a-kind design.
Sara Gemmell
This is my favorite board!
Familiarity:

I've used it several times
I love this board! The topography design & earth tones are rad. I took my board to Emerald Bay in Tahoe, CA with the intention of backpacking it down the 1 mile trail to the shoreline. But the wheels were rugged enough I was able to wheel it pretty much the entire way. Awesome! During the short time that I did carry the kit though I found it to be really comfortable.
Anthony Hernandez