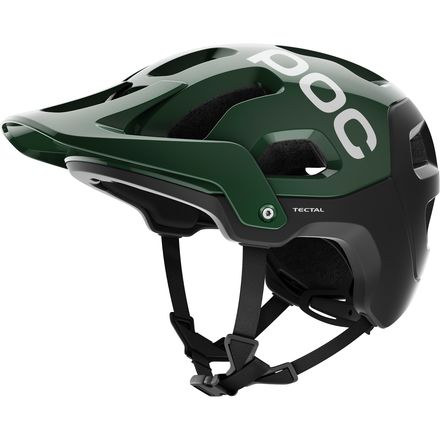 Colors
The unconventional standard.
If you're still rocking the helmet you got when...well, you can't remember, it's time to toss it and upgrade already. Like an of-the-moment boy band, helmets don't stay young and innocent forever, so replace it with something with adult worthy staying power, like the POC Tectal Helmet. Sure, it won't last forever either, but it's built with host of the most up-to-date technology by the safety-conscious squad over at POC to keep your gray matter safe when you decide to go big.
POC took design elements from two of its most popular helmets to create the Tectal, creating a hybrid with the best features from each. Extensive coverage along the temples and rear of the helmet increases protection to vulnerable areas, while the helmet's unibody design lessens the amount of potential stress points along seams. POC gives considers comfort almost as much as it does safety, and it carved out a range of vents along the Tectal to ensure air stays moving throughout the helmet. Before you head out, a simple one-handed turn of the dial at the back of the helmet allows you to adjust for just the right fit.
Mountain bike helmet with extensive side and rear coverage
One-piece shell for structural integrity
Extensive venting for on-trail breathability
One-handed fit adjustment for ease of use
Safety remains the primary tenet of all POC gear
a poc place
Familiarity:

I've put it through the wringer
currently 4 poc helmets in our home, and 3 prior, if that tells you something. We've got two of the tectal's now, just a great helmet. Fit is really nice, super coverage, love the comfort over the long haul. highly recommended.
Kyle Br
POC stands for safety
Familiarity:

I gave it as a gift but have feedback to share
Bought this as a gift for a friend and I know others who use it. POC puts safety first and I wouldn't trust my friends welfare to anyone else. Comfortable, looks good, and solidly built. Look at their new Spin technology for even better protection. Spin is POC's proprietary version of MIPS.
Nick Wrzesinski
Saved my life!
Familiarity:

I've put it through the wringer

Fit:

True to size

Size Bought:

Medium
Took a silly fall at Moab, landed on my right temple. Shell dented but EVA foam appears intact. No kidding, would have meant at least a trip to the ICU. All decent helmets work well, but this one is a far superior product. Think about it...we spend thousands on carbon bling, we shouldn't skimp on head protection! I'm a POC fan for life.
Pedro V.
Height:
5'10"
Weight:
160lbs
POC helmets rule
Familiarity:

I've used it several times
This helmet provides awesome coverage for the back of my head which is nice. The construction and quality is top. The next upgrade will be the new SPIN technology.
Katie Williams
I tried a few helmets and landed on this one as my favorite. It's lightweight and comfortable to the point I forget I'm even wearing it. I went with the Stibium blue color and really like it. It's true to size.


Chad Cordell
POC helmets are awesome
Familiarity:

I've used it once or twice and have initial impressions

Fit:

Runs large

Size Bought:

XL
I'm very pleased with my new POC helmet. If feels very light and is super comfortable. It is also very stylish.
Jay H
Height:
6'2"
Weight:
192lbs
Great helmet!
Familiarity:

I've used it several times
Great fit, super comfortable, breathable, and seems like it can take a beating if it ever needs to be put to use. All around great helmet from POC.

James McMahon
Great fit
Familiarity:

I've used it several times
Prior to purchasing this helmet, I owned the Octal helmet for road riding. The quality is great, it is cool (literally), and it fits my head better than most of the other well known helmet brands. I don't notice any difference in weight between this and my previous fox helmets, but the quality feels better- foam, fit, and adjustability of straps. Bottom line - you see a lot of these on the trail for a reason, its a good helmet.
Jared G
Because the safest helmet...
Familiarity:

I've used it several times
is the one that you actually WEAR.
I have another helmet that is very comfortable, the Troy Lee A1. But it can be very warm, so when summer rolls around I just ditch the lid. Two months ago, on the way back home from an overnighter, I got swiped by a car and thrown over the bars. Hard. The concussion, 36 stitches, and four teeth knocked out kind of hard. As bad as it was, it could have been a LOT worse. So I began a search for a helmet that had better airflow than my TLD A1. Tried a bunch of helmets, including the TLD A2, which I expected to be the winner. I found the Tectal to not only be cooler than the A2, but also much more comfortable. I'll still wear my trusty A1 during the shoulder seasons and winter, but the Tectal is my new lid for warmer temps. Because you don't always get second chances to not be stupid.
Mark T.
Awesome Trail Helmet
Familiarity:

I've put it through the wringer

Fit:

True to size
The POC tectal is a very capable helmet. It is very secure feeling, and quite light. There have been times when I forget I'm wearing it. The Tectal has set a standard for others to follow. I am on my second helmet after taking a crash in one I am confident in it's ability to prevent injury. I usually ride with Smith Squad goggles, I have had no issues with compatibility for either glasses or goggles.
I'm also really pleased with the ventilation on this helmet.
Bodhi Barney
Great Helmet for trail riding.
Familiarity:

I've put it through the wringer
This has been a great helmet for running single tracks in the PNW. Ventilation is good and comfortable to wear with eye protection.
Cory Hanson
Save your head
Familiarity:

I've put it through the wringer
I have been loving this helmet so far. POC really fits my head well, so those are the helmets I have been using lately. This is a great helmet for just about anything you want to ride, light and breathable enough for XC, but enough protection for enduro.
Porter Trapp
Perfect Fit but...
Familiarity:

I've used it several times
Almost everything about the fit of this helmet feels great, except the under chin strap. I have keep it loose because it's kinda annoying of the placement of it. It seems like it sits too far back from the chin. Other than that it feels great. The quality is definitely what you paid for.
Rudy P.
One of my favorite all time helmets
Fit:

True to size

Size Bought:

XL/XXL
Got this helmet after riding the the race version for a year. Has great ventilation and fit larger heads quite well. You will notice that it does sit lower on the brow than some other brands but that is not necisarily a bad thing. The only thing you will be missing out on from the race version is the google strap in the back and the full Aramid fiber grid.
Andrew Dickinson
Height:
6'2"
Weight:
210lbs
Bomber Helmet!
Familiarity:

I've used it several times
I have loved the fit of this helmet all around! I usually have a hard time finding something that looks proportional with my peanut head, but this helmet has a great fit and look too. The only reason that I would give this 4 stars, is because you do have to watch out with which riding shades you choose to wear. I used to use my Oakley's, but couldn't wear them with this helmet because they were too wide. I found some sunglasses that work though and am stoked with this helmet!
JB Graham
Love this helmet! Great fit and covers the back of my head very well.
Take backcountry extra 20% OFF Coupon from: coupon-code.info
Jack
Does this helmet have the MIPS feature? I see it in the older versions but its no longer mentioned in the features.

Mike H.
Hey Mike,



This specific model does not have MIPS. The POC mountain helmet that we currently stock and has MIPS is called the Trabec. I'll give you a shout as well to see if we can nail down a good option!



-Kody
Kody Gubler
I love everything about this helmet except the fact it sits so low on the head and the temple area really drops as to put pressure on the top of most my sunglasses. It is one of the nicest helmets I have owned and I have tried quite a few. I wear a Medium in all brands and this was no exception.
Adam N.
Kept my head in one peice
Familiarity:

I've put it through the wringer

Fit:

True to size
Had a 10ft fall directly on my head that knocked me out while wearing this helmet. I received a concussion from this fall, but I don't think any helmet could have prevented me from getting a concussion. I think the helmet did its job of protecting my head from any serious permanent injuries. The helmet looked like new after the crash, but there may have been some slighting cracking in the foam in the interior. I think it is a shame that I will have to retire this helmet so soon after getting it, but I am glad that it did its job.
Douglas R.
Great fit and coverage.
Familiarity:

I've used it several times
Love this helmet! Great fit and covers the back of my head very well. Doesn't look like a mushroom either. Definitely the best MTB helmet I've had.
Matthew B.