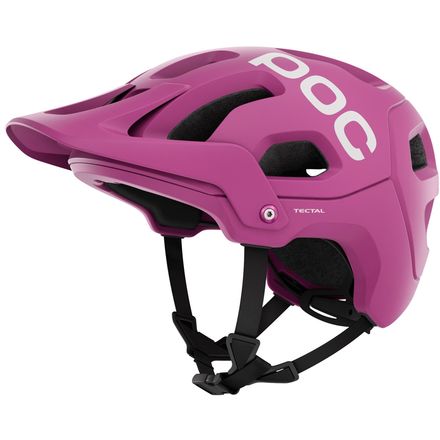 Colors
The unconventional standard.
If you're still rocking the helmet you got when...well, you can't remember, it's time to toss it and upgrade already. Like an of-the-moment boy band, helmets don't stay young and innocent forever, so replace it with something with adult worthy staying power, like the POC Tectal Helmet. Sure, it won't last forever either, but it's built with host of the most up-to-date technology by the safety-conscious squad over at POC to keep your gray matter safe when you decide to go big.
POC took design elements from two of its most popular helmets to create the Tectal, creating a hybrid with the best features from each. Extensive coverage along the temples and rear of the helmet increases protection to vulnerable areas, while the helmet's unibody design lessens the amount of potential stress points along seams. POC gives considers comfort almost as much as it does safety, and it carved out a range of vents along the Tectal to ensure air stays moving throughout the helmet. Before you head out, a simple one-handed turn of the dial at the back of the helmet allows you to adjust for just the right fit.
Mountain bike helmet with extensive side and rear coverage
One-piece shell for structural integrity
Extensive venting for on-trail breathability
One-handed fit adjustment for ease of use
Safety remains the primary tenet of all POC gear
One of my favorite all time helmets
Fit:

True to size

Size Bought:

XL/XXL
Got this helmet after riding the the race version for a year. Has great ventilation and fit larger heads quite well. You will notice that it does sit lower on the brow than some other brands but that is not necisarily a bad thing. The only thing you will be missing out on from the race version is the google strap in the back and the full Aramid fiber grid.
Andrew Dickinson
Height:
6'2"
Weight:
210lbs
Bomber Helmet!
Familiarity:

I've used it several times
I have loved the fit of this helmet all around! I usually have a hard time finding something that looks proportional with my peanut head, but this helmet has a great fit and look too. The only reason that I would give this 4 stars, is because you do have to watch out with which riding shades you choose to wear. I used to use my Oakley's, but couldn't wear them with this helmet because they were too wide. I found some sunglasses that work though and am stoked with this helmet!
JB Graham
Does this helmet have the MIPS feature? I see it in the older versions but its no longer mentioned in the features.

Mike H.
Hey Mike,



This specific model does not have MIPS. The POC mountain helmet that we currently stock and has MIPS is called the Trabec. I'll give you a shout as well to see if we can nail down a good option!



-Kody
Kody Gubler
I love everything about this helmet except the fact it sits so low on the head and the temple area really drops as to put pressure on the top of most my sunglasses. It is one of the nicest helmets I have owned and I have tried quite a few. I wear a Medium in all brands and this was no exception.
Adam N.
Kept my head in one peice
Familiarity:

I've put it through the wringer

Fit:

True to size
Had a 10ft fall directly on my head that knocked me out while wearing this helmet. I received a concussion from this fall, but I don't think any helmet could have prevented me from getting a concussion. I think the helmet did its job of protecting my head from any serious permanent injuries. The helmet looked like new after the crash, but there may have been some slighting cracking in the foam in the interior. I think it is a shame that I will have to retire this helmet so soon after getting it, but I am glad that it did its job.
Douglas R.
Great fit and coverage.
Familiarity:

I've used it several times
Love this helmet! Great fit and covers the back of my head very well. Doesn't look like a mushroom either. Definitely the best MTB helmet I've had.
Matthew B.
Love this lid!
Familiarity:

I've put it through the wringer
I baught this helmet to replace my older Fox helmet after I took a gnarly digger knocking myself out and breaking my helmet, so naturally it was time for a new lid. I did quite a bit of research and kept coming back to this helmet. It does a great job keeping your head cool with its massive vents and the adjust-ability of the closure system provides for an exact fit. Highly recommend this helmet!
B-Man 518
As advertised
Familiarity:

I've used it several times

Fit:

True to size

Size Bought:

Med/Lrg
The helmet is lightweight, vents very well and covers the occipital and parietal areas of the head way better than those road bike lookin' skimpy beanie caps. It is pricey...but when it comes to protecting your noggin, you'd be a fool to cheap out. I'll also comment that my measured head circumference had me in the XL range, but I ordered the Med/Lrg b/c the CC customer service told me Euro brand helmets fit a more oblong head shape. Turned out the Med/Lrg fit like it was molded for me.
-0
Height:
5'11"
Weight:
165lbs
Great helmet! Lightweight and easy to use adjustments.
Zak Farrington
Great helmet, but Oakleys barely fit
Familiarity:

I've used it several times

Fit:

True to size
Just getting in to mtb to add to my road riding, and looked around for a helmet that wasn't huge or sit high on my head.
Giro had good stuff, but in my size it felt like it left the side of my head exposed a bit and looked a bit small. Next size up was too big.
Bell, whom I love for road helmets, had a few models that fit well but were *enormous* on my noggen. Looks aren't everything, I know, but they do count so I kept looking.

Poof - the POC showed up and I tried it on. Perfect! Sits right height, comfy, fits my head shape, looks the right size and the white color is a strange pure white that I dig.
First ride with this told me two things right off, one good and one bad.
1 - in 100 degree heat, I was sweating hard, but helmet wasn't overheating me at all. It's well vented even at slow speeds and I didn't even think about my head being hot (despite needing to pour water over the rest of me to cool down!)
2 - sadly, my Oakley flak jackets do not fit very well with this helmet. You can tuck them in and fidget them into a spot where they stay and don't bug, but it's not just about putting them on and riding. Put them on? Fidget fidget fidget. Glasses move a bit cuz you bumped them? Fidget fidget fidget.

So in the end I like this helmet a bunch, and I'll keep fidgeting to make the glasses work because of that...at least until it gets too annoying. Just be warned if you're looking that this could be an issue if you're Oakley loyal like me.
Aaron F.
Must Have
Familiarity:

I've put it through the wringer
I recently picked this helmet up after having a Smith ForeFront for the longest time. I like how this helmet looks and performs better than my previous Smith model. There is great ventilation for when I'm doing XC riding and enough protection for when I'm DHing or doing some Enduro riding. The sizing was true to size in my experience.
Nick Johnson
Impeded my sunglasses
Familiarity:

I returned this product before using it
correct size for my measurements, but the temple coverage of the helmet made my Smith PivLok glasses unwearable.
James R.
Sizing is awkward for smaller heads
Familiarity:

I gave it as a gift but have feedback to share
I got this for my step-mom and she wasn't too thrilled with how bulky this was on her. She said it fit great when she tried it on in the store, but with her glasses on the helmet doesn't fit anymore and has a weird gap at the sides of her face. She also thought the visor was a pain to adjust. She loves the thaum/red color (it had a purple hint to it) though.
Katy Seeberger
Just not what i was looking for
Familiarity:

I returned this product before using it
I was looking for a helmet that had better coverage for the base of my neck and behind my ears. Not sure why, but just felt like the helmet sat high on my head and wasn't secure. I decided to return it and go with a Bell instead.
Kyle Laudenslager
Gave as Gift - Total Hit
Familiarity:

I gave it as a gift but have feedback to share
Gave this as a gift to my dear friend who had recently cracked his helmet. It has everything and more that he's wanting. Sleek design, comfortable support, and the technology to protect you when it really counts. Worth every cent.
Brandi Barker
Another great POC product
Familiarity:

I've used it several times
Fit wise, I have a large head that is kind of egg shaped. Helmets I've used in the past are a POC Trabec and Bell Super (1st gen, no chinbar). Both of those fit me very well and gave their lives protecting my head in big crashes. I've also used a Smith Rover MIPS which fit very well, but lacks an adjustable visor which went from meh to enough to change helmets on a recent ride. To note, a POC Trabec w/ MIPS did not fit, a Smith Forefront w/ MIPS didn't fit either, the Bell Super 2R MIPS and 3R MIPS didn't fit and that was without even trying the chinbar piece. Basically I tried on almost all of the high end helmets in the largest size that BC offers and the POC Tectal and Smith Rover MIPS fit the best.

As for performance? I hope to not crash that hard again to need a replacement anytime soon. But I trust POC to do what it can to protect my head.

Other key wins. The adjustable visor is great. It fits my large head well without making it look even bigger. The vents on the Tectal work great, helpful here in the summer heat of Utah. And the orange color is actually quite cool, but it is on the shinier side definitely not a matte orange. The ear loops for the helmet strap are excellent to not bother you, amazing how small things like that matter. And the retention system comments others have made don't affect mine, and that was with at middle or at the low setting, low being what I left it on.
Jeff in Utah
Best of the best
Familiarity:

I've put it through the wringer

Fit:

True to size

Size Bought:

small
I've had a number of helmets in my time with Competitive from Bell, Giro, Fox, and Kali, all have kept my senses intact. The Tectal is the one that fit best, topped in style points, and breathed the most. I've got a slightly oblong shaped head, and the Tectal fits it perfectly. The large venting keeps things cool, and I haven't had any issues with the easy adjustable retention dial. My one small gripe is the visor adjustment screw. At fist it would come loose and even fell out once, thankfully in my gear bag. I took some need nose pliers, and cranked it down tight, and haven't had an issue since.
Jon J
Serves and Protects
Familiarity:

I've used it once or twice and have initial impressions
This helmet fits my head very well in a small and I haven't had any issues with the cinch. The fit is very secure and the helmet looks sharp-- even on my pinhead. It's also super lightweight.
Sam Brown
Protection that feels Good
Familiarity:

I've used it several times
This is an amazing update to the helmet I have been using for the past decade or so, and the fit and feel of it are superb. The over-all fit is great and roomy, with a boa tightening system that allows you to get the fit just right for your activity. It has great ventilation and my head has yet to over-heat wearing it. The chin-strap is soft and supple, not irritating the skin and feeling like it was not even there. A cool feature of this helmet is that adjustable visor, which helps with blocking out the sun.
Patrick Boner