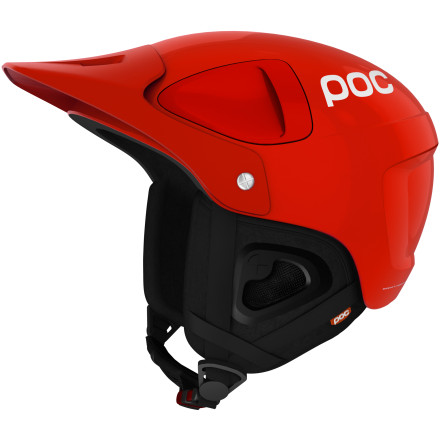 Colors
Go big, and go home.
POC engineers backed up with ultralight shell of the Synapsis XP Helmet with APB technology that provides supreme protection in a feathery 13oz package. A new turnring adjustment system allows you to dial the fit of the 2.0 to your liking quickly and easily. Two oversized vents allow fresh air to enter and circulate your lid so hot-headed shredders can send cliffs or throw down in the park in cool comfort.
Ballistic APB places a layer of pentration-proof Aramid between the molded shell and liner, allowing for a thin outer shell that's both ultralight and protective

An EPS liner provides single-impact that protects your head safe without weighing you down

Optional visor is included for keeping the sun out of your eyes or looking wicked gnarly

Best helmet I've ever had
Familiarity:

I've used it several times
I've been skiing over 60 years and have worn a helmet off an on for the last 15 years. Never found one that was comfortable or fit well. I've tried a number of different brands and most recently used the Smith Vantage which was very uncomfortable - pushed googles on my nose making it difficult to breath and hurt when I looked up. I've worn the Synapsis 2.0 three times. Two back country trips and today on the slopes. It is extremely comfortable, light, and I don't notice that it is on my head. I wear a thin ski cap and have removed the ear flaps. It's great touring since it is so light. I haven't crashed, and hope not to, but have complete confidence in POC. Could not recommend highly enough with so many previous poor experiences. As others have noted it runs small. Normally wear a large but bought the XL and fits perfectly.

dmr
Unanswered Question
I wear glasses, don't care for goggles, but spend a lot of time squinting. Love the big visor on the synapsis, but are the lesser "visors" such as the barely there one on the Smith Vantage just as good--as much coverage ( guess I need to get to the shop) and see for myself, but . . . any opinions from other glasses wearers?
Bob shattuck
Runs small!!! Runs small!!
I am a female. True medium and I had to exchange for a large. It's a great looking helmet and I'm happy with my purchase!
Rebecca V.
Poorly Designed Earpads
Familiarity:

I've put it through the wringer
I really liked this helmet but returned it because the earpads had no insulation. They are basically a mesh screen, which is awesome in 40F + weather but instant frostbite on fast groomers in the winter. I finally got sick of being forced to wear my hood at all times and returned the helmet.



Other than that one flaw, the helmet was great. Comfortable, secure, and offered good protection from multiple tree hits. I also really liked the visor.
Gregory T.
Great helmet
Familiarity:

I've put it through the wringer
Went down earlier this year while wearing this helmet. I broke two ribs, bruised my lungs and sternum, also slightly dislocated my shoulder. I hit hard pack snow going around 35-40 mph. landed on my shoulder then bounced around a bit on my head. The helmet was great, never lost consciousness, or even browned out. I was fully lucid and my head came through without a scratch. The helmet looks brand new except for a very slight indent on the left side. I highly recommend this helmet!!
Francisco G.
Backcountry Video
HI Ive been looking all over the web to...
HI

Ive been looking all over the web to try find some cheap helmet head phones so does this product have headphone compatibility and what brand works best
Matthew
Hey Matthew, so unfortunately at this time poc doesn't offer headphone compatibility, as they are more of a competition level brand right now. Not to say these aren't great, saved my noggin on more then one occasion! But as far as brands that are compatible, most RED, Smith, Anon, and other more freestyle brand helmets will work. It should specify in the specs.
Blair Englebrecht
some POC helmets are actually compatible with the beats by dre neckroll. also, the poc receptor bug communication comes with headphones. I have a giro that's compatible with skull candy and wasn't too pricey.
Chris Huntley
looks great, lightweight, but runs small
Familiarity:

I gave it as a gift but have feedback to share
Originally I ordered this helmet for myself, and would have returned it but BC was out of the large. Typically a medium helmet fits me well with adjustment, etc, but this one is just too tight. Looks like my daughter is getting a new ski helmet for her birthday next week.



I wish it fit, very cool looking helmet, nice light weight, and great adjustability, assuming you size up.
Luke P.
Is the "all black" version the helmet with...
Is the "all black" version the helmet with the silver vents? You'd think no, but comments below say otherwise.
Sean M.
The "All Black" version will have black vents- looking at those same comments, we either shipped the black version by mistake, or a mistake was made when ordering.

In either case the All Black will have black vents.
Carver Shaw
Overall, a great helmet. Runs VERY small so best to go up a size- wore a L Smith and ended up having to exchange for an XL. Comfortable, pretty warm, and well vented. Goggles sit up nicely on brim, which I thought would annoy. Only real complaint is that my Skull Candy headphones don't work with the helmet. But overall, I think it's worth the few extra $$$!
Eric P.
hi - does the Synapsis helmet have a velcro...
hi - does the Synapsis helmet have a velcro sticker that remains on the front of the helmet when visor removed? Can this be taken off?
thanks chris
Christopher M.
Best Answer
This does have a peice of Velcro that stays on the helmet. You can remove it, just peel it off.
Carver Shaw
great helmet, fits perfect, nice and light... love it
Jesse B.
POC Synapsis 2.0 vs POC Skull Light helmets....
POC Synapsis 2.0 vs POC Skull Light helmets. Anyone have any experience with these two.
tim
Synapsis: The obvious = you get the visor. It has an EPS liner, which will require that the helmet will need to be replaced after a significant impact.

Skull Light: has the EPP foam liner, which is designed for multiple impact. (EPP = expanded polypropylene) ...meaning you can take more than one hit with this helmet before you need to replace it.
Chris Tatsuno
Double ejected off a roller and cartwheeled down the front side (hard-pack) of A-Basin yesterday. I'm now at work writing software, so it seems no serious brain damage was incurred. Guess it worked. I was originally not too hyped about the velcro on the visor, but it allowed the visor to displace during the crash. I think it would have broken other wise.
Brian G. Sweeney
Helmet is as described, very light weight, cool looking, and comfortable. The adjustment dial is nice too. I was a little confused with how to remove the ear flaps, as there were no real instruction in the box. I started removing a bunch of velcro, which seemed kinda weird, but then I discovered the whole ear flaps just easily pop off. It works real nice once I discovered this. Also, the vents are just a piece of velcro that covers the hole. SEems a little wanky because its so simple, but hey, it works great and saves weight! And the goggle strap is very nice too, well thought out to put the snap on top not botton. I recommend!
John Drollinger
Great helmet, sizing very off and more padding needed
After playing with the padding or should I say limited padding that comes with the helmet and then adding two additional strips from of extra pads from my bike helmet stock this helmet now fits perfect. visor is great for keeping sun and snow off face and deflecting branches. helmet strap is great. was afraid i could not flip zeal goggles up, but i just pull them onto end of visor and they stay on better than if there was no visor at all. Super light and circle adjustment in the back is very useful. ventilation not great, but since it is a true fit helmet, again with limited padding it's not a huge issue. I am M/L in most helmets, briko, smith, etc..., but an XL in POC. Overall, the quality seems a cut above the competition and it looks awesome, which is not the priority, but always a plus.
Sunapee Bound
Would be a great helmet if their sizing was more in line with the sizing of the rest of the industry (Giro, Smith, etc.). Look at the size chart before ordering and make sure it will fit you, most will have to order a size up for a comfortable fit. I tried the XL and it was just too tight on my dome (about 61cm), a real shame as it is a great looking and well made helmet...
Tyler S.
It fits well, especially with other POC goggles. Just an fyi to all you buying, it gets toasty! The ventilation isn't top dog status. But cold pow days can reverse that or ski faster.
Jessie