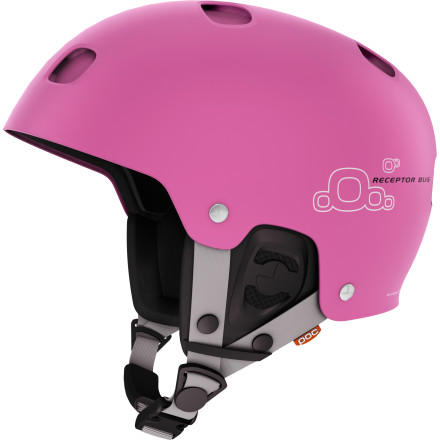 Colors
Comfort, protection, and style that makes the ladies smile.
POC altered their popular four season Receptor helmet to create the snow-specific POC Receptor BUG Helmet which offers bombproof protection and style to boot. Merged hard-shell and in-mold construction creates a unique double-shell design with superior ventilation and the ability to protect your head against impact or penetration from sharp objects. Removable ear pads keep your ears warm on frigid days whether you take the Bug for a hike in the backcountry, or for a few laps in the park.
POC joined an external ABS hard shell with an internal polycarbonate shell to create an exceptionally strong helmet that's lightweight
The Ventilated Double Shell Anti Penetration technology allows air to flow between the inner and outer shell to create ample ventilation without compromising protection
A single-impact EPS liner maintains a low profile fit with all the impact shock absorption you need to stay safe
Buckle Failure during crash
Familiarity:

I've put it through the wringer
I am seasoned skier and mountaineer for the last 20 years. And using a POC helmet i had a serious accident where the neck buckle of my POC helmet fail. By this i had a unvoluntare release of my helmet causing me serious injuries.

I cant be more disapointed about not only this helmet, but also this brand. I had no answer, no support... after several emails.

I strongly recomed anyone that is serious about their head to buy another brand with a better buckle system., The one used in POC is cheap and lacks of desing. POC is mostly about fashion.

I know that is one in a million chance to have an hyperflexion of the neck throwards your chest and cause excess preasure of the buckle and having release of the helmet. BUT, i think nowadays there is a HUGE offer of helmets and people should care about having the one that will remain attached to their head.

The buckle is the one used in this helmet.

Be SAFE

Jorge
Go-to helmet
Familiarity:

I've put it through the wringer
I honestly don't think I'll ever switch to another helmet while this is still being made. I've taken some big impacts and walked away with nothing serious. Awesome comfortable and protective design. Their sizing does seem a little smaller than other companies use so definitely look at the size chart before selecting a size
Brennen Monahan
Sweet
Familiarity:

I've put it through the wringer
Helmet initially did not fit well, but apparently helmets need break-in too.

Fits great, and flush with most of my goggles. (Spy, Anon, Oakley)
Justin H.
GreaT
Familiarity:

I've put it through the wringer
Great helmet. I feel very comfortable riding with this helmet because of the superior technology that POC uses. I would recommend these to anyone that has a concern for safety and also want to look good.
Jack Hall
You only get one brain, keep it safe
Familiarity:

I've used it once or twice and have initial impressions
Solid helmet, comfortable and gets the job done.
I really liked the brown color, which is true to the photos. It's comfortable and warm, gets the job done.
Martina Platte
Protect Your Noggin!
Familiarity:

I've put it through the wringer
I've had this helmet for the past few years and man has it come in handy. It's taken quite the beating from being thrown around in my car and protecting my head during failed cliff drops. It's got a roomy fit which is perfect if you plan on putting a beanie and goggles underneath. I've had some issues with tightening the chin strap but nothing too tough to handle. It's a very durable helmet! Works great with my Smith I/O S goggles.
Beth Warner
Awesome helmet
Familiarity:

I've put it through the wringer
I really like this helmet.... Comfortable and looks great.... Color orange is so pretty !!! I used this helmet for BASE jumping and love it! Size is perfect like all my helmets ( medium)
Sabina
If I order a helmet and it does not fit can I return it for either a bigger or smaller size?
Denisse
Jenn W
Great Fit
Familiarity:

I've put it through the wringer
This helmet fits great, and my Smith IO goggles fit great in it as well. Super comfortable, low profile, and very warm.
Ross Hayes
Does this helmet have vents that can be opened and closed? It looks as though it does, but then the description states it does not :/
Lisa S.
Hi Lisa,



This helmet does have ventilation, however it is not adjustable. The vents are always going to be in a somewhat open position.



Thanks,
Matthew Pizza
Great fit and look
Familiarity:

I've used it several times
Bought for my 15 year-old daughter for Christmas. Selected by her mom because the Navy Blue looked good, but my daughter (a ski gearhead) loves it and scrapped her old black basic Giro and hasn't looked back. It's warm, it's comfortable, goggles fit without forehead and temple exposure. No complaints.
Brent W.
Does this helmet come with a goggle clip?
onefiftysix
yes, but i've heard it's next to useless
Kyle E.
Unanswered Question
Will the receptor or fornix be compatible w dragon nfx or nfxs goggles? Thanks
Ian W.
Is the 'Lead blue' a Matte texture color?
rsm105601624-0
Grant Kates
Daniel L
I have not found a way to make it work. Please post if you found a work-around!
altaskier
What type of goggles fit best with this helmet?
Banks W.
Best Answer
This helmet is going to fit the best with POC goggles, but most of the larger style goggles should work just fine.
Travis Tzioumis
Do you think the smith goggles will fit?
Banks W.
Love love love this helmet
Familiarity:

I've put it through the wringer
POC is always my go to in safety equipment. I've been using this helmet for 5 seasons by now, next year I will be replacing it and upgrading to the Backcountry MIPS model.



The Receptor Bug is warm, comfortable, stylish, and most importantly a quality piece of safety equipment. I'm the type that refuses to go skiing without my helmet, I simply can't ski confidently without it on. I've rung my bell pretty good a handful of times with this helmet on from slipping out on ice, to tree branches that were thicker than expected, to high speed tomahawks, to crashes in the park (cause I suck at park skiing)... I mean if you're not falling you're not trying, right? Through every fall I've taken with the Receptor Bug I'm still living concussion free and I don't believe that would be the case with inferior helmets. The helmet is littered with scrapes and scratches from trees on the matte black finish (see posted pic), which I guess would be my only complaint, but I'm not complaining about it, these things will happen. It fits perfectly with my POC lobes which helps prevent snow and moisture from fogging up my goggles, as well as the dreaded gaper gap! Friends of mine who have borrowed the helmet are now planning on purchasing a Receptor model as well and have raved about how comfortable it is.



Every helmet should only take so many hits before you replace it, it's tough to gauge exactly when you reach this point but I'm assuming I have by now. I'm planning to replace the helmet with the Backcountry MIPS version for even more safety precaution. A piece of plastic in this model will break in a harsh life threatening crash so the liner and outer shell of the helmet can rotate separately and reduce the brain jostling (fun thought right). I recommend the Receptor model for comfort and warmth, and this standard Bug version has served me well over the years, but if you have the extra cash I'd recommend getting the MIPS model. BE SURE TO WEAR YOUR HELMET EVERY DAY!!!!
Josh Hirschmann