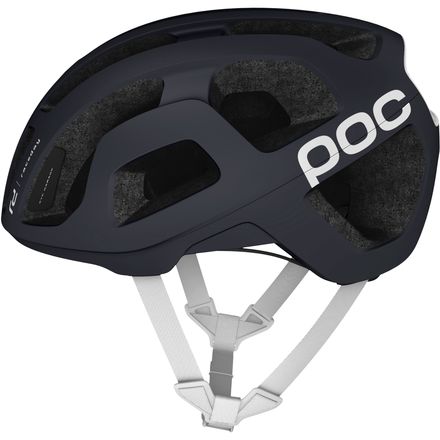 Colors
More protection for raceday.
The POC Octal Raceday helmet is something of an anomaly in the market — after all, almost all helmets are designed for racing, but worn for training. POC flips this paradigm on its head a bit by offering a helmet designed for the special rigors of bike racing. The Octal AVIP Helmet has high-visibility, and emergency identification features, but the Raceday forgoes those, under the assumption that you'll be racing in an area free of cars, and where your emergency contact info will be lodged with the organizers.
In addition, the Raceday provides a bit more coverage, extending down the low-back of the head more than the AVIP does, in anticipation of the possibility of more frequent crashes while racing. The POC Raceday also features a low-profile click wheel for adjustment, and POC's Eye Garage for keeping your sunnies perched solidly on your helmet when they're not in use.
The helmet that changed how the industry designs racing lids
Race-specific design doesn't hold back when you aren't
Multi-material shell improves ability to absorb impacts
Provides more coverage than the Octal AVIP
Vents provide cooling airflow and improve aerodynamics
Designed to complement POC's Race Day apparel
Eye Garage keeps your glasses secure when you're slugging up a climb
Great Helmet, Lots of Vents
Familiarity:

I've used it several times
I have been using this helmet for about a month now and I really love it. It fits nicely and has a lot of coverage, especially on the back of the helmet behind the ears. It has more coverage there than any helmet I've ever owned. Great ventilation, with lots of large openings, especially in the rear of the helmet to let the air escape. I wore this helmet on a recent two day event where the temps started out cool and got really warm in the later stages of the ride. Worked great in both situations. The helmet, in my opinion, is really good looking, and IU have received several favorable comments on it. I really recommend the POC helmet. Great helmet at a great price from Backcountry. My only minor complaint is that there are adjustment arrows on the inside of the helmet that seem to allow you to reposition the rear retention system a little, but there are no instructions on how to do it, and no way of telling how much adjustment would be allowed. There are two numbers, (1 & 2), showing with back and forth arrows adjacent to the numbers, but I haven't been able to figure out how to make an adjustment. I also checked the POC website and YouTube with no luck. I ordered a size medium and it has a little room for size adjustment on the retention system. I wear a size 7 3/8 hat.
Thomas M. McCafferty
my what vents you have
Familiarity:

I've used it once or twice and have initial impressions
Light, comfortable, looks great. Best of all, very well ventilated. I just picked this helmet up after using KASKs the past few years, and haven't ridden in it just yet, so my rating may change, but trying it on a few times I am really looking forward to using this helmet.
Scott Gartman
Fantastic helmet!
Familiarity:

I've used it several times

Fit:

True to size

Size Bought:

Medium
Lightweight, comfortable, great color. I have only ridden with it in the winter over a skull cap so far, but I have no doubt my opinion will remain high in the summer months as well - plenty of ventilation up there. This is my first departure from Giro helmets and I have been very impressed.
Nathaniel S.
Nice fit, style, weight - flimsy harness
Familiarity:

I've used it several times

Fit:

True to size

Size Bought:

Small
I really like the weight, fit, and feel of this lid. My main disappointment is in the harness which is what prevents me from five-starring it. Why they'd make this white [instead of gray] is beyond me. This thing is going to get grungy and gross looking in no time flat. It's also made using a thinner web nylon which makes it feel a bit flimsy and cheap. The whole sunglasses docking seems overrated as my Rudys do not seem to find this feature any more useful than on my first $30 entry level Bell. I look forward to the HUGE vents this summer, though I can see there will be sunburn risk on the forehead that isn't a concern smaller venting lids. If you are bald or shave your head you will definitely always want a liner to prevent racing stripe tan lines on your melon! Even those with hair should be mindful of the upper forehead sun exposure. Not everyone appreciates the POC styling but this thing feels amazing and I appreciate the rear head coverage. It does, however, force a very low ponytail rather than being able to pull it through the harness gap on most/many other helmets. I have thinner pin-straight hair and this presents no issue for me, but it could be a factor to consider for those with very thick locks. I would definitely buy another POC despite the harness gripe.
Lynn M
Height:
5'3"
Lots of airflow, fits my head perfectly,
David B.
Great Helmet!
Familiarity:

I've used it several times

Fit:

True to size

Size Bought:

Medium
Fits great and protects my entire head, which not all helmets do well.
Max Z.
Height:
5'10"
Weight:
152lbs
Excellent product , highly recommended .
Familiarity:

I've used it several times
This is the best helmet I ever had, feels like you have nothing on your head, very comfortable helmet , worth the money .
luis T.
Height:
5'11"
Weight:
187lbs
True to size.
Familiarity:

I've used it once or twice and have initial impressions

Size Bought:

Small
I like the product. Confortable and light.
Edgardo B.
Height:
5'11"
Weight:
160lbs
2nd Helmet As Good As The First
Familiarity:

I've put it through the wringer
I really like this helmet, the fit and comfort is amazing. Took a spill in my old one, the helmet protected me as expected, but made a new one necessary. I came straight back to the Octal as my replacement choice. I use this helmet for all disciplines of cycling and have zero complaints.
Chase Skidmore
design flaw
Familiarity:

I returned this product before using it

Fit:

True to size

Size Bought:

small
Helmet fit great. Felt good on my head. However when I put on my oakley sunglasses they hit the back of the helmet. Perhaps the larger size would handle the issue but I don't know. I fit just under the measurements for a small. Had to return and will go to store for proper fitting.
Scott B.
Height:
5'8"
Weight:
180lbs
Great in every way but one
Familiarity:

I've used it several times

Fit:

True to size
My POC disappears on my head when I wear it. What greater praise can I offer? I am recovering from a bicycle accident that caused four broken cervical vertebrae, six broken ribs, a broken hand, two skull fractures, and a lost tooth, etc. My helmet, a Smith, saved my life. I'm counting on the POC to do the same. It is lighter and more comfortable than the Smith (which was a good helmet). My only complaint about the POC is the chin strap material. It is so light and thin that it can slip through the adjustment clip. I'll adjust it to a good tension, and by the end of a long ride it's noticeably looser. Not a major problem, but. Anyone have ideas for improving this? I really like this helmet and I'd like it to be perfect.
Mark C.
Great fit and weight.
Familiarity:

I've put it through the wringer

Fit:

True to size
Helmet is great. Perfect fit, size adjustment and light weight. I hardly notice it at all. One small quibble is the integrated 'Eye Garage' which is designed to hold your glasses. Even with a pair of POC glasses it does not hold them very well and they will come free, even if not riding on rough terrain.
Brendan H.
Just great!!!
Fit:

True to size

Size Bought:

Small
Its so light that it doesnt even feel like its on your head. Size true fit. Im so happy yo have choosen poc helmet.
Claudia A V.
Great looking and fitting helmet
Familiarity:

I've put it through the wringer

Fit:

True to size
I've heard a lot of buzz about this helmet, so I decided to make the purchase. It fits true to size and does not give me that mushroom top look. A couple twists of the adjustment band and it fits great. Light weight with the best ventilation... You can really feel the air move through the top of your head cooling you down a bit. Straps are the best I've seen and used on any helmet, every part is completely adjustable... two thumbs up
Anthony Card
POC Octal
Familiarity:

I've put it through the wringer
This helmet is so light its doesn't even feel like it's on your head! The straps are as adjustable as any other good helmet I've ridden in, and the fit is really nice. It fits a little low around the head which is nice for locking it in place. The only downside is that it's tough to find a spot to stash the shades when you need to take them off.
CJ Brish
Great Helmet
Familiarity:

I gave it as a gift but have feedback to share
I gave this as a gift and they love it. The fit is great and it's super light. Vents are perfect, and I love the hi-vis color.
Leigh Stokes
Great fitting & good looking helmet!
Familiarity:

I've put it through the wringer

Fit:

True to size

Size Bought:

Large
This is my second Poc helmet. I've owned basically every brand from Giro, Kask, Catlike, and Specialized. The Poc really fits snuggly, but is not uncomfortable and I especially like the "eye garage" to hold my Oakleys when the sun goes down.
Brent W.
Height:
6'2"
Weight:
195lbs
Safety and Style First
Familiarity:

I've put it through the wringer
I don't know if a can helmet make you ride faster, but this one might. I have loved this helmet so much, and it has been very reliable. It is super light, as well as crazy breathable. You'll probably forget that it is even on, that's how comfortable and light it is. The padding in it is really well done too. Looks really sharp and will help you stand out from the crowd. One feature I really like is the
Porter Trapp
Light and breathable
Familiarity:

I've put it through the wringer
If the fit is right for you what more do you really want?
Dane H.
Stylish (but shiny) helmet
Familiarity:

I've used it several times

Fit:

True to size
First up: COLOR - I love the color options on this helmet, which attracted me to item, that and the cool, low profile style. Features: Super light weight material, very breathable, great protection for your brain. The chip strap is also has a great feel to it - not too bulky like some other helmets I've used. Only downsides: The finish is glossy, so it's quite bright and shiny (I ordered it in pink). I was expecting it to be more matte from the photos on the website. I don't mind, but something to keep in mind - you're going to literally glow in the dark. Sizing: I measured my dome and was on the upper scale of the small, so I ordered a small. It fits, but it's a little bit snug - had to extend inner shell to the widest setting. In hindsight, I would probably have ordered a size up, so keep that in mind if you're in between sizes.
Nicole Sumner