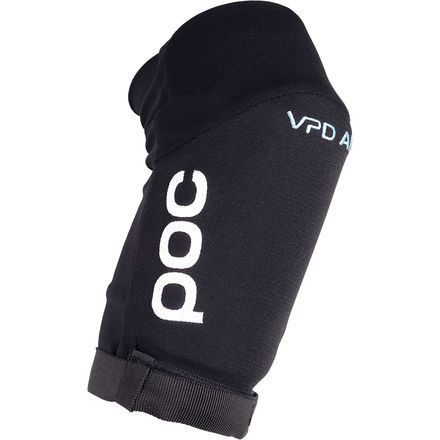 Colors
High velocity pedaling demon.
POC's Joint VPD Air Elbow Pads are built for cyclists who see protection as a back-up plan, not an inevitable go-to. They incorporate VPD padding, which may very well be POC's initialism for [High] Velocity Pedaling Demon. The pads don't weigh you down, so your pure XC and climbing speed won't be compromised, but they will catch you in case of a high-speed user error. A neoprene sleeve and hook-and-loop strap secure the pad while pedaling and under impact, so it won't be out of place when disaster comes courting.
Lightweight padding for high speed and occasional tumbles
Flexible neoprene body with a secure strap
Great Low Profile Pads
Familiarity:

I've used it once or twice and have initial impressions
Like the Air knee pads, I love the lower profile of these elbow pads. They stay in position the whole ride. Sizing, however, is smaller than you'd expect. I generally wear medium sizes but the Large fit me best. I haven't wrecked with them yet so I can't say how they'll protect or stay put.

Cheryl K.
Great Pads for Light Weight Protection
Familiarity:

I've used it once or twice and have initial impressions

Fit:

Runs small

Size Bought:

Medium
Well, I thought I was invincible but ended up with stitches a few too many times in a row. Now I won't hit the trail without these. I just don't want to wear pads but these are super thin and light weight. These run snug and only have a strap on top. They seem like they will work great. I also got the POC gloves and elbow pads. Get them before you ride!
Cheryl K.
Height:
5'10"
Weight:
150lbs
Light Weight HiTech Protection
Familiarity:

I've used it once or twice and have initial impressions

Fit:

Runs small

Size Bought:

Medium
These are great pads. Super low profile. They do fit pretty snug. Hopefully they will break in a little. I don't want to wear pads but I have seen what happens if you wreck and don't have some extra protection. I like the high tech concept of the VPD staying soft until impact. There are some cool youtube videos about how it works. Almost like it has AI built in. I would highly recommend all POC products and this is the place to get it! Be safe, use protection!
Cheryl K.
Height:
6'4"
Weight:
165lbs
Love!
Familiarity:

I've used it several times
If you want maximum protection with less bulk and material, these are winners! The other elbow pads I tried, basically covered my entire arm. no thanks. these get the job done and stay put. my little elbows are safe from my guaranteed falls.
Emily Noll
Not Great
Familiarity:

I've used it several times
The pads are nice and flexible. If they stay in place. I rode a few times with them and they were ok. I was in an enduro race with them and one kept sliding down to my hand, was about to just let it go into the woods so it wouldn't be a distraction anymore. I'm probably going to the Fox sleeve style.
Nathan S.
Pretty Darn Perfect Elbow Protection
Familiarity:

I've used it once or twice and have initial impressions
As much as I don't care for any padding when biking, these fit well, are arid and comfortable. I have only worn them a few times, but haven't had any problems with them slipping to my wrists or stretching out. For an elbow pad, I still have plenty of movement capabilities to move my arms, and appreciate the extra protection they offer as who knows when that rear wheel is going to come out on a tight corner and your elbow is going to be there for the support.
Kevin Flanagan
Best for XC
Familiarity:

I've put it through the wringer
I will agree with prior post about them being small. But my caveat would be that lasts for 2-3 uses and then they stretch out to be pretty spot on. I got M, and being 5'10 170, the fit great. I would say that slippage is not an issue. I haven't had to test them in a crash but I would suspect they would hold well to anything that doesn't involve rocks...

Only downside in my opinion is that they don't breathe real well...FYI if you sweat like a piggy...
Todd B.
does this come with both elbow pads? or only one?
Robin A.
Hey Robin - The price is for both Joint VPD Air Elbow Pads, they come as a pair. Feel free to contact me directly with any additional questions.

- Kyle L. - Expert Gearhead
Kyle Livingston
Once I finally got into mountain biking last year, I learned rather quickly that it wasn't very forgiving... Bone bruise to the elbow, plenty of blood- it was time to step up the game and invest in a good pair of elbow pads. I had purchased the VPD Air knee pads prior, and LOVED how low profile and comfortable they were. These are the same! The fit is again on point- I went by the sizing chart and measured in between a S and M, and got the smaller so I didn't run into the slip issue. As of yet, no issue with them sliding down, though it's a minor struggle to pull them on (definitely worth it though). In the end, they look good, they feel good, and they WORK!
Kayla Weiser
Almost perfect
Familiarity:

I've put it through the wringer
These elbow pads are great, they are comfortable, low profile, and hardly noticeable. The only down I side I have encountered with them is that they tend to slide down very easily. This doesn't happen all the time only on really hot days, so in the end the benefits really outweigh the one slight negative. All in all great product!
Ryan P.
Tips for a good fit
Familiarity:

I've used it once or twice and have initial impressions
Bought these when my last pads (TLD E-Lite, Size: L) started slipping down. I am a 6'4", 190# with small bones, thin arms, ride 70+ miles per week XC/trail. Bought the size:M in these elbow pads and wore them today for the first time. When I tried them on at home I was concerned - they felt tight...I stretched em out by hand a little. Today they were absolutely perfect. Wore them with the matching VPD Air knee pads. Both feel snug when you first pull them on at home. Even on the trail for the first minute you feel them. But then they go away completely. Very comfortable. Good looking to. Haven't crashed in em yet though, so...
Peter H.
Slips to wrists
Familiarity:

I've put it through the wringer

Fit:

Runs small

Size Bought:

Large
Had these for a few months. They originally worked well, however after a couple of cold water washing and riding rocky, bumpy terrain (after all this is the terrain you would ride if you are wearing pads) these pads literally slipped down around my wrists. Having to stop and pull them back up every few miles. So frustrating. If they had a strap above the elbow rather than JUST below the elbow I think this would help to prevent the problem. Any way called competitive for a replacement or refund...sorry you have exceeded our return timeline. They asked me to call POC directly... I did and after some explanation and persuasion they upgraded my elbow pads to the POC joint VPD 2.0 Elbow Guard. These have the upper strap and lower strap. Just finished a pretty intense ride and these pads did not budge a bit and were extremely comfortable! Thanks to POC for helping me out. I wish competitive would have identified the flaw and design and helped me but it all worked out.
Thomas L.
Height:
6'
Weight:
175lbs
I medium built with small arms,medium size wont even fit! It stays up to my forearms.
Lysander M.
Height:
5'9"
Weight:
175lbs
Crash Approved
Familiarity:

I've used it several times
I've had them for a couple weeks and have no regrets with my purchase. When I first moved to Utah, I fell a lot while riding and quickly shredded my elbows. Once everything healed, I bought a pair of these. Since then, I wear them on every ride. I haven't had any issues with chafing or irritation. As the reviews below state, these don't slip. They have strips of grippy rubber on the inside to prevent just this. I usually forget I'm wearing them - until I feel a nice breeze come through the spandex. (On a side-note: when the above description says the sleeves on these are made of neoprene, don't read it as scuba neoprene. It's more like two layers of durable spandex). While I haven't had the privilege of falling in these yet, my dad has and he came out unscathed.

Regarding the fit - if you follow POC's size chart, they will fit perfectly. It told me I was a medium, and mine are great. They might feel extra-tight when you first receive them, but give them time and they'll break in to that perfect fit.
Darick Nace
protection is key
Familiarity:

I've used it several times
ordered these for a good friend and she has loved them, one of the best ways to improve biking is to have the right protection so when you are out there gripping and ripping it and have the occasional misshap you can bounce back on your feet and get back at it. fit on these is perfect and they dont slip off even through the gnarly rock gardens.
Evan Grott
I Don't Always Wear Elbow Guards...
Familiarity:

I've put it through the wringer
But when I do, I prefer these lightweight gems. They offer plenty of protection for technical trail days or jump lines at the bike park without being at all bulky. That being said - they definitely do not offer the same level of protection as a hard shelled guard, but for my style of riding they are perfect.

The fit is pretty dead-on. I ordered medium based on the size chart and they fit very well, no slippage at all.
Jacob Popek