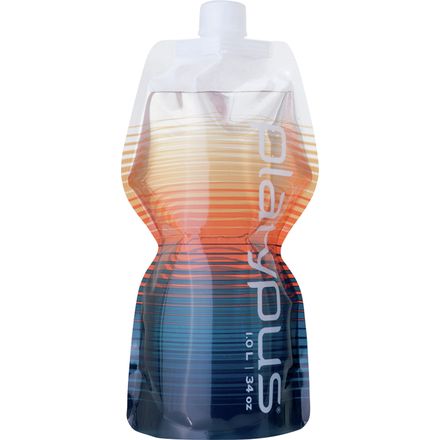 Colors
Whether you're on the trail or traveling around the world, remaining hydrated is important which is why the folks over at Platypus crafted up the ever-smart SoftBottle with Closure Cap. Designed with a flexible and food-safe plastic, this soft bottle easily rolls down when not in use and is BPA-free, so you don't have to worry about gnarly toxins making their way into your water.

BPA, BPS, and phthalate-free
Food-grade liner
Flexible
Lightweight & Great for Packing
Perfect, glad that I made the switch from traditional hard bottles for my last backpacking trip! Great for the extra bottles to fill a pack.
Ryan S.
I just picked up a few of the 1L Platypus Soft Bottles and they have quickly become a must have for any backpacking set up. They roll up small and the cap doesn't get in the way of much. Great for carrying water from the source to your camp. When you're finished you don't have to worry about the excess weight of a traditional bottle.
Josh Repman
0.5 Liter for the Win
Familiarity:

I've put it through the wringer
There's really nothing to these bottles. They are very flexible and light. They can roll up very small when not filled. I love them for anything in the backcountry. I love them for simple day hikes VS a hard bottle so you don't have a hard object either jamming you in the back or taking up all your space in your small pack. Just buy these if you do anything where space matters.
Zach Higgins
Good water container
Familiarity:

I've used it several times
Used this one for my daily drink mixes and it worked well. Only improvement would be an elastic band to keep it stored in the rolled-up position when empty.
Cha105280500
SO MANY USES:
Extra hydration in the bike pack for extra long rides.

Packable and lightweight extra hydration while backpacking or hiking.

And they are awesome as frozen ice packs in the cooler for the weekend - creates a nice hunk of ice, AND you have cold water to drink once it melts, so you are using that cooler space more efficiently. BUT, you must be careful not to freeze them if they are too full or you will break the seal. Their older, first generation plastics seem to have held up better for me, but I totally understand they are not exactly intended to be ice packs.
Re Wikstrom
I bought this to be a compact bottle and it is what it states, light weight and compact. Used it and it did not leak, the only draw back is getting it to dry out afterwards.
Sara J.
Great Packable Water Bottle
Familiarity:

I've put it through the wringer
This soft water bottle is great for storing extra water while hiking or backbacking. It is durable, doesn't leak at the cap, and pack down to almost nothing when not in use. It is great for carrying extra water on longer days or into camp for cooking. Highly recommend this bottle as an alternative to large nalgenes.
Matt T
Good Product
Familiarity:

I've used it several times
Good product, good for camping, kind of hard to dry out tho.
Austin Clutter
Good Product
Familiarity:

I returned this product before using it
This was a good product but I got the wrong size so had to return this one.
Austin Clutter
Awesome water bottle
Familiarity:

I've used it several times
The Platypus SoftBottle is such a great little travel style water bottle. I love how packable it is, even in the 1L. It is extremely lightweight, and you can roll it right up and toss it in a bag without even knowing it is there. However, I find it not quite as durable as the Platy Plus bottle by Platypus, because it is more of a plastic material than than rubberized (like the Platy Plus is). I really like the twist top lid feature on both bottles through. I just don't trust the Push/Pull caps when full with water and in your pack with a lot of your valuables. Overall, awesome travel bottle though, and would highly recommend!
Caleb Lecker
great for trouing
Familiarity:

I've put it through the wringer
I use this bottle when i am out skiing. It packs down really small and holds up way better than expected.

johngchrist
Best Space Saver
Familiarity:

I've put it through the wringer
I love this. I was tired of carrying a big Nalgene or Hydroflask in my bag when touring that took up a ton of space. I was super stoked to pick this up. Even when full it takes up less space than a regular bottle. Love it. Buy one.
John Kutcher
Fits in your pocket
Familiarity:

I've used it several times
I have a couple of these in the 0.5L size. I keep them in my ski jacket when I'm tooling around the resort so that I can have water but don't need to lug a pack around. When you're done they roll up and fit in there even better.
Matthew Pizza
I've been using one of these for a few years and have had no issues. I have a regular cap and a sippy cap I stole off another bottle.
johngchrist
Lightweight and Pack-able
Familiarity:

I've put it through the wringer
Platypus bottles are a must have for anyone looking for a lightweight alternative to a standard water bottle. I use mine for ski touring, hiking, backpacking and much more! Once you finish your water it flattens down to save space in your pack.
Mackenzie E
Convenient Until Cleaning
Familiarity:

I've put it through the wringer
This is a great water bottle for hiking, backpacking, touring or really any time space and weight is limited. I've had great luck with these and am yet to have one leak or break. The only downfall to these is that they are difficult and take a long time to dry after washing.
amber nelson
Unanswered Question
How can I get mould out of my bottle? I may have forgotten it with leftover Gatorade inside....
Andrea C
Keep it frozen
Familiarity:

I've put it through the wringer
I bought these for some friends for their "Wasatch Ultimate Ridge Linkup" challenge. They are needing to stash water in key places so they don't have to carry all the extra weight, and collapse the bottles when they are done. I thought these would be exactly what they need!

I also own some for camping. I keep them frozen in the freezer so they are good to go and so I don't have to dry them out for storage. They hold up really well to being frozen, and they help to keep the cooler cold. The only downside is the bottle is flimsy when drinking from it, and I'm afraid I'm going to cut my hand on the laminated edges, but It hasn't happened yet in the many years I've owned these bottles! You can also use them as "clean bags" if you have a Platypus Gravity Filter.
Jeff Guest
Okay water vessel.
Familiarity:

I've used it once or twice and have initial impressions
It did not leak in my limited use, so it has that going for it. Going to agree with the other reviewer, it is a pain to dry and even with pretty substantial measures taken they did not dry for a long time.
Gordonlightfootsbiggestfan