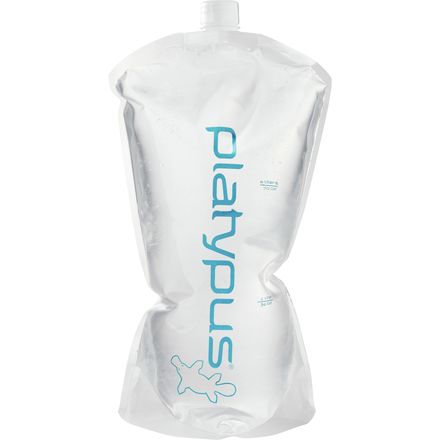 Colors

Community Images
As a standalone bottle or tucked into your backpacking pack, the Platypus Platy Bottle keeps the fluids flowing.
The Platypus Platy Bottle is a portable fluid container that's perfect for backpacking or travel. Platypus shaped the Platy Bottle to fit comfortably in your hand making it easy to drink on the go. The Platy Bottle is significantly lighter in weight than conventional hard plastic bottles, making it an ideal choice for serious backpackers. Add a Platypus Taste-Free Drink Tube to the Platy Bottle and you have a hands-free hydration system.
Packable hydration
Familiarity:

I've put it through the wringer
I've always been a fan of Platypus bags for their light weight and packabilitly when not in use. The 2L size (which is actually more like 2.5L) is great when you need to carry more water, but don't want to carry a bunch of 1L bottles, or for when you want a larger water reservoir at the campsite.
Jeremy Collett
Great Travel bag/bottle
Familiarity:

I've used it several times
This Platypus Platy Plus Bottle is such a great little rubberized style water bottle. I love how packable it is, even in the 1L. It is extremely lightweight, and you can roll it right up and toss it in a bag without even knowing it is there. Lastly, I really like the twist top lid feature. I just don't trust the Push/Pull caps when full with water and in your pack with a lot of your valuables. Overall, awesome travel bottle though, and would highly recommend!
Caleb Lecker
love the one liter
Familiarity:

I've put it through the wringer
The handle is great and this thing is a tank. It has been through a lot and still has no leaks!
johngchrist
My Friends Keep Stealing These
Familiarity:

I've put it through the wringer
And Ill keep buying more.
Jon Collet
durable and light
Familiarity:

I've put it through the wringer
Its so nice to have your water bottle collapse to nothing when its gone.
rob
Perfect for Ski Touring
Familiarity:

I've used it several times
Light weight, collapsible, and useful. Used mostly ski touring and it allows me to lighten up my pack.
Don West
Save Weight & Space
Familiarity:

I've put it through the wringer
After using hard sided bottles that are far too heavy and cumbersome for backpacking for far too many years, I finally converted over to a system of carrying a couple of these (typically the 2L size) and either the Platypus Hoser hydration bag or drink tube. This allows me a more modular drinking system while also having great at camp water supply that takes of virtually no space or weight in my pack when they are empty. Cleaning & drying these are not my favorite part of using them, but that would be the case with any water storage with such a small 'mouth'. Overall, wonderfull product that is durable, lightweight, and simple!
Kyle Smyth
I love platypus in general because it is light and when I am done it rolls up and can be shoved in a pocket. I like this particular design because I have an aversion to drinking after people. The handle made it easier for fellow adventures to easily pour water into their mouths without cross contaminating the bottle or pouring all over their face. Good thing too...I ended up with a stomach virus the morning after our trip. It also made cooking and filling at water sources less clumsy than the standard platypus bottle. I hate wet hands in the winter. I could go on and on, but it is a water bottle...so I won't.
josh
Short Day Trip Bottle
Familiarity:

I've put it through the wringer
Great for stuffing down your jacket when going for a quick day-tour or throwing in the pack as a back-up water bottle. You never know when you'll need an extra liter or two of water.
Suzy Williams
I own a couple of these for camping. I keep them frozen in the freezer so they are good to go and so I don't have to dry them out for storage. They hold up really well to being frozen, and they help to keep the cooler cold. Then I have plenty of backup water when needed. The only downside is the bottle is flimsy when drinking from it, and I'm afraid I'm going to cut my hand on the laminated edges, but It hasn't happened yet in the many years I've owned these bottles! You can also use them as "clean bags" if you have a Platypus Gravity Filter.
Jeff Guest
Nalgenes are dead
Familiarity:

I've put it through the wringer
I use this waterbottle for everything. I leave one in my climbing bag, my ski touring bag, my car, and in hiking packs. Easy to drink out of, lightweight, easy to pack, and you can clip it to whatever you need.
Ben Rabinowitz
Super Versatile
Familiarity:

I've used it several times
Whether you want to use this as a portable water bottle or as part of an inline gravity like I using them for. I'm hoping they will hold up to lots of abuse but only time will tell. For those wanting to use them as part of a gravity filter these screw into a Sawyer Mini so no hoses required! Super ultralight and minimal!
Dylan Witwicki
Folds down into nothing
Familiarity:

I've used it several times
Bought it primarily because when it's not full, it packs down to near nothing. Seems durable. No weird plastic taste that I've noticed. I'd buy one again.
rakesh patel
Great for a day hike
Familiarity:

I've put it through the wringer
I bought this because my ABS pack does not have a hydration bladder sleeve/port. The 1L option with the handle is the size I went with. It is the perfect amount of water to bring on a day tour - not too much, not too little water.

So far I am loving it.
Grant Kates
Love this
Familiarity:

I've used it several times
I carry one or two 1 liter sized bladders in my pack so I can have extra capacity with very little added weight. They usually travel rolled up with a rubber band keeping then tight. They weigh in at 0.2 oz, if memory serves. I carry a 32 oz plastic bottle for use throughout the day so these give me the capacity to carry up to a gallon of water if needed without weighing down my pack. Water is heavy enough so I keep the containers as light as possible.
bakwoodj
No need to carry around a big empty water bottle any more. I didn't give it 5 stars because the cap is not attached so it's easy to lose. I'd like to get a smaller version that fits in my jacket pocket for resort days.
Pete OBrien
Great, easy to carry water bottle
Familiarity:

I've used it several times
I bought two of these and have mainly been using one everyday. I bring it everywhere I go since it easily folds down and is super light. I have a Nalgene too which I like but it is much bulkier and heavy when full. I plan to take these camping, climbing, hiking, etc. And like one user said, no plastic taste at all and they stay pretty clean. Very much a recommended purchase!
Kelly C.
nice to have a folding water bottle. not necessarily anything special
JACQUELINE S.
light, compact, flavorless
Familiarity:

I've put it through the wringer
I've been using this bladder for awhile now and absolutely love it. It imparts absolutely no plastic taste (I had issues with an MSR bladder that constantly tasted like plastic even after 12 months of use). It doesn't seem to funk up as quickly as a Nalgene (I basically just rinse it after every use), it's pretty damn durable and actually stands upright too. When it's empty it rolls up and takes up almost no space in your pack/pocket. Love this thing so much I bought the 3L as well.
Julian B.
This water bottle is pretty rad. It is the ultimate backpacking water bottle. The more you drink the smaller the bottle gets and when you are done the water bottle is so small it can fit anywhere and weighs nothing.
Daniel Maus