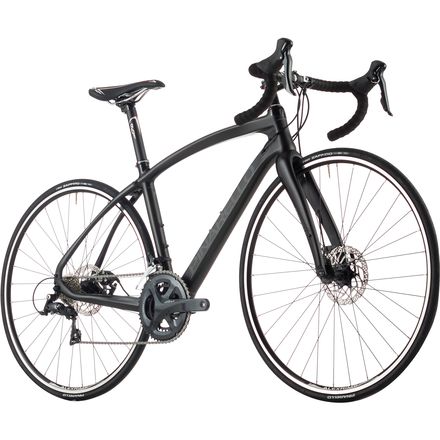 Colors

Detail Images
A match made in Tuscany.
Though many of Italy's most venerable manufacturers have been slow to embrace road disc brakes, Pinarello proved itself an early adapter with the Mercurio Sora Complete Road Bike. To us, Italy and gravel bikes make sense—see for example l'Eroica, a race across Tuscany's white gravel roads that started as a gran fondo in '97 and quickly grew into a favorite with the top hard men of the peloton, too. We suspect the reason for its immediate success is two-fold.
First, its varied terrain of tarmac and limestone makes for a race that's full of opportunities for ambitious racers to blow the field apart (which also makes it a fan favorite). Second, everyone from the pro ranks on down to us aspirational cyclists can agree that this kind of mixed-surface adventure cycling is just a hell of a lot of fun. Gravel bikes are about freedom to explore everything up to and including singletrack and fire roads, and bikes like the Mercurio embody that ethos of exploration.
The Mercurio's frame is constructed from a targeted lay-up of 24HMUD carbon, which is spec'd to withstand 24 tons of pressure per square centimeter. It's not quite as light and stiff as the carbon used in the Dogma line, but it's not supposed to be. Rather, the 24HMUD used here is meant to strike a balance between rigidity, low weight, chatter-devouring smoothness, and price. It excels on all fronts, as it's stiff and light enough to meet the needs of everything short of crit sprinters and featherweight climbers but still keeps the price to a point where a dedicated self-sponsored racer could even pick one up as an all-terrain adventure bike.
That's not to say it's a slow-plodding, unwieldy urban noodler, though. In addition to benefiting from Pinarello's high-modulus carbon expertise, the Mercurio has the same Onda fork shape that was developed in conjunction with Jaguar for the Dogma F8. The only differences are that it's made from a different material (the same 24HMUD used in the frame) and built-up on the non-drive side in order to account for disc braking forces. The stack and reach also put the rider in a more aggressive position than we're used to seeing on bikes billed as dedicated gravel grinders, and those dimensions just add to the list of items suggesting Pinarello was out to create a bike that could literally do it all, not just grind gravel, knock across potholes, or fuel a spirited tempo ride.
In addition to that racing pedigree, the above-mentioned tube shapes and frame lines are another signature aspect of Pinarello frames. Instead of the sinuous, wavy stays on bikes like Illes Balears' old Pinarello/Opera frames, the Mercurio's use of outside-the-box lines extends from the rear drop out to the head tube by way of a dramatic seat stay/top tube arc. While there may be elements of vibration damping underlying the design, we admit to loving it based on looks alone.
The frame's silhouette also provides increased tire clearance. We've managed to fit up to 28mm tires on it with fenders, but it can go bigger than that without fenders. This puts it in the range of bikes used for commuting, sure, but that's also the median size for tires raced on the hellish stones of Roubaix on the second Sunday of April. The slack head and seat tube angles further recommend the frame for riding hard on unforgiving terrain like gravel and cobbles. While the head tube is similar to Pinarello's Razha endurance frame, the seat tube is even a bit slacker, providing a bit of added stability without compromising any of the frame's general racing aggression.
The Mercurio is built up with a mix of Shimano Sora and Pinarello's own Most cockpit components. This is, by no means, on par with the build kit guys like Froome and Stannard are riding, but it does keep the price low and allow for a relatively painless entry into the world of disc brakes. When the upgrade bug does come biting, the frame's Think2 routing gives you a virtual carte blanche: mechanical, electronic, hydraulic — let your ambitions run wild, because Pinarello has all the angles covered.
A gravel grinder that displays an aggressive racing pedigree
Blendsa slack gravel grinder and a traditional race frame
High-modulus carbon construction for efficient comfort
The confident stopping power of mechanical disc brakes
Clearance for 28mm tires—even with fenders installed
Really pleased with this bike!
Familiarity:

I've used it several times
It fits more like most brands' 49cm frames. Firstly I was very attracted by its appearance - that top tube arcing gracefully into the seatstays. And the stealthy black finish. After 3 rides I am extremely impressed by the comfortable ride quality and decent acceleration speed. The steering response is quick. I do sit a bit more upright and will continue tuning with various stem lengths but have not had a discomfort yet.

Day 1 - replaced with Ultegra 6800 groupset, TRP HY/RD brakes and Mavic Aksium One wheelset with 28mm tires. Weight is approx 18.5 lbs. Net investment after reselling leftover bits is right around this bike's suggested retail price.
John G.
Good start when on sale
Familiarity:

I've used it several times
I've had a Pinarello road bike for years that I've put through the wringer. Problem was it wasn't usable here in the Pacific NW 9 months out of the year! When this bike went on sale, I jumped on it because Pinarello fits my body like a glove. So this groupo is cheap & so is the wheelset! But I figured at 46% off, I can ride this as my rain bike for awhile then upgrade the components & wheelset at a later date. I've taken it on gravel, dirt & some sandy paths & it's great! With only 9 speeds, I'll wait on any major climbs until I can upgrade to 12 lol! I'm a petite 5'2" and ordered the 42. The handlebars were perfect.
Phuong T.
Unanswered Question
How much it weights the bicycle on size 54cm stem 90 handle bars 45
Thanks
Hector Martinez
Sora on a two thousand dollar bike!
Amazing that this would come with Shimano's super low end gruppo at this price. Holy cow.
Dave M.