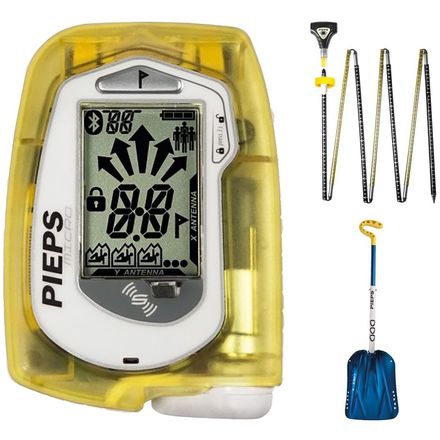 Colors

Detail Images
Small, mighty, and tech savvy.
The Micro Avalanche Safety Set includes Pieps' smallest beacon, a versatile shovel, and an electronic probe with integrated low-range receiver that amplifies active signals from buried beacons. Despite a small size, the Micro Beacon maintains a three-antenna design and a moderate 40-meter range. Its display is just as large as Pieps' larger beacons, and it houses the standard features that you'd expect from a full-sized beacon including: self-check functionality, auto-antenna switch, group checks, and Bluetooth compatibility for updates.
Apart from a low-range receiver, the Pieps iProbe II uses a target indicator to help detect active burials. While this definitely doesn't take away the need for adequate beacon search practices, the iProbe can help speed up pinpoint searches. It automatically turns off when folded, and measurement markings help with snow study. Also assisting with snow study is the clever Pieps C660 Shovel. A multi-tool of avalanche shovels, the C660 has an extendable shaft and hoe function to move heavier snow faster. The C-shaped handle accommodates bulkier mittens, and there's a bottle opener at the back for opening well-deserved brewskis after a big day in the backcountry.
Pieps's smallest, lightest beacon for backcountry touring
Electronic probe assists in locating burials
Avalanche shovel with hoe function for moving heavy snow
This set rocks! Warranty is confusing
Takes a little getting used to. Clever lightweight beacon and you can update the software via Bluetooth. Shovel is lightweight and probe is a bit heavy due to the tech. If it helps me find victims faster its worth the money. One drawback is the website says it's a 5 year warranty. Registered the unit and it shows as a 3 year warranty. You can get an additional if you send it in for service. They should just do a straight 5 year like other companies. Other than that very intuitive set.
Keng O.