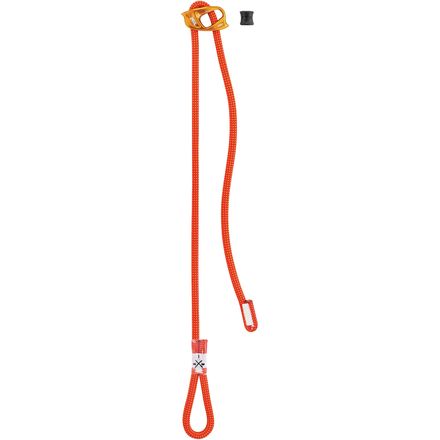 Colors
Find the perfect length.
Petzl designed the Connect Adjust as a personal anchor system for sport climbers. This device adjusts the included lanyard to give you an ideal distance for setting up a rappel. The adjustable arm also keeps the lanyard secure so you don't slip, and a rubber retainer keeps the adjustable arm in an ergonomic position on the carabiner for easy clipping. Petzl designed the rubber lanyard to fit the Spirit Screw Lock carabiner specifically.
Single positioning lanyard with adjustable arm
Adjust dynamic rope included
Rubber retainer for locking carabiner
Multi-Pitch Dreaming
Familiarity:

I've put it through the wringer
Climbing-rope strong, and adjustability like no other! This piece is a must-have on my harness for anything multi-pitch and takes the scary hanging ledges, and actually makes them enjoyable. :)
Suzy Williams
Best PAS, when above anchor
Familiarity:

I've put it through the wringer
This is really best suited for applications where you might be climbing above an anchor and taking a factor 2 fall on the anchor. The rope stretch / cam slippage reduces the maximum force on your body / anchor.

Could be improved by using a skinnier rope to reduce weight and bulk. As for most applications, a 120cm sewn sling works well enough and is considerably less weight / bulk.

I prefer to carry it over the shoulder (aka bandolier style) or coiled up on the back of my harness, like a cordalette. I find it somewhat irritating to carry girth hitched to my harness and wrapped around my waist, as most people like to carry their PAS.


Karl Henize
Petzl's connect adjust is a really user friendly PAS.
It extends/retracts easily and typically helps me find a comfortable stance while belaying.
Conor Hampson
Adequate for the job.
Familiarity:

I've used it several times
It does a great job as a personal anchor and it is so convenient to use when you are able to adjust the length on multi pitch routes. It is a little bit more hardware to carry around and have connected to you when climbing but the convenience of it pays off. I usually just tuck it into my leg loop when its not anchoring me to a wall so that it isn't in my way when climbing.
If you were thinking of picking up this product I would spend the little bit of extra money and get the Petzl Dual Connect. It has an extra loop to connect and secure your anchor or to extend your repel.
Will Oborn
Nice and Convenient
Familiarity:

I've used it once or twice and have initial impressions
It takes a bit of getting used to, but once you've got the movement down it is great for clipping in to chains. As has been mentioned, it does need to be paired with a sling or a PAS to offer redundancy, but makes that first clip feel better.


Tanner Newey
Pros and Cons
Familiarity:

I've used it several times
This is one of three connect adjusts that Petzl makes. They also make the Petzl Evolv Adjust and the Petzl Dual Connect Adjust.

For this one, lots to like but some features that can be changed. This device can be viewed for a single pitch sport climber or as a multipitch trad climber.

As a sport climber, I'd be weary on how some sport climbers use it. With the single adjust, you can clip into a single sport anchor/hanger, but lose your redundancy without an ability to go into the other anchor/hanger. You can achieve that with a Metolius PAS (or a clove into the other bolt), but you can't adjust your stance and distance to the anchor while being clipped into the anchors (leading or cleaning) like the comfort and ease the Connect Adjust allows for (nice feature). At this point, I'm shifting towards the other two devices that I mentioned at the top. The con with these is the weight and size of the PAS.

When I used this for a long day of multipitch trad, I loved it except for, once again, the size and weight while storing in on my harness and under my cams. When I clipped into a natural anchor or a bolt, I back myself up with a clove hitch into another piece for redundancy. Now I was backed up, redundant and I have great freedom in adjusting my stance and distance with my anchor while belaying up a second. I liked that because each ledge or stance changes as well as the speed of a follower.

I also tried the dual adjust and loved that for multipitch trad. The dual gave me the comfort on building an extendable rap with an auto block while staying protected in the shelf/anchor. BUT once again, too big, heavy and odd to store on my harness.

Being that this is a dynamic (no need for dynamic properties in a static/PAS environment) 9.5 rope, I'd wait until Petzl made a static version of this with 7 or 8mm cord.

Great start to personal protection! I think it's great! I'd make some adjustments (no pun intended) prior to making this my PAS. Hit me up for other climbing questions or needs 801-619-7490 or caturner@backcountry.com.
Case Turner
Nifty Device
Familiarity:

I've used it once or twice and have initial impressions
I tried this out sport climbing this weekend, and I was impressed!

As Karsyn mentioned, it is a bit bulkier than some other PAS on the market, so that can take some getting used to. It is really fast to adjust, though. I would leave it fully extended and it was lighting quick to adjust--and with one hand!

For a normal day of sport climbing, I might still stick to a Metolius Alpine PAS and a draw, as that's what I'm used to. However, for a long, multi-pitch day, this will be my new go-to device.
Mackenzie Martin
Handy
Familiarity:

I've put it through the wringer
I had seen a few people with the Connect Adjust at the crag and I was skeptical at first. However, I was in the market for a good second PAS so I decided to try it out.

Having a PAS that I can adjust with one hand is suuuuuuper handy, but I still always use a second PAS for redundancy .

At first the Connect Adjust felt bulky through my hard points since the rope is thicker than most PASs that I have used, but now I just keep it on my harness at all times and am used to it.

On sport projects I always use the Connect Adjust to connect to a draw and give my belayer a break. Given how much I have used it, I can comfortably say it's worth the money.

If you have any further questions about this product I am happy to help! You can call me directly at 801-619-7488, or email me at kansari@backcountry.com.
Karsyn Ansari
WOW
Familiarity:

I've put it through the wringer
This is amazing. I did not think it would be that great till i used it for myself.. The first time i tried it out i was hooked. it is so convenient and easy to use. Love it for mulit pitches. you won't regret buying one.
Nick Watson
Thought it was nice, now its essential.
Familiarity:

I've used it several times
Anyone who has done their fair share of multi-pitched ascents has their system for setting up belay stations. I love this tool, and it has replaced my existing system. I used to have cord set up in prussic adjust system. Allowing for dynamic control, and locking out my position. I love this more. The rope is stronger, the concept of having a 'biner locking device is genius and I can never go back. And I still get the dynamic length with lock out positioning. Its genius and I highly recommend getting two.
Tim
I understand this is not designed to take a fall... but does it have strength rating?
Icychap
Best Answer
Icychap,

Per Petzl's site, the Connect Adjust shouldn't be used if the potential fall factor is >1. A factor 1 fall generates 4kn for the climber, 2kn for the belayer, and 6kn on the anchor.

Petzl's forces at work article: http://www.petzl.com/en/Sport/Forces-at-work-in-a-real-fall?ActivityName=Rock-climbing#.Voq-vZMrIlU
Jeff Catalano
Awesome for Milti-pitch climbs
Familiarity:

I've used it several times
I found the connect adjust to be most useful on multi-pitch climbs. Compared to using a static PAS, It's pretty awesome to be able to dial-in the exact length you want when you get to the belay station. You can easily adjust the length with one hand. Takes a little time to get used to the release system, but over all no complaints.
Adam Wagner
Simple and sick!
Familiarity:

I've used it once or twice and have initial impressions
The CONNECT ADJUST lanyard is a single positioning lanyard with adjustable arm, designed for sport climbing. The ADJUST rope adjuster's ergonomic shape offers simple, quick adjustment. The CONNECT ADJUST lanyard is suitable for any situation encountered in sport climbing and mountaineering.
Rachel B