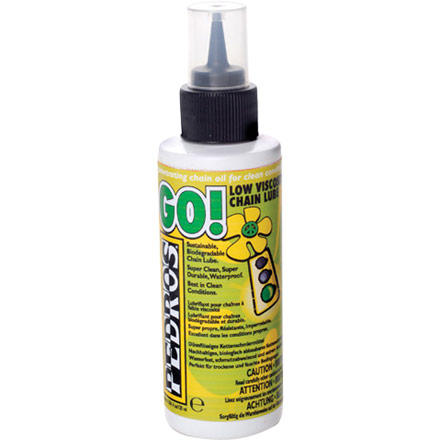 Colors
Vote for Pedro's.
If Pedro's GO! Low Viscosity Chain Lubricant was running for office, it would definitely be on the green ticket, and its motivational slogan would simply be GO! This canola-based lube biodegrades without problem and penetrates well into the rollers and plates of your chain, providing mess-free lubrication. For easy clean up, use a citrus-based cleanser.
This stuff works as intended. I have used it on trails in southern Utah and it keeps everything running smoothly!
Maggie
My bike sure seems to like this stuff. It goes on well and doesn't seem to attract all the dirt and grime like some lubes and it keeps everything running nice and smooth.
jordan emery
It does the trick! Been using it on the mountain bike and commuter out here in dry Utah, and it's been the golden ticket to making everything run smooth. Easy to apply, happy that it doesn't goob out quickly. And it's nice and compact!
Kayla Weiser
They should bring this back.
Monkeybar
Almost as good as the old Dry Lube
Now that Pedro's isn't making the dry lube anymore, this is the next best thing. I use this in the dry dusty conditions of Colorado on the road and on the trails. Dust build up just wipes off like with the old product. An aerosol would be awesome, but that probably will not happen since Pedro's is going enviro conscious (which isn't a bad thing I guess).
Jayson Teno
The top on this product is prone to come off. But the applicator is great for precision application.
john gilchrist