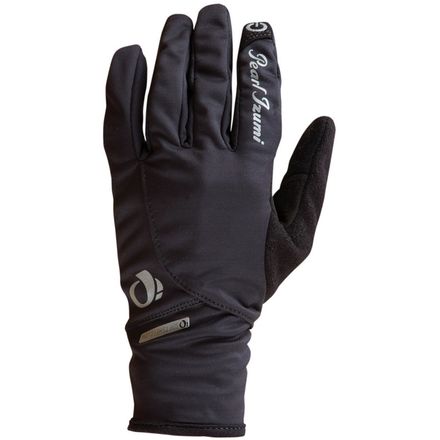 Colors

Detail Images
Hand sandwich.
Here at Competitive, we love a good sandwich — especially when that sandwich is the warming, wind-blocking Pearl Izumi Select Softshell Lite Gloves sandwiching our hands in layers of anti-cold, anti-water cycling bliss. These handsome articles are designed to keep your hands comfortable in the damp conditions between 40 and 60 degrees Fahrenheit that you're likely to encounter in the transitional seasons.
A sandwich of Select Softshell Lite on the backs and Select Thermal Lite on the palms makes for gloves that are warm but not stifling ,and water-resistant without trapping clammy moisture against your skin. The palms are strengthened with synthetic leather and supplemented with grip-enabling silicone details so you don't drop your bottles or slip off the hoods. Thermally conductive thumbs and forefingers enable touch-screening, and a soft, wind-resistant wipe lets you clean your face without abrading your nose. Reflective elements help keep you visible in low-light conditions.
The Womens' Pearl Izumi Select Softshell Lite Gloves are available in three sizes ranging from Small to Large in the color Black.