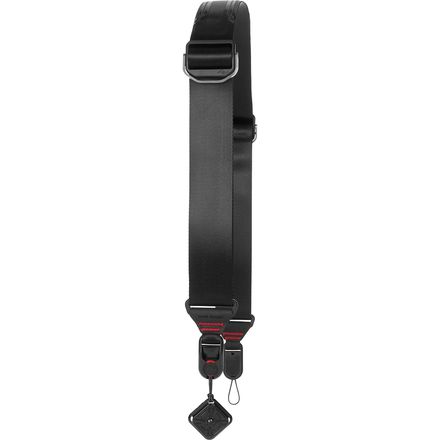 Colors
Shoot like a pro.
Peak Design claims its Slide Camera Strap is the most versatile pro-quality camera strap in the world, and after looking at the facts, it's pretty hard to argue against that claim. It's sturdy and and padded enough to comfortably support DSLRs equipped with huge lenses, yet still low-profile enough for using with smaller mirrorless cameras. Additionally, Anchor Link quick-connectors let you wear the Slide as a sling, a neck strap, or a shoulder strap, and smooth and grippy sides of the strap allow it glide over clothing or stay put exactly where you want it, depending on what you need for the situation.
Ultra-versatile and reliable camera strap
Can be worn as sling, neck, or shoulder strap
Attaches to any camera's strap loops or tripod socket
Seatbelt-style webbing is strong and supportive
Internal padding for comfort with the heaviest camera setups
Smooth and grippy sides let strap slide smoothly or stay put
Attach and detach with one hand using Anchor Link connection system
Abrasion-resistant Dyneema anchors can hold well over 200lbs
This is an awesome camera strap. It's easy to use, amazingly versatile, and just works really well. Having full confidence in the strength of the strap is something I didn't realize was a big deal until I had this thing. Taking the strap off and on is a breeze, and the many options for carrying and adjusting fit come in handy. It's also heavy duty enough to easily support any camera setup that your neck is able to hold. No regrets with this strap!
Chris Zollinger
Sleek, overbuilt, and very versatile
Familiarity:

I've put it through the wringer
I've been using Peak Design since they launched their first Kickstarter and they've only improved their products since then. The Best part of going with Peak Design is their Anchor Link System that lets you easily connect and disconnect whichever strap you're using. The Anchor System is that little red button looking clip that connects the strap to your camera body in seconds with one hand . They may look tiny but they are rated at 200lbs each and use the same dyneema material as climbing gear. Yes I've used this strap while climbing.

The strap itself is seatbelt style webbing that is wide enough to be comfortable even with a Canon 1dmrkIV and 70-200 IS f/2.8. So this is an excellent strap even for the largest camera and lens combinations. If you have a smaller Mirrorless camera go with the Peak Design SlideLITE Mirrorless Camera Strap which is a slimmed down version of this strap. If you're going UL in the backcountry use the Peak Design Capture Camera System. I've used that in the backcountry while backpacking and snowboarding since it was released years ago.
Nick Wrzesinski
Best Strap Around
Familiarity:

I've put it through the wringer
Burly, sleek, comfortable.



These are made with seatbelt webbing so they are rated to go the distance. There is silicone on one side of the strap to add some security if you are on the go. With the Anchor clips, you are ready to go strapless in just seconds.



This is excellent if you find that you are shooting with a tripod and want to remove the strap for vibration / camera shake reasons. The adjustment sliders make sure that you have a comfortable carry no matter where you are.



*My all time favorite item that PD makes are the micro anchors. They open the door to amazing, quick and easy to use accessories. They are also rated to 200 lb. Much more than you would ever need, which is the Peak Design way.
Grant Kates
Sling & Clutch, the perfect tandem
Familiarity:

I've put it through the wringer
I've always been an aspiring photographer; I don't shoot as often as I would like, but every summer for the last several years, I've chased the Tour of Utah around to shoot photos anywhere I can. During that time, I've upgraded cameras and lenses, but the stock strap that came with my bodies has always been thin, uncomfortable, and a pain in the butt to adjust.

This year, I decided I'd had enough and purchased the Peak Designs Sling and Peak Designs Clutch straps, which I've used in tandem. The wide strap on the Sling and quick adjustments made it easy to carry the camera slung over my neck and one shoulder, while the Clutch made me feel like I had a more secure grip on the camera when leaning out a car window.

I would give either strap on their own 5 stars; together, 6 or 7 stars, but Backcountry won't let me rate something that high.
Steven Sheffield