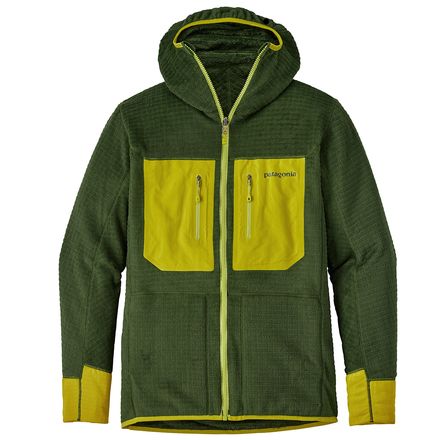 Your mood deserves a say.
Between the chilly camping trips and ski resort trips, the Patagonia Men's R3 Hooded Fleece Jacket gives you versatility and warmth. Whether you wear it alone or under a shell, the Polartec fabric keeps you toasty and wicks away moisture while the Polygiene technology controls odor from your more intense ski runs. The design of this fleece jacket is light and resilient against wear, and it's easily compressible and fully reversible.
When worn on the textured side, the R3 has two handwarmer pockets and a zip chest pocket. When reversed to the smooth side, it has two zip chest pockets. This not only gives you flexibility with storage, but it also lets you regulate your temperature and preferences. To let you move effortlessly, the nylon cuffs have a spiral-seam construction that easily rolls and the fixed hood has an elastic binding.
Polartec body and cuffs
Polygiene odor control
Nylon pockets
Regular fit, hip length
Fully reversible
Fixed hood with elastic binding
Chest and handwarmer pockets
fits all cold weather conditions
Familiarity:

I've put it through the wringer

Fit:

True to size

Size Bought:

M
Iceland, Patagonia, Alps, Japan powder, North China bitter coldness. Super reliable to keep warm and flexibility. Contour fit to my body, never affect activities. Always wear it in most non-dressing-code winter days.
chengyu zhou
Height:
6'0"
Weight:
170lbs
Can't stop wearing it
Familiarity:

I've put it through the wringer

Fit:

True to size

Size Bought:

medium
Bought the Medium in Navy Blue, I'm usually a large for Patagonia Jackets but went with the medium for a sportier fit as its a mid-layer. With a base-layer underneath it fits perfectly, but is pretty tight if I put something like a sweater under it. Kind of a weird design where its reversible, but I only use it with the bright duel breast pockets on the inside. This allows for my favorite feature on the other side to be used, the duel hand warmer packets with a stretchy opening instead of a zipper. They are super cozy and really convenient for stashing items in with reasonable security. This jacket is very attractive and excels at around town casual use as well as a technical layer for outdoor adventure sports, although it doesn't pack down into its own pocket which is feature I prefer for technical layering systems. My one major complaint would be that the bright material on the inside breast pockets is over-built and static whereas the rest of the jacket has stretch, which results in less comfort in the breast area when you spread your arms, and I would imagine a little less breath-ability as well. A blemish on an otherwise amazing jacket which keeps it from being 5 stars.
scott olafsen
Height:
5'11"
Weight:
160lbs
Warm and functional
Familiarity:

I've used it several times
Definitely does its job in cold weather. But fits kind of awkwardly with the heavy material that makes up the front pockets.
Enrique F.
Great hoodie
Familiarity:

I've put it through the wringer

Fit:

True to size

Size Bought:

medium
This is my favorite piece of gear to take up into the mountains on cold winter days! It keeps me warm and is the perfect mid layer for those chilly days.
Casey
Height:
5'7"
Weight:
145lbs
Love this jacket, so warm and the hood is key.
Jason True
Height:
5'10"
Weight:
175lbs
Soft Fuzzy Hugs!
Familiarity:

I've put it through the wringer

Fit:

Runs large

Size Bought:

Large
The r3 is both a technical piece Ive worm climbing mountains and skiing as well as around town. It feels like a warm fuzzy hug, and people always come up and rub the fabric because its so soft. The fit of the r3 is a little weird though, it runs large on me, but this is great for layering underneath (I like to wear a base layer and patagonia r1 when its really cold). I would give it five stars as its two jackets in one but only if there was a hoodless option as layering over hooded layers can be a little frustrating sometimes.
Andrew Butterworth
Height:
6'1"
Weight:
175lbs
Best fleece I've had
Familiarity:

I've used it several times
This is just a delightful garment. I bought it for the mountains but end up wearing it around the city all the way down to freezing. It's the warmest and most versatile fleece I've ever owned, and very light to boot.

Turned one way it is absurdly warm (paired with a shell of course). Reversed it has nice unzipped pockets for hands and is perfect for casual use. The hood is weird in the city but in the mountains I grew to love it and found myself leaving the balaclava in my backpack (although the zipper is a cold reminder). Bunched down around the neck the hood almost replaces a scarf. The tight cuffs are also a great touch.
Alex Edelman
Height:
5'11"
Weight:
160lbs
Nice Fleece with a couple of small flaws
Familiarity:

I've used it several times

Fit:

True to size

Size Bought:

Large
I have had this fleece for over a month. I wear it most days. I tend to wear my fleece everyday because my work place is cold. I also tend to only own a few clothes so I wear them often.
The R3 has been a great fleece thus far. The reversible sides do seem to have slightly different thermal properties. With a nice shell on this fleece also keeps me warm in 35+ degree temperatures while fly fishing (1-3 hours in length).
I do have two slight critiques of the R3. The first is that for the first week or so the short fibered side of the fleece sheds an awful lot. I had green fleece fibers all over my pants, computer bag, chair, seatbelt… The second critique is that it could stand to be an inch or two longer in the torso. It is fine as is but would better with a tad bit more length.
The large fits me fairly well. I am 6 foot and 190 pounds.
Kyle P.
Height:
6'0"
Weight:
190lbs
Warm and soft, but needs a bigger hood
Familiarity:

I've put it through the wringer

Fit:

True to size

Size Bought:

Med
Took this fleece to Nepal for a couple months and ran it all the way up to 18k. She was very warm, especially under a gore tex layer. Just by itself its not wind resistant at all.



I got a medium jacket and after a few washes the sleeves were a bit tight. With a wool base layer the sleeves squeezed my arms a bit and made it somewhat of a pain to get on but was worth the warmth.



My biggest grief was the hood. It sculpted well to the shape of my head but when you zip it up on those cold days when you want it right up to your nose, be prepared. The width is too small. I had to leave the zipper down below my chin so it wouldn't jam painfully into my face. The little flaps to put some cloth between the zipper and skin are not big enough so you get the actual zipper digging in. My head is not abnormally large so wasn't sure why but with the zipper down a bit it still worked relatively well.



Oh and she even looks great when you're racing...
Soulless
Height:
5'8"
Weight:
165lbs
Great warmth, fit and feel. I have a 44" chest and the XXL fit well - being a little on the athletic fit scale. Not too baggy or tight. Having the options for different pocket arrangements when reversing the jacket is really a nice touch.

Really warm to ski/ride in under a shell. I wear a light wool base layer, this piece and a gore-tex shell and I'm HOT in anything over 20F.

Touring- it better be very cold or you'll burn up. It's that warm.

Despite being able to see light between each insulating grid of fabric, it's got a lot of loft and is very warm. The spacing of the grid patter allows for fantastic breathability!
ddegraaf
Height:
6'2"
Weight:
200lbs
Patagonia's Softest & Warmest Fleece
Familiarity:

I've used it once or twice and have initial impressions

Fit:

True to size
The Patagonia R3 Hoody was a gift to me this Christmas, which means this early review is one of initial impressions.

For those who think TLDNR: This is Patagonia's softest, most comfortable, and warmest fleece. That's the truth.

By accident, I have accumulated (in 10 years) two R1 fleeces (full zip and a hoody), one R2, and now this, the R3 full zip hoody.

Each has a defined use: The R1 Hoody for technical climbing and spring skiing. The R1 full zip (no hood) is for layering, or casually wearing to the office.

My original R2 (the first R series fleece I owned) is used for extraordinary cold days skiing, climbing, or mountaineering. Since it is my oldest, and the most frayed of my fleeces (10 years of skiing and sitting too close to a wood stove will do that!), it doesn't get much use going out to the pub or worn to work.

And now I have the R3, which bridges the gap between being the perfect fleece to wear for business casual, as well as a warmer than hell layer for your coldest outdoor activities.

Be warned, this fleece, in spite of comfort and light weight, is amazingly warm. You will get roasted in this fleece if you are doing high octane activities in a Rocky Mountain temperature range (say, 10-30 degrees.)

It's not a layer for bump skiing or ripping through chopped up powder––Patagonia's Nano-Air Hoody is a much better layer for that (particularly when paired for a shell.)

What this fleece does supremely well is when you're less active, such as belaying, chilling (literally) on a chairlift, or climbing in supreme wind chill conditions. It's a fantastic "end of day" fleece when you're at home, beer in hand, watching Netflix and hanging out with your girl and golden retriever. You can wear this over a t-shirt and be supremely comfortable.

This fleece also looks absolutely bitchin when worn out to the local brew pub on a snowy evening with your friends. It's tapered well and is universally flattering. It's bound to get "Patagucci" comments flung at you––and that's a good thing, cause the ladies love a well dressed Patagucci guy ;)

The only thing that prevents this from being a 5 star fleece is the waist––I'm a slender guy, and I feel like it tapers a bit aggressively there––it could be a fraction longer.
Ben Gadberry
Height:
5'9"
Weight:
165lbs
This jacket is one of the best jacket i have worn. Very soft and warm!!!
KiWon Suh
Highly versatile piece
Familiarity:

I've used it several times

Fit:

True to size

Size Bought:

Medium
I originally bought this to replace an old, trusted Patagonia R-Series piece that recently retired (i.e. I forgot it in a hotel room in Ulaanbaator). I was initially worried that it wouldn't be as warm as my old R-Series because it's so much lighter, but technology marches on and it remains largely as warm but at a fraction of the weight and pack size of the old one.



The hood is amazingly versatile. Zipped all the way up you're in full on ninja-mode with only your eyes peeking out, zipped down a bit more and it's like a jacket with an integrated fleece buff.



For fall fly-fishing this jacket was perfect. The chest pockets are well-placed to allow access while in waders, and it dried quickly when you're lucky enough to get a little wet releasing a feisty catch.
MWS
Height:
6'1"
Weight:
160lbs
Warm, fuzzy, and soft
Familiarity:

I've put it through the wringer

Fit:

Runs small

Size Bought:

Medium
I love my R3 and it is now my go to insulation layer. It is warm, very warm, as so warm that it is easy to overheat wearing just this and a base layer. I find that this is actually warmer than my Rabb Xenon Hoodie, so I tend to wear it once I have reached my camp instead of while I am hiking.

The fuzziness is super soft and I tend to stuff some other layers into this and use it as my pillow once I head to bed. It is seriously the softest, cushiest feeling layer I have.

The only drawback I can think of is that in certain colors (Blue,Green) it looks like you hunted down and skinned a muppet and are now wearing its hide as a trophy.
Asa P.
Height:
6'4"
Weight:
180lbs
Great fleece, love the hood
Familiarity:

I've used it several times

Fit:

True to size

Size Bought:

Medium
Perfect layer for our San Francisco "summers" to spend time at the beach when the wind's blowing. Will also be good in the mountains, but haven't been there yet with it.
AaronM
Height:
6'0"
Weight:
175lbs
Superfuzzz
Familiarity:

I've used it several times

Fit:

True to size

Size Bought:

Small
The R3 is crazy soft and comfortable! It's definitely going to be my skiing midlayer this season. As others have said, it's very far from being wind-proof, but under a shell, the R3 is a perfect lightweight insulator.
Jeff Catalano
Height:
5'9"
Weight:
145lbs
Which side for which temps?
So I've been scouring the web for this answer and can't find it anywhere. Which side is design for warmer/cooler days?
Thanks!
Eric B.
Best Answer
Hey Eric,

I think for maximum warmth you would want the side with the raised grid and higher pile fleece on the inside, closest to your body. This would help trap the most warm air.
Deaner
Out of this World
Familiarity:

I've used it once or twice and have initial impressions

Fit:

True to size

Size Bought:

XL
I got one of these recently on a whim because I read INCREDIBLY good reviews on many sites, including here. The write-ups described a redesigned, well thought out piece that was incredibly versatile. Patagonia, in my experience, builds solid stuff that tends to be conservatively designed (for example, the venerable R2 layer has not changed that much over the years except some cosmetic changes and some fit changes). The R2 is a workhorse for me and having a similar weight jacket, with a HOOD would be a real plus for me.

Unlike other Patagonia items, this R3 was COMPLETELY redone. I had two R3's before and they were too bulky, too warm, and just not ideal for my needs in Utah and too heavy to bring back east for a visit. Folks here rightfully gripe if they thought at this R3 was going to be the same weight as before, but for me this hits the spot.

Unlike its forebears, this R3 is retooled, rethought, and really updated. The fabric weight is the same, maybe a bit lighter, than the R2. Warmth, at least for me, has been the same. The hood is a really nice feature. Comfy, good fit, and usable. Hoods do make a big difference for me--when traveling and sitting outside on the porch. The fabric weight is MUCH lighter than the older R3. This means it is WAY more versatile. Big plus.

Now the big changes. This is two coats in one. One side has hand pockets that are JUST right in size and placement. I've found that I naturally put my hands there and they feel right where they belong. The one Napoleon pocket on this side is zipped to secure items. This is your casual, lounger jacket that could easily double for skiing, hiking, camping, or around town.

Flip it inside out and you have a very nice technical fleece with two chest pockets allowing you to wear a pack or harness.

It fits PERFECTLY. As others have said, you either put it on and keep it on when you get it or you immediately send it back because it is not what you thought it was. For me I knew what I was getting and am so thrilled to have a piece that doubles as two jackets and is so versatile. It combines the "informal " hoody for the fire at night with the technical layer you need for the day's adventures. Wow.

That said, this is a first run of this design and there are some minor changes I would want to see. First, the hip pockets are NOT zipper shut. Minor gripe, but the idea of having FIVE pockets that were zippered was a great idea for a fleece jacket. Most have two if not three max. Five means good storage, but only put granola bars in the hip pockets or something not needed if it pops out.

Second, I agree with folks that the (larger) double zipper does indeed feel uncomfortable against your face. Patagonia does provide a double flap to cover it, but it needs to be a bit bigger. This issue is easily solved by just unzipping the zipper a little bit.

Spot on and so great to see real innovations with Patagonia that are not gimmicky but instead quite practical.
Trailboss
Height:
5'11"
Weight:
230lbs
Cuddly, Light Weight and Warm
Familiarity:

I've put it through the wringer

Fit:

True to size

Size Bought:

Large
A great zip up hoodie with a lot of character. I love the green color :)
Kate B.
Height:
5'11"
Weight:
180lbs