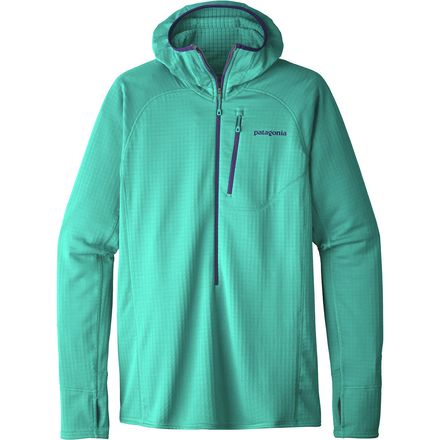 Colors

Detail Images
Minimal design for maximum possibilities.
Whether you're layering up for an alpine ascent, ski mountaineering, or cool weather climbing, you'll be happy with the Patagonia Men's R1 Fleece Hooded Pullover. Utilizing Polartec Power Grid fleece, the R1 delivers exceptional stretch, a good amount of warmth, and a high level of breathability, making it great on its own or layered under a shell. Polygiene permanent odor control shrugs the resulting odors of time well spent in the mountains, while its slim fit, snug-fitting hood, and discreet thumbholes reduce bulk when it's worn as a midlayer.
Polartec Power Grid fleece fabric
Polygiene permanent odor control
Slim fit
1/2-zip front zipper
Snug-fitting, balaclava-style hood
Thumbholes
Zippered chest pocket
Bluesign approved fabric
Lightweight and Warm
Familiarity:

I've put it through the wringer

Fit:

True to size
I picked up an R1 in the beginning of the snowboarding season and it's been a key layering item for me both in and out of resort. On really cold days in-bounds I usually pair it with an Airblaster Ninja Suit under my insulated jacket and I'm always nice and toasty. For touring days I just wear the R1 by itself under my jacket with a puffy in my pack as a backup. It's also super soft and comfy just to wear for every day use. The hood zips up to about nose level which is really nice for those cold and windy days.
Tyler Temarantz
Cant recommend this highly enough
Familiarity:

I've put it through the wringer

Fit:

Runs large

Size Bought:

XL
This IS the ultimate layering piece. An essential part of layering smart is having bang for your buck. Who doesnt love Patagonia, from what they stand for, to products like the R1, which has been a long standing favorite. The sizing can be tricky so call me and let's talk about sizes and your next adventure!
Kameron Wansel
Gearhead, Account Manager
Office: 801-619-7469
Kam Wansel
Height:
6'3"
Weight:
235lbs
Layering heaven
Familiarity:

I've used it once or twice and have initial impressions
Awesome piece of gear right here. Well documented as one of the best and most versatile layering pieces around. I used this this morning with a cap 1 and then a Atom LT over the R1 and I was ready to roll in cloudy temps in the 30's at 10k feet. Got super toasty when the sun popped out of the clouds. The 1/2 zip is a great way to dump heat. The balaclava type hoody was a great way to trap heat when it was a bit more nippy . Excited to experiment it with it further once it warms up a bit more in Colorado. Looks like an ideal piece to the arsenal for spring and summer or really any time of the year. Super stoked to finally call it mine. #goatworthy
Wyyld
Use these for ski touring on colder days, just rock them without anything under them. Hood for those windy days, saves you the time of throwing on a hate. Legit!
Jason True
Height:
5'10"
Weight:
175lbs
Hits the Sweet Spot
Familiarity:

I've put it through the wringer

Fit:

True to size

Size Bought:

Large
I've been looking for something lightweight yet warm and the R1 fits the bill. With a midweight base layer it is perfect for temps around freezing and with the deep zip, venting is no problem when you're exerting more energy. It also packs away great when the temps really rise. The fit is not perfect but I'm willing to trade off for all it offers in comfort. I usually take a medium but I fall in that hole between medium and large sizes often. When I tried the R1 in medium it was like I was playing a game of "fat guy in a little coat." If you're a fan of skin tight clothing, it may work for you. Size large fits perfect in the shoulders and chest but it's a little long in the torso and is a little roomy in the waist. I was a little concerned about a breeze coming up my back but then my packs hip-belt took care of that. It doesn't look that stylish on me but I don't care. It does what I want it to do...keep me comfortable in all kinds of temps. It has been pretty durable as well, handling the occasional snag and bump. The only reason I'm giving it four stars is that it started pilling a little where the chest and hip-belt connections are after one use. Normally that wouldn't bother me but this dang thing is pricey and with pricey you expect perfect. Overall, I've been really happy with the R1 Hoody.
Duane R.
Height:
5'10"
Weight:
165lbs
One of my favorite pieces of gear
Familiarity:

I've put it through the wringer

Fit:

True to size

Size Bought:

Large
How I use it:

-I pair it with a lightweight merino base layer for peak bagging in the summer/fall. It is definitely best used when active, as it's not super warm sitting still. When active, it's comfortable in huge range of temperatures thanks to how breathable it is. It doesn't do great with high winds, so keep a shell nearby.

Fit:

-I'm hit and miss with Patagonia clothing. I typically require a large due to my broad shoulders, no matter the cut. Some Patagonia apparel that are "regular fit" (Nano Air, flannel) are too baggy around my belly. The R1 is a slim fit and fits me perfectly in a large. Slim but not too snug. I can easily wear a baselayer underneath and a shell/insulation layer over. *If you are a taller, slimmer guy, this will fit well.* I'm so impressed with how comfortable this jacket is. I often find myself wearing it around town.

I sing its praises whenever I'm asked about it. Love this jacket.
Stephen H.
Height:
6'2"
Weight:
190lbs
If you don't own one yet, you are missing out! Breathable and comfortable, I wear the R1 hoody or pullover with a vest and I'm completely comfortable in any weather but the coldest!
Chris Lamaster
Fantastic
Familiarity:

I've put it through the wringer

Fit:

True to size

Size Bought:

Small
This is a fantastic piece of gear. It is great for use in all seasons. My favorite time to use it is winter. It's perfect for layering, and once you really start working hard going uphill, it works well all by itself. It vents out the moisture and keeps me warm. I tend to get warm quickly though, so that may not be true for everyone. It's very comfortable and pretty durable as well. I need to get several more of these.
Jackson A.
Great base layer
Familiarity:

I've put it through the wringer

Fit:

True to size
I wear this item for touring in the Wasatch and normal resort riding as well. I like that it is a tall and slender fit, I am 6'2 and 165 lbs and the large is a perfect fit. I especially like that the hood fits tight and snugly around my head and does a good job of keeping my hat in place on windy days. Further more the zipper runs high, creating sort of a turtle neck when I have it zipped all the way up with the hood down... with the hood up it creates kind of a face mask the only leaves my nose exposed. Further more I wear this as my base layer, so if I get too hot, it is very easy to zip it very opened and dump out heat in between runs. Honestly I swooped it up because I've heard good things about it, and now I love it, I have worn it every time I went skiing since I bought it and I typically ride 2-3 times a week. I'm considering buying a second one just so I'm not bummed when this one needs washed. You will literally want to live in it once you own it.
Greg
The older style was better. The medium used to actually fit but now it's to tight and the Large is too big. I'm 5'10 160.
Michael Koufos
Great for running
Familiarity:

I've used it several times

Fit:

True to size

Size Bought:

medium
I bought this last year while I was getting into running. Its the perfect piece because you don't want something bulky or too hot. I also ski but haven't had a chance to use it there but imagine it is PERFECT! I got the green one and love love this for active events.
AdamInClev
Height:
5'8"
Weight:
155lbs
Not the fit for me
Familiarity:

I returned this product before using it

Fit:

True to size

Size Bought:

medium and large
I really wanted to love this piece. The material and colors are amazing. I was looking for a specific fit and this didn't cut it. I wanted a close fitting, athletic fit without being too tight. Unfortunately, the medium was too tight in the chest/shoulders but was perfect everywhere else. I tried the large and it was great in the shoulder/chest but too loose around the stomach. Arm length was nice and long on both the medium and large. I might have been ok with the medium but wasn't sure if it was going to stretch out to what I wanted. I am going to give the Mountain Equipment Eclipse a try to see how I like it.
Chris Ringel
Height:
6'1"
Weight:
175lbs
excellent multi-use mid layer
Familiarity:

I've put it through the wringer

Fit:

Runs small

Size Bought:

Mens Small
great great mid-layer.

I have the slightly older model (2014?) that has the asymmetrical zipper that they fixed in the last couple years - which is a good thing as the asym zipper is a little bit of a PITA.

I bought it to be snug, but it is definitely SNUG and fits closer than some other small size jackets I have.

Very breathable, feels great although you will still get a wet slick under a pack if you are working hard.

The hood is the key part of this one - if its cold, it goes up and fits under a ski helmet easily, fits closely, and cradles your face. No need for a separate toque / beanie.

Would happily buy one again!
Andy G
Height:
5'8"
Weight:
162lbs
Comfy - not for climbing
Familiarity:

I've used it several times

Fit:

True to size

Size Bought:

Medium
Super comfy, surprisingly warm, very breathable. I usually wear this as a base layer in temperatures 45 degrees and under. It breathes incredibly well yet retains a lot of warmth when stopped. With a softshell, you're good down below freezing and in harsh temperatures.

Only downside is the material is not very durable. I wore it the first time on a six pitch climb at Banks Lake, WA. I never took any lead falls or rubbed against the granite particularly hard, but at the end, the stitching on my forearms was already coming undone. I am disappointed because many people recommended this for climbing. You definitely want a tougher outer layer for climbing.

Overall, great based/mid layer, but not the most durable.
Kyle McCrohan
Height:
6'0"
Weight:
155lbs
Solid for a cold run
Familiarity:

I've used it several times

Fit:

True to size

Size Bought:

Small
A buddy hooked me up with this piece to use on some of the cold runs we do in the winter here in Salt Lake. It works like a charm. I'll pair it with a shirt underneath for super cold days or wear it next to skin if it's a bit warmer out. It has great warmth to weight ratio and I can still zip it down for airflow if I start to overheat at any point. I have a small and it is definitely form fitting, which I really like especially on windy days. If you do multiple winter activities, this is a valuable piece to own.
Brent Handa
Height:
5'6"
Weight:
130lbs
My go to piece for those cold mornings.
Familiarity:

I've put it through the wringer

Fit:

True to size
I pretty much leave this in my car all the time. Never hurts to have a layering piece that you can just grab and go. I lost my other one on the trail a few weeks ago and had to replace it. If you know patagucci's quality, then you know this piece will kick ass!

Andrew Meehan
Height:
6'3"
Weight:
190lbs
Reliable, go to piece
Familiarity:

I've put it through the wringer

Fit:

True to size

Size Bought:

M
This is one of those items that will cause heartache if (when) it stops being produced. I have owned 4 of these, and worn them for about 150 days each. They are worth their weight in gold as it is easy to regulate temperature, especially with this hooded version, which I would say is key. It is my go-to mid weight layer. If you tend to run very warm, I could see you would not favor this piece as much as those of us who run normal-cold
World Wide Trekking
Height:
5'8"
Weight:
155lbs
R1 in the Arctic
Familiarity:

I've used it several times

Fit:

True to size

Size Bought:

Large
I have worn this hoodie teamed up with the Patagonia Capilene lightweight l/s crew, Stoic merino l/s 1/4 zip and a lightweight down jacket while snowshoeing and hiking in northern Greenland this spring. Temps have been down in the mid 20s during these trips and this layering system has kept me warm. The thumb holes have been great when I got too warm for gloves. And the 1/2 zip allowed for plenty of ventilation on the uphill climbs. I look forward to using this same system for some backpacking in Iceland and Norway this summer.
Daniel B.
Height:
6'0"
Weight:
180lbs
Perfect for everything!
Familiarity:

I've put it through the wringer

Fit:

True to size

Size Bought:

Large
I'd heard for years how great the R1 was, but somehow went until now without. I don't know what sort of voodoo magic they used to make this, but it is the perfect layer for every condition. I've used it to insulate a hardshell jacket on cold days, a rain coat on cool/wet days, and by itself in mild weather. Such a versatile piece will find its place in my backpack on every trip.
Adam L
Height:
6'1"
Weight:
187lbs