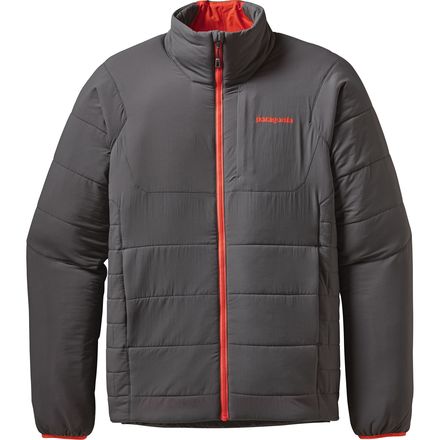 Colors

Detail Images

Community Images
All-day alpine adventurer.
The Men's Nano-Air Insulated Jacket feels as soft as a quilt, which is surprising considering Patagonia produced it for highly active pursuits like ski mountaineering and alpine climbing. A breakthrough in breathability, the Nano-Air's air permeable nature allows plenty of airflow to keep you comfy when you're sweating on steep skintracks and cruxy pitches. Its FullRange insulation provides a surprising amount of warmth as well as the stretch required for full mobility on any mountainous adventure. Patagonia finished the durable ripstop shell with DWR to shed snowflakes, raindrops, and even dust and dirt.
Air permeable, insulated layer for alpine adventures
FullRange insulation stretches and breathes for active pursuits
Durable ripstop shell with water-resistance for rain and snow
Elastic cuffs and adjustable hem assure a secure fit
Slim fit layers under shells easily while reducing bulk
Patagonia has been crafting hard-wearing outdoor goods since '73
I have seen the best of all
Familiarity:

I've used it several times

Fit:

True to size
The clothes are very warm, soft and light. They feel comfortable after wearing them. In short, they are the best clothes I've ever worn.
pier
The Best Active Midlayer
Familiarity:

I've put it through the wringer

Fit:

True to size

Size Bought:

Medium
This is the one Patagonia jacket that everyone needs in their closet! It is the perfect active midlayer for any outdoor activity that requires breathability and warmth. I mainly used it for skiing and it works perfect! It keeps me warm when I'm on the lifts and then breaths oh-so-well when I'm working hard that I dont sweat and get clammy and wet! Look no further if you are looking for that perfect midlayer. This is the best one out there!
Zach Higgins
Height:
5'10"
Weight:
165lbs
Great Value (If on Sale)
Familiarity:

I've put it through the wringer

Fit:

True to size

Size Bought:

Large
Pros:
Breathable
Warm

Cons:
Durability
Packability
Weather resistance
Regular Fit

Recommended Uses:
Skiing Mid Layer
Hiking Mid Layer
Cool (Not Cold) Weather Belay Jacket
Casual Use

It seems like this jacket is on sale all the time. I don't think it is worth the full price, and if I were paying full price for a synthetic mid layer, I would probably go with the Atom LT. That being said, when you can get it for under $150, it's a great jacket. I find that it's comfortable in a fairly wide temperature range, and I don't have to take it off immediately when I start moving. The breathability is good, but be aware that this means your phone will get soaked in your chest pocket (at least in my experience). This jacket has a regular fit, so it's not super slimming, and doesn't fit very well under athletic cut shells (which can be annoying when trying to climb with this layer), but excels as a mid layer under other regular cut shells. I will use this jacket as an outer layer when it's not too cold, but agree that it doesn't block wind very well, and definitely doesn't block rain. I'm not super impressed with the durability, as I have noticed some pilling around the neck and lower back. Also, the hooded version has two chest pockets, while the non-hooded only has one. Not sure what the reasoning was behind that, but I find myself reaching for the hooded version more often.
Tony Munden
Height:
6'0"
Weight:
190lbs
Great Versatility
Familiarity:

I've used it several times

Fit:

True to size
This jacket is great to use for a number of different activities from skiing to camping to around-town use. It is super comfy to wear and offers the warmth of a puffy while breathing well and not running the risk of losing its insulation value if it gets wet. It's very lightweight and easy to stuff in your bag for any occasion. I personally have used if for a number of early morning sunrise hikes and under a shell in the snow. If you are looking for a great down-alternative insulation layer, this is your jacket.
Matt T
It's alright
Familiarity:

I've put it through the wringer

Fit:

True to size

Size Bought:

Medium
High amounts of static in the past winter when wearing. Sweat goes through the chest pocket when running. Probably due to breathability of jacket. Good fit. Wish there were more secret pockets.
Jacky M.
Height:
5'9"
Weight:
165lbs
Versatility is the name of the game.
Familiarity:

I've put it through the wringer

Fit:

True to size

Size Bought:

Small
This jacket is so great for so many different seasons. I've used it every season for so many activities. Hiking, camping, snowboarding, winter hiking and hammocking. It's so lightweight that if I'm not wearing it, it's in my pack.
Ryan Anderson
Height:
5'11"
Weight:
135lbs
Super cozy jacket that I had planned to use touring. The Grecian blue color is nice, but I got a large which is a bit big on me.
Andy Fletcher
Height:
6'0"
Weight:
185lbs
Not convinced
Familiarity:

I've put it through the wringer

Fit:

True to size

Size Bought:

Large
I was in the market for a lightweight mid-layer and fell for the orgasmic reviews here on BC. First of all, the jacket new looks relatively used out of the bag. The material just looks dingy/wrinkly when compared to the nano puff or other branded mid-layers/soft shells. It's also anything but resistant to staining, so be careful. Secondly, the zippers are robust enough, but the cloth gets caught up in the them way too easily, especially the pockets. One has to be very deliberate to get them opened or closed with one pull. Annoying! Underneath another layer it provides good insulation for the weight, but by itself it's totally permeable to the elements. That said, nestled in between a Cap 4 base and a GT Pro shell, I stayed relatively warm on a butt cold summit day to the top of Aconcagua, so mission accomplished. Of course, after three weeks of use and two washes, it's still stained and looks dingier than when it was new. Therefore, it's now relegated to my technical clothing box as I will only use it from now on as a non-visible mid-layer. In summary it's good as a mid-layer but little beyond that; appearance and value lacking.
Robert N.
Height:
6'4"
Weight:
185lbs
The Most Incredible Jacket
This thing is awesome. I was so worried about size, but this thing fits perfectly. I am 6'4 and 190. I got the XL. Super comfy. I can wear it in my office at 70 degrees and walk outside at 18 degrees. They had the "put it on, leave it on" nailed!
Pierce Tews
This review is for sizing and feel only for now.... I received this as a gift in size Large. I'm 6 feet tall and 200lbs. It was a tight fit in the shoulders and chest and torso length. It was a close call, but there was no room for error, or anything else. As a casual coat with a tight modern fit, it would be ok. But I've sent it back with plans to get the XL for more roominess. The sleeves were awesome though. Length to spare, and good cuffs so they don't dangle. Very nice material and warmth to weight and comfort. This happens to me at times, as I'm stuck right between L and XL. I'll write more when the next size comes in.
Karl
Go To
Familiarity:

I've used it several times

Fit:

True to size

Size Bought:

Medium
Warm, comfortable (you could sleep in it), full zip, full movement, layers well with shell, best of Patagonia.
Ideal for hiking, climbing, and sking cc or dh. I have bought many mid layers in the past a repeat buy in the future for me.
Donald L.
Height:
5'11"
Weight:
200lbs
Must Have Jacket
Familiarity:

I've used it several times

Fit:

True to size
This jacket is liking zipping yourself up in a comfy quilt. It has the warmth of a puff jacket but is flexible and breathable. I bought this jacket for skiing but find myself wearing it every day. My other coats are now being neglected. I haven't been rain yet so I can't comment on how waterproof it is but I would definitely wear a shell over it if I knew there was going to be any amount of rain. I have worn this coat in a wide range of temperatures and find it perfect for anything down to 30 degrees. I would probably add another layer if it got much cooler than that. The jacket looks great on the mountain or around town and layers well both underneath a shell or over a flannel. This jacket I a must buy!
Justin Henderson
Perfection
Familiarity:

I've used it once or twice and have initial impressions

Fit:

True to size

Size Bought:

Medium
I've had this jacket for only a few days and it's already blown my mind. Living in the midwest of the states I go through 4 seasons in any given week. This jacket is great for 40 and rainy or 70 and breezy. I want to sleep in it and never take it off already.

I bought a size medium and the sleeves are just a little long but there's not an excessive amount of slack in them, I can already tell you this is going to be my daily driver for the foreseeable future.
Austin Peterson
Height:
5'9"
Weight:
165lbs
Try something else
Familiarity:

I've put it through the wringer

Fit:

True to size

Size Bought:

Medium
It feels warm and comfortable in the store, at home, or walking the streets. I think it looks good. It's not shiny or fuzzy like most insulation jackets out there. Wind will rip through this jacket, but Patagonia admits this due to Nano-Air technology - You have to balance between breathability vs wind-resistance.

But, the major problem is the Nano-Air technology. I think it's BS. It's not breathable "enough" for moderate to intense activity, such as hiking. You will sweat a lot, and thus soak the jacket. It is also very slow drying. It is light, but not very packable.

The size is slim, not regular fit. But, it stretches pretty well, so I would get your usual jacket size.
Daniel K.
Height:
5'11"
Weight:
170lbs
Amazing
Familiarity:

I've put it through the wringer

Fit:

True to size
Best mid layer around, super light and warm! You won't regret throwing a little extra $ down on one of these
Conor Hawks
This is my new favorite jacket. All around awesome, makes a great mid layer when its really cold, and also perfect to wear alone. Pick one up, you will be excited you did.
Ross Hayes
Packs light, runs warm.
Familiarity:

I've used it several times

Fit:

True to size

Size Bought:

Medium
IT'S FLUFFY.

I was backpacking at 10k+ elevation and was wearing this throughout the night - I barely needed my sleeping bag around my upper body at 30'F with just a t-shirt on underneath. It's super toasty despite the light weight.

It also rained a bit and the water-proofing wasn't so great, but it's perfect for a midlayer. I've even worn it on my motorcycle in excess of 75MPH and it was fairly windproof.
Justin H.
Height:
5'10"
Weight:
155lbs
Great jacket, bizarre fit
Familiarity:

I returned this product before using it

Fit:

Runs large

Size Bought:

XL
So I read all the reviews about how this is the greatest jacket ever, and it is pretty great-if it fits you. Very comfy, great stretch and breathability. I can see where the raves come from. However, it just does not fit me right. I'm a 46, 5'11" 225 and could stand to lose 10 lbs or so. So I'm not exactly a slim fit kind of guy most of the time, but I do like them for pieces primarily used for layering, like the Nano Air. I'm usually an XL or an L in Patagonia gear, depending . So I ordered both and neither one fit. The L was too tight in the shoulders but fit fine in the waist/stomach. The XL fit great in the shoulders but was voluminous in the waist - like it was designed for someone with a big beer gut. It looked ridiculous. Also the pockets should be larger. I returned both and went with an Arcteryx Atom LT in XL which fits me great.
Michael S.
Height:
5'11"
Weight:
225lbs
What size would you recommend for someone that weighs 176 and is 5'9"?
David B.
Best Answer
David, depends a bit on your chest measurement but, I would say medium. I am 5'8" 185-200 lbs and I fit in a medium. When I am closer to 200 its a bit tight but, right now @ 185 lbs it fits me perfect. Big enough to layer underneath with a light fleece like an R1 but, not baggy or annoying to climb with when its my outer layer.
Bill Porreca
nano air jacket
Familiarity:

I've used it several times

Fit:

True to size

Size Bought:

Large
This jacket is the best mid layer and all-around cool weather jacket I've ever used. Great all around jacket.
Todd Voth
Height:
5'10"
Weight:
185lbs