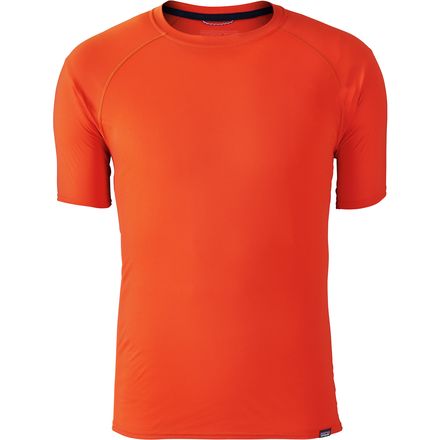 Colors
The Patagonia Men's Capilene Lightweight Short-Sleeve T-Shirt combines the casual comfort of a tee with the performance of a baselayer to keep you cool and dry on trail runs and summer hikes. The stretch fabric moves with you for unrestricted mobility, and it pulls moisture away from your skin so you're not bogged down with sweat. It also has a Polygiene odor-fighting treatment so you can wear it a couple days in a row without smelling like dirty laundry.
Quick-drying fabric
Polygiene odor-control treatment
Slim fit
Gusseted underarms
Flatlock seams
Favorite performance shirt ever
Familiarity:

I've put it through the wringer

Fit:

True to size

Size Bought:

medium
The Patagonia Capilene Lightweight (insert product using Capilene lightweight) is my favorite (insert appropriate product) that I've ever owned. In this case, it's the ultra-versatile t-shirt. I expletive-ing love this thing. I ran cross country in high school and college, so as someone with an expansive collection of raceday wicking tees, I can now say that this is the only shirt I use to run in . Unlike a lot of lightweight, cooling, wicking shirts, it's ACTUALLY light, cool, and wicking. The material has a silk-like weight and feel, but still maintains its integrity as a performance baselayer. It's great as a standalone piece for hot-weather exercising (it dries crazy fast), and it works great as a baselayer in the winter. I love throwing it under a midweight fleece as a more breathable alternative to a long-sleeve. BUY IT!!!!
Brian Higgins
Height:
5'11"
Weight:
160lbs
Great hiking shirt
Familiarity:

I gave it as a gift but have feedback to share
Bought this as part of a graduation present for my nephew. He says it's one of the best shirts for hiking he's ever had.
Chace Merritt
All Day, Erry Day!
Familiarity:

I've put it through the wringer

Fit:

True to size

Size Bought:

Med
I have 3 of these shirts and they perform perfectly in every condition from warm summer days (climbing, fishing, hiking, bars, etc.) to being my first base layer under long-sleeve Capilene's when I'm snowboarding. These are an all-around great shirt. They're stylish with a nice cut and wick sweat off like mad. I buy these for family members every holiday and always hear back later around how much everyone loves them!
Tyler E.
Height:
5'11"
Weight:
165lbs
Putting The Fun In Form Follows Function
Familiarity:

I've used it several times

Fit:

True to size

Size Bought:

Medium
I bought this as a gift for my husband and this is what he said.

"I've been running and bike commuting in the Windchaser shirt for most of the spring and have loved it so my significant other gently persuaded me to invest in another hot weather layer to rotate into the cycle because I'm a smelly human.

I jumped on this layer because the purple sleeves make you look like a toaster strudel in the best possible way. This layer is the perfect weight for even the hottest desert runs and has dried remarkably quickly. Not much else to say about it other than it works perfectly, looks great and is fun to wear.

Make sure to wash it frequently to keep its wicking abilities at their best and to keep the stink at it's lowest. I generally just hand wash it while I'm in the shower and let it dry for the morning."

Note: this is a really, really lightweight shirt. Think like silkweight!
Monique Seitz-Davis
Height:
5'9"
Weight:
130lbs
Amazing shirt, but be warned, it is thin
Familiarity:

I've put it through the wringer

Fit:

True to size

Size Bought:

Large
I have been focusing on my base layers this year with aspirations of controlling how sweaty I get. I sweat, I do not perspire! Therefore, I needed good first layers to move moisture away from my body both when I am hiking and when I am running. I purchased two short-sleeved lightweight and two long-sleeved shirts, one light weight and one midweight. I have been mostly running but I have gotten out a couple times snowshoeing with these.

For all activities that I have used them for they have been excellent. They do soak up sweat but they also get rid of it very quickly, even with additional layers over top. As the only layer when I am running they are saturated in some places but much less so than other shirts I typically run in (I live in the PNW and it is still very humit as of writing this review). In fact, they are so good that I have been running in the capilene shirts almost exclusively since I purchased them (about 5-6 weeks)

The first thing you'll notice is that this shirt, even the midweight, is extremely thin. Typically I only wear a shirt or shorts once and then wash it. However, after a couple of washings of these shirts, I noticed that they had signs of wear. There were little snags and distortions in the fabric. I began to worry that these would not last long enough to make them worth the cost. I thought about buying several more to lighten the burden but then decided to do a little testing first. Since these shirts are treated with polygene they should not stink as much as a typical polyester. So I wore one shirt for two weeks running 4 times per week and hang drying it after rather than washing. I ran once in a standard poly shirt and let it hang dry for the two weeks as a control. The standard poly, as you can imagine, stunk after a couple of days. The capilene got a little funky but not unbearable. Even better, when I start to sweat in a standard poly that already has the funk, it stinks even worse when it gets wet; not the polygene capilene. Though they were a little funky, they never got worse even resoaked in my sweat the following day. I then decided that I would repeat the test but rinse the shirts after each run in my post-run shower. This time there was a slight funk but barely noticeable (and no complaints from the wife which is the real test).

In the end, I decided not to purchase any more shirts but instead wash the shirts much less than my typical running stuff. Because the shirts are so thin, I rinse them in my post-run shower and they are dry and ready by morning for the next run. This cuts down on the number of washes and will, in theory, increase the longevity of the shirts.

Amazing shirt and, in a way, cuts down on washing and waste as a result. When I need another one I will be purchasing another one of these shirts without thinking twice.
Jason Stover
Height:
6'3"
Weight:
210lbs
You can even run in it!
Familiarity:

I've put it through the wringer

Fit:

True to size

Size Bought:

Large
I bought this shirt for my dad as a gift for his second ultra marathon, it was a perfect light weight layer for the crisp winter
California Coast morning. He wears this piece all the time! To work, to work out just about everything. He says it doesn't smell that bad either but he does wash it about once every two weeks. He said 10 out of 10 would recommend.
Lexy Ott
Height:
6'2"
Weight:
180lbs
More than just a T-Shirt
Familiarity:

I gave it as a gift but have feedback to share

Fit:

True to size
I own a Capilene 1/4 Zip that is my go-to base layer when skiing. I love the Capilene wool, and the fact that it repels odors after a hard day of sweating. So when my Uncle asked for a versatile work-out shirt this was my first thought. So far he is very happy with his gift! He has worn this shirt to work out in the gym and to use as a base layer for winter hikes. He says it is super versatile and comfortable!
Chelsea Shephard
Great Shirt!
Familiarity:

I've used it several times

Fit:

True to size

Size Bought:

small

Shirt is an instant favorite. super lightweight and comfortable. Works perfectly from everything from hiking to ski touring. Will be buying more of this shirt.

Justin Long
Height:
5'7"
Weight:
145lbs
Fantastic shirt, may not last long
Familiarity:

I've put it through the wringer

Fit:

True to size

Size Bought:

Large
These shirts weigh nothing and feel great. A pair of these went on a 10 day sea kayaking trip and didn't seem to pick up much odor at all even after constant use. The downside is that the stitching (specifically the hems) seems to be mediocre at best. After one summer of use, 2 of my 4 shirts have unraveling stitching in various places, which is not what I was expecting from Patagonia. I would not bank on these lasting a long time.
James Saams
Height:
6'1"
Weight:
180lbs
Very light and airy shirt, great fit! I purchased this partly because the description claimed it to be anti microbial , Baloney Sandwich. Capilene has always stunk and I believe it always will. Sticking with merino.
Ross Baker
Better Than Naked
Familiarity:

I've put it through the wringer

Fit:

Runs small

Size Bought:

Large
This is a great t-shirt for daily wear in hot sunny weather. It feels cooler than going shirtless, and you get to avoid the whole lobster red look and, you know, skin cancer.

Lightweight is an understatement, the fabric is so light and thin you feel like the tag, which is thankfully not placed behind the neck, is as heavy as the rest of the shirt.

This piece works great as a standalone piece in hot weather and as a base layer in cooler weather. I am between sizes so I opted for the larger size to use as a daily wear t-shirt, if I was looking for a lightweight base layer for cooler weather I'd go with the medium in the long sleeve version. On a side note I have the long sleeve version of this exact shirt that I use while in the sun all day installing solar panels to protect me from the sun and love it even in 100 degree weather.

Durability is impressive for this lightweight of a piece. It stands up to washes and daily use without showing wear but doesn't like to be snagged by thorns or scrapped against asphalt roof shingles repeatedly.

I'd recommend this wholeheartedly for warm weather or those among us like myself that are exceptionally sweaty and need something that really wicks moisture away, but if you'd like a similar option check out the Ether shirt from Arc'teryx.
Nicholas Comtois
Height:
5'10"
Weight:
180lbs
One of my new favorites
Familiarity:

I've used it several times

Fit:

True to size
This shirt is awesomely lightweight and breezy since it has been hotter than political issues these days. Used it biking and it wicked the sweat right off!
R.J. Gardner
Go to travel shirt
Familiarity:

I've put it through the wringer

Fit:

True to size

Size Bought:

Large
I wore this almost everyday while traveling in Indonesia. It helped keep me cool in the humid climate. Washing in the sink and hanging to dry to use for the next day was really easy. It looks good and performs even better. Its going to make a great hiking and running shirt as well. Its hard to see in the pictures but all of the current colors have small horizontal lines on them. The large fits me well with having a little room to move. They medium is almost base layer snug on me but would work well for running or other high output activities.
Chris Ringel
Height:
6'1"
Weight:
175lbs
Great performance shirt
Familiarity:

I gave it as a gift but have feedback to share

Fit:

True to size
This is great performance shirt with thoughtfully placed gussets/panels under the arm. The flatlock seams and quick-drying fabric will keep you comfortable longer when you're getting your activity on.
Todd