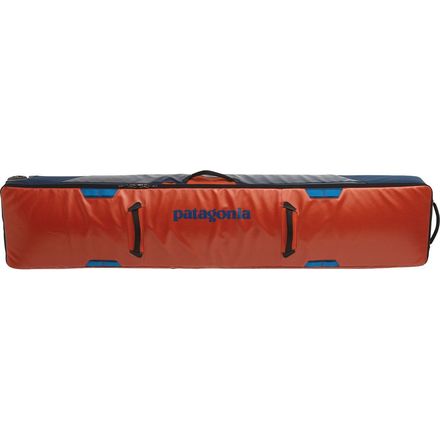 Colors
A travel-worthy bag for your board, in goatworthy colorways.
International snowboarding trips call for Patagonia's Black Hole Snow 167cm Roller Bag, now featuring styles exclusive to Backcountry.com. A padded, waterproof construction protects your board, bindings, boots, helmet, and other ski accessories from wet weather and careless bag handlers at the airport. There's a grab handle up top so you can roll into hotels, and two side handles help you carry the bag over snow-filled parking lots. This roller bag attaches to any of Patagonia's travel-friendly Black Hole duffle bags for extra convenience.
DWR-treated and TPU-laminated
Padded
Roller wheels
Grab handles at sides and top
Zippered clam closure
Outer pocket
Attaches to Patagonia's Black Hole duffel bags
So glad I found this here because it is no longer available ON the Patagonia website. They stopped making it, so grab this up fast!! As per the other reviewer, it IS thin. I'd call it sleek. It will NOT hold your helmut, but everything else fit in there perfectly. Pair it with a Paptagonia duffle (which is what I did) and there's these genius little metal clips (just up from the roller wheels) that you pull out, clip to your Patagonia duffle, and your off through the airport like magic. Extremely durable (what else would you expect from Patagonia?!) and great looking. Well worth every penny! PLUS, you'll never mix up your bag with all the other ones coming though. Perfect!
Nancy M.
This bag is really pretty, high quality material you'd expect from Pategonia.

I needed to upgrade to a roller set and i was sold on this thing when i saw it integrates with blackhole bags from pategonia

I had to return it because it is just too skinny for me.. I cant fit my helmet (with audio) in the bag and it only fit most of my snow clothes.. this will probably work for most people (hence 4*) however, I needed something that could hold a body or two
Uncle Tony
Actual measurements listed on the tag?
james H.
Hey James, the measurements on this bag are 64" x 13" x 6" (Length/Width/Height). Feel free to contact me with any other questions!
Kyle Scagnelli
What is the longest ski that fits in this bag?
Aaron N.
Hey Aaron - You would be hard pressed to fit any ski longer than a 170-172 cm in this bag and you would have to squeeze them in horizontally. Feel free to contact me directly with any additional questions.

Kyle L. - Expert Gearhead - klivingston@backcountry.com - 801-736-4337
Kyle Livingston
Unanswered Question
What is the inside length for this bag?
Ben W.