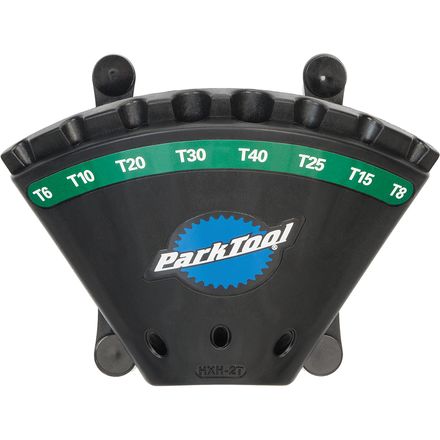 Colors
Work smarter not harder.
Get your workshop organized and put your Park Tool P-Handle Torx wrenches close at hand with the P-Handle Torx Compatible Wrench Holder - HXH-2T. The wall, benchtop, or pegboard mounted wrench holder is specifically designed to house Park Tool's P-Handle Torx Wrenches and will also store folding hex and 3-way wrenches as well. This holder places the wrenches in a facile position to grab and the easy to read size designation makes finding each tool a breeze.
The HXH-2T can be mounted to a vertical work surface or to a flat workbench top. Fasteners are included for mounting to pegboards with 1/4in holes. When mounting the holder onto pegboard, simply install fasteners through mounting holes in legs and press into the pegboard. If mounting the holder on a wall or onto a bench top, use appropriate screws (not included).
Holds Torx wrenches on benchtop or pegboard for easy reach
Size designation under each wrench for easy identification
Comes with pegs for mounting to 1/4in pegboard