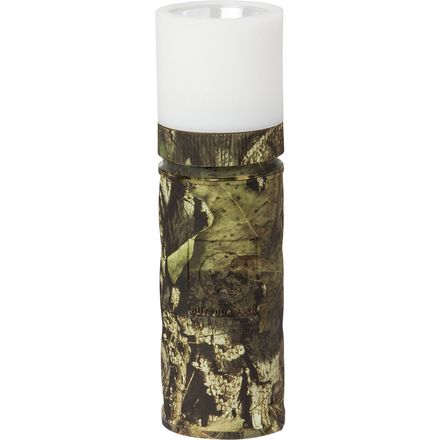 Colors

Detail Images
Crushes camping and commuting in a single bound.
Packing a serious punch, the rugged, minimally-designed Outdoor Technology Buckshot Pro-Bluetooth Speaker does way more than just play music. Whether you're deep in the woods on a camping trip or biking downtown to hit the bars, this wireless speaker's recently expanded range of talents will keep the party alive and well. Equipped with a USB output, you'll be able to charge your smart phone or camera wherever you want, allowing you to call home in a pinch or capture an unforgettable moment.
The included handlebar mount will keep you jazzed on your commute, while the built-in bike light provides a hard-to-miss illumination for those distracted drivers. The wireless range is 32 feet, so that combined with the rugged, rubberized, shock-resistant exterior allows you to set this speaker up as a target for some slingshot action while keeping the music blasting at the campsite (not that that's a good idea). The ten hours of rechargeable play and talk time, with an IPX5 water-resistant standard, ensures this puppy handles a little rain and keeps on truckin' without dampening the mood for you and your good-time buddies.
Shock-resistant rubberized exterior
IPX5 water-resistance
USB output for anywhere charging
32 foot Bluetooth wireless range
Built-in bike light
Flash, camp, and strobe light
Handlebar mount included
Really loud and really small
I bought my first buckshot speaker a while ago as an alternative to playing music on my iPhone speaker. I was really impressed at how loud it was, and how well it could fit in my bike jersey pocket! With that being said however, the bass is so good, the speaker sometimes can't handle being played at full volume very frequently. I recently bought the buckshot pro because I wanted a portable charger, and I have to say, I'm really impressed at how long it stays charged. Excellent product overall, would buy a third time.
Joe Draper
Happy Camper!
Familiarity:

I gave it as a gift but have feedback to share
Gave this as a gift, and got nothing but positive feedback for it. He took it camping, and kept the music going for hours. It didn't rain during their trip, so we couldn't give the water resistant claim a test. They took turn using the light during the evenings and were impressed with how well it lit up their campsite cooking area. I will definitely be buying one for myself now. :)
Meta Muasau
This thing is the best! Music, lantern, flashlight, and portable charger all in one, what's not to like? It is great for camping, biking, or really just anything. The only con is when the battery is running down the voice saying "battery low" is super annoying.
Maggie
why not.
Familiarity:

I've used it several times
who doesnt like music when riding? This little jem sounds great and has a nice little light if you stay out to late.
Steve O
SO impressed
Familiarity:

I've used it several times
My first real use of the speaker was on a 21 mile ride and it lasted the entire ride with battery juice to spare. I then used it that evening to ride home from town, and then to and from the Yeti Tribe Gathering using both the speaker and the light and it was still going strong.
Re Wikstrom
Portable Party
Familiarity:

I gave it as a gift but have feedback to share
I gave this as a gift and am now ready to get one for myself. It is one of the most rugged portable speakers I've come across. The clip feature makes it so you can take the party nearly anywhere.
amber nelson
Great sound from a small device
Familiarity:

I've used it once or twice and have initial impressions
The speaker quality is amazing. When I first opened it I was pretty skeptical about how the quality of the sound would be, but I was blown away. Amazing quality with awesome features. A flashlight, lantern, bluetooth, speakers, handlebar mount and it can also charge your devices. What more do you want.
Zachary Lambert
This light speaker is amazing it puts out a lot of volume which is nice, and if your out late and you need a light, the light is actually really bright I was suppressed of how bright it was. This is perfect anyone wanting a light and a speaker
Bryce Galloway
GET YOUR PARTY ON
Familiarity:

I've put it through the wringer
My favorite part is that you can throw it on your handlebars and cruise down to sev-elev for a slurpee and nerds rope while blasting girls just wanna have fun by Mrs Lauper (the one and only) I havent used the flashlight part, but i did charge my phone with it on the go and was stoked with how it held up. The speaker itself holds a charge for much longer than expected. It has great sound but when haulin bootay you do need to point it in your direction to keep the party going. Other than that its a killer speaker!
Tyler Thunell
What more could you want?
Familiarity:

I gave it as a gift but have feedback to share
Extremely handy speaker! Multiple functions for any adventure. Charge your phone for more pictures, navigate back to the tent after a night hike, or bump some tunes at the beach. Grab it and go!
Joe Bolton
Does Not Get Better!
Familiarity:

I've put it through the wringer
From skiing on those spring days to biking to just hanging out in the park this speaker is awesome and the fact that it will charge your phone as well is a killer addition. Would definitely buy again!
Zack Stevens
So Handy and Fun
Familiarity:

I've used it several times
I love this speaker. I'm always listening to music, so this has come in real handy for when I travel. I use it in my hotel rooms and out and about where I'd normally have to do without. The light, though not extremely bright, has come in handy on several occasions.
Leslee L.
Great Sound with Versatility
Familiarity:

I've used it several times
I usually don't give out 5 start reviews often, but the Outdoor Tech Buckshot Pro ticks all the right boxes. The sound quality is good to great with only a little bass drown out at certain songs/volumes. The light/charger is a super nice touch and I've definitely dropped it /splashed with water a couple of times and it has held up. The Bluetooth connection was painless to set up as well. Will update after further use.
Wally Phillips
Multi-fun-tool
Familiarity:

I've put it through the wringer
This is like a Leatherman for fun. Speaker, charger, and flashlight this has all you need for camping/biking/pool parties. Outdoor Tech did a good job of packing everything you would need into a small package that travels easily. Sound quality is good and it is great bang for your buck.
Laurel Nelson
A little bit bigger than I expected with the capacity of the battery but no big deal really didn't charge my phone a bunch but thats ok didn't buy it as primarily a battery back so a little extra is nice. The sound is awesome I was quite surprised and very pleased. Don't plan on biking with this just to have possible snowboard or at the beach so the light is bright I feel was expecting alot less with all the reviews. Big fan of outdoor tech I own the chips, yowies, and the adapt this is another great product.Don't know how the sound compares to other wireless speakers on the market but for the price a versatility you can't beat it.
Mountain Bikers Best Friend
Familiarity:

I've used it several times
I picked up the Buckshot for mountain biking, my current non-bluetooth speakers just weren't cutting it. I get sketched out wearing headphones on the trail, I like to be able to hear my surroundings so I don't nail someone. The Buchshot has changed my mountain biking experience, having quality tunes on the trail makes everything better!

First opening the box, I thought I may have been missing the piece that attaches the speaker to the handles so my first ride I rigged it with a Voile strap, which actually worked pretty well.

Turns out the attachment is just the small rubber piece. If you wrap the piece around twice it holds it a little better and it can be a little floppy with the light attachment.

Having a more stable attachment is something I would recommend, I've taken some gnarly falls and I'm afraid it might go flying off one of these days. I'm also afraid the rubber piece might break, but if it does I'll just rig the Voile strap again.

The sound quality on this speak is amazing! Jamming out on the trail is the best feeling, and it's safe- people can hear you coming! I've never had any problem with the battery life, it seems to hold a great charge.

The control functions were a little confusing at first. The same buttons are used to adjust the volume and track, it's just a matter of how long you hold it down. For volume press quickly, to change the track, hold down (I think it lists it backwards in the directions.)

The speaker has a light attachment with two options. It can be used as a flashlight, although I would still want a headlamp or other lighting if riding in the dark. The light works great for dusk. It also has a glow setting which is handy for allowing others to see you coming.

I've used this speaker for WAY more than biking. It's my new backpack/camp speaker, at home bluetooth speaker, and party speaker (obviously.)

Overall, this speak can perform! I give it a 4-star rating, only because of the questionable attachment. Nothing that can't be fixed though!
Sierra Durland
GROOVY LIL GLOW STICK
Familiarity:

I've used it several times
Let me begin with the "bad" the light accessory isn't strong enough to be used by itself; now that that has been cleared up lets begin the awesome aspects of the Buckshot!



This little party stick is practical for so many reasons, primarily for safety because you no longer need to ignore the world around you due to in-ear headphones. With the Buckshot you are able to listen to music, at a more than reasonable volume (it gets plenty loud with quality sound) without ruining anyone else's backcountry experience. I used to swear by headphones because I didn't want to ruin anyone else's day by scaring off animals or just being rude by blaring my rockin' tunes. But with the Buckshot you can enjoy music and your surroundings without compromising anyone else's experience.



It is a great commuter instrument because you are able to play music or podcasts loud enough to be heard while riding on roads/city, but you can still hear traffic around you. I ride on busy roads quite a bit and after using the Buckshot just a couple days I am very pleased with its sound level while still being able to hear surrounding traffic (beside and behind me).



The battery life is exceptional and the Bluetooth connection is practically flawless, the second I turn on the Buckshot it connects to my phone without having to open any apps. I haven't needed to use the external battery/charge feature yet but according to the labeled capacity of 2600mAh it should give an iPhone a nearly full 100% charge.



The speaker faces the rider which allows the sound to be heard primarily by whoever is riding and not by people in passing. The speaker has exceptional sound quality and, as stated above, gets fairly loud without sacrificing a clear sound or distorting.



All-in-all I am extremely pleased with the Buckshot and highly encourage others to make the investment so you too can ride in safely and stylishly! I got the orange one and found that when teamed with a pair of stylish cycling gloves it is the perfect accessory for autumn rides :-D
Tucker Wells
People with headphones on trail bug me.
Familiarity:

I've put it through the wringer
Charges your phone, bumps some music AND provides some light? Whatt?? Yeah. It's awesome. I really like the idea of a speaker that mounts to your handlebars people on are trail with headphones blaring they are fixing to get run over, or just hang out in front of you when you're trying to pass up the hill on some single track. It's no good. But this little multi-gadget can go anywhere, get dropped and it'll still keep kicking. the light shouldn't be your only one if you're planning on biking at night but it certainly lights some stuff up and makes you much more visible. But anyways, its an awesome gadget to add to your biking or camping gear. highly recommended.
Joe Bolton