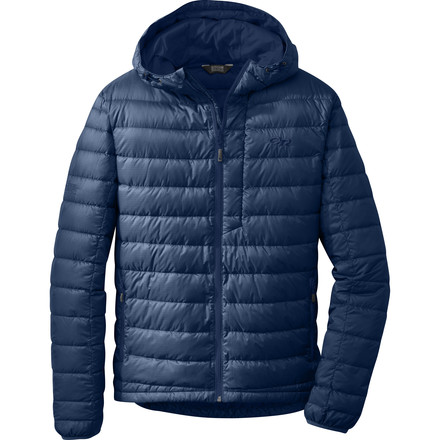 Colors

Detail Images

Videos

Community Images
What did you always wish your down jacket had? An insulated hood?
Pull out the lightweight, packable Outdoor Research Transcendent Hoody Down Jacket when your multi-day ski tour reaches another nice, but cold, spot for setting up camp. The 650-Fill down holds your precious heat close as the alpenglow foreshadows the piss-freezing temps to come, and since it fills the adjustable hood you don't have to haul around two or three hats to keep your brain warm and functional.
Brushed tricot collar prevents further chin deterioration from the cold, dry wind
Stretch cuffs keep the blowing snow out of your sleeves as you attempt to right your name in the snow or set up a belay before dawn
Small baffles extend the warmth and lifetime of the hoody by keeping the down in place
The whole hoody stuffs into one hand pocket for cramming into an already bulging pack
Fantastic Puffy
Familiarity:

I've put it through the wringer
The transcendent puffy with hood is great! Provides plenty of warmth. I would suggest getting one with a hood. The jacket is lightweight and packable. This is definitely a must buy!
Jason Kang
OR Puffy
Familiarity:

I've put it through the wringer

Fit:

True to size

Size Bought:

Medium
This jacket rocks, it goes with me everywhere at all times of the year. I frequently find myself wearing just this and a tshirt underneath in temps down to around 30 degrees when i'm not active. When I am, i'm comfortable down to 10. The only complaint I have is that every now and then i'll find some down that came out somehow. Other than that its great! In the warm months, stuff it in your sleeping bag/pad sack and use it as a pillow - super comfy.
Cody N.
Height:
5'8"
This jacket has slowly become my go to down jacket. very light and it fits just right. If you purchase this jacket you will not be disappointed. Also, it feels very durable. I'd highly recommend this jacket.
Mark Walter
Stick with outdoor research
Familiarity:

I've used it several times

Fit:

True to size

Size Bought:

Medium
I've grown partial to Outdoor Research over the years. I got this and I feel that it is a good buy albeit pricey. I'm certain there are other jackets at lower prices that will give you more warmth. I'm OK with that. It's warm enough for fall. At least for my body it had enough space to wear a fleece sweater underneath during winter. I'm a huge fan of inside pockets and these are especially big. I don't like the hood that much and instead use it as a type of scarf. This is a good buy if on sale. Otherwise again I think you're better off checking out something else.
Juan David
Height:
5'10"
Weight:
185lbs
Fantastic
Familiarity:

I've used it several times

Fit:

True to size

Size Bought:

Lg
I've been wearing this as an everyday jacket this winter. Plenty warm down to 18°f . I'm 5'8, 185lb and bought the large. I first thought was tight but later decided it was the elastic on inner pockets that does makes a great wind barrier. Which is what I love the most, these inner pockets are so big I don't see a need for a separate summit pack anymore. I can fit a klymit inertia pad a zpack shelter and ground cloth and 2 liters water and still have the other pockets for my 10 essentials. Only minor drawback when I try to sleep on my back a hard adustment pull is centered in the back of the hood, but it is a great pillow when stuffed into the pocket.
Gary M.
Height:
5'8"
Weight:
185lbs
Nice Quality & Fit, But...
Fit:

True to size

Size Bought:

Large
I was looking for a warm hooded jacket to wear during lunch breaks when backcountry skiing or hiking in the shoulder seasons. Based on the reviews I thought the Transcendant was it. At 5'10" & 200lbs I often seem to fall between sizes in jackets, but large fit me just right! Also the jacket's fit and finish was impressive and I really liked the large internal pockets--perfect place for storing your skins on the downhill. However, I ended up returning the jacket because I didn't find it warm enough. Backcountry customer service advised me to look at some 800+ fill jackets to find the right combination of warmth and weight.
Dean E.
Height:
5'10"
Weight:
200lbs
Love it
Familiarity:

I've used it several times

Fit:

True to size

Size Bought:

xl
This jacket is pretty warm and it looks great. I wish it had a more durable outer layer, though. But I guess OR does sell downs with more durable outer layers. During a Powder Bowl run at Crystal Mtn, I must of brushed up against a tree branch, and the left are ripped open. Luckily OR has an infinity lifetime warranty, so I will take it to their store to get repaired.
Neil U.
Height:
6'1"
Weight:
220lbs
Top Notch regardless of the 650 fill...
Familiarity:

I've used it several times

Fit:

True to size

Size Bought:

XL
I've own light weight puffies from all the top brands. This one is my favorite. Yes the fill weight is not 800+ but the fit is not boxy like patagucci and it's warmer in my opinion. Better features. Love it.. Will purchase the non hooded one as well... Also going to check out their heavier one as well..
Brad Wegman
Height:
5'8"
Weight:
200lbs
I've read a lot of good things about this jacket and would like to order one, but it seems the sizing may be tricky. I'm about 6'1" and 170 lb with a 32' waist. This would seem to put me riiiight in the thick of a medium-or-large debacle. I'm quite thin and tall, but it's honestly all legs and short torso. I also intend to wear it with two light- to medium-weight layers underneath. My gut says a medium will be the way to go, but I'd hate to be stuck with a tight squeeze of layers under a 60L pack...
opinions?
Samir Alem
Samir - I think you nailed it. you are a "melarge." So, get both and send one back! Backcountry is great with that stuff. Or order one and exchange. The GearHeads at Backcountry make it easy for sure. Sorry I couldn't help further!



Leta

OR Rep
Leta Kalfas
My first Down jacket and I am overly impressed with how comfortable this thing is in all kinds of temps. I can leave it on in the house with out over heating, and then go out when its low 30s and it keeps me warm! great product!! It does fit a bit snug, but great motivation to drive right past the doughnut shop.. nice and light, not bulky and overly puffy. seemed to shed water in a light winter mist fairly well..
Casey H.
Height:
5'6"
Weight:
145lbs
Love it
Familiarity:

I've used it several times

Fit:

True to size

Size Bought:

Large
I love this down jacket! I have the hooded version and non-hooded version. It's warm, but not over the top puffy where you feel like you are wearing a sleeping bag. Its a slightly slim fit, but still plenty of room for a decent mid layer underneath. I am 6'1 185 with longer arms and the arms fit perfect.

The fleece style lining on one side in the pockets is a nice addition. It has a waste draw string and draw strings for the hood. As with most down jackets, the material is not super strong, so you can snag it on tree branches, etc... so don't treat like an abrasion resistant soft shell.

Overall, like all OR stuff, its well made, fits well, and a great product.
SeattleBerner
Height:
6'1"
Weight:
185lbs
Swagger Stuffed Into It's Own Bagger
Familiarity:

I've put it through the wringer

Fit:

True to size

Size Bought:

XL
Like long walks on the chilly northern California Coast? Yep, I do. How bout sitting around a high sierra lake at dusk, pondering deep thoughts while basking in nature's glory? Sign me up. Enjoy a chilly morning/evening around a campfire? Most certainly. I'll tell you what I don't like though, that's being so cold my teeth are chattering and I have to keep moving to make sure my blood is still circulating. This jacket has been my answer to a more enjoyable experience for all the questions above. Lightweight, true to size as far as I am concerned and WARM!!! Love this thing, it goes just about everywhere with me and for a down jacket, it's pretty stylish, or at least that's what I tell myself. From sea to land, to concrete jungles like Seattle in February... this jacket delivers a comfortable core temp every time. Fairly compact when stuffed into it's own pocket and can double as a pillow in the backcountry. The longer cut keeps the lower back covered no matter what position you're in as well. They did good with this one. I won't say it's ultralight, as there are other options that are definitely lighter, but it's light enough to the point that it's not a burden. Stay warm with swagger, I'm sure nature will notice.
OMordha
Height:
6'1"
Weight:
215lbs
Perfect fit jacket very similar in size
Description
Steven T.
Sizes are weird, but a great coat.
Familiarity:

I've used it once or twice and have initial impressions

Fit:

Runs small

Size Bought:

Medium
Long story short, the large was too big and the medium is a touch too small.



I'm 6' tall, 166 pounds and a fairly lean athletic build. My chest is 37.5", my wast is 32" and my arm length shoulder to wristbone is 25".



I bought the coat to layer on top of, and maybe a thin layer under.

I originally purchased a large. For me, it was just too baggy. When I pulled out the chest it stuck out over a foot. When wearing it zipped up, it bulged out in the front. I wanted something slim that won't get in the way, so I exchanged it for a medium. Thanks to Backcountry.com, the exchange was easy and quick!



So I got the medium and tried it on, overall it fits just right, almost. When I move my arms forward, it binds around the upper back the way a too small garmet will. The cuff is just about perfect if not a touch short. When I reach overhead, there's no binding, but If it was tucked in to say, a harness, you would feel it bind.



So, I'm going to keep it as I don't want to go back to the baggy large. But I'm just a bit dissapointed in Ooutdoor Research. You'd think that with their experience they'd have these things diled in. and the size chart would put me right int he medium zone. Oh well. Other than those things, it seems perfect. It compresses in to it's own pocket to a "semi-small" size. It has a clip loop and I could see climbing with it clipped to my harness, but it's on the larger end for that purpose.



The pic is of the medium.

Hope my review can help you out!
Toby C.
Height:
6'
Weight:
166lbs
Does the Dusk/Night color look purple-ish?
worked
not at all! Great color!



Leta

OR Rep
Leta Kalfas
Nice, but...
Familiarity:

I returned this product before using it

Fit:

Runs small

Size Bought:

Large
...the fit is tight through the chest. I have 3 other OR jackets, 2 down (Megaplume and Virtuoso), and one shell, and large fits well (43" chest, 34" waist). Not this one though. The jacket feels like they sewed large arms onto a medium body. Other than that, the fit and finish appeared up to OR's usual high standards. Returning it today, thanks BC!
John W.
Height:
5'11"
Weight:
190lbs
Outdoor Research Transcendent Hooded
Adam Saucedo
Poor craftmanship
Familiarity:

I've put it through the wringer

Fit:

True to size
I'm 6' 3", 180lbs, have the medium. It's a great lightweight jacket that withstands the mild winters of Chicago (until about 0 degrees Fahrenheit).



5 months in, though, and the second seam on one of the sleeves on the inner side has already torn. I'm not jumping through thickets and such. It either tore on the teeth of the pocket and/or it's just cheap.



Luckily it has a lifetime warranty.
Charles M.
So Far Amazing
Familiarity:

I've used it once or twice and have initial impressions

Fit:

True to size
Okay so I have only used it for two days while winter camping, but so far I really love this jacket. Light, packs small, and keeps you plenty warm. I love that it packs into its own pocket, great design feature. The pockets are big, and the fleece lining makes them that much warmer. Love the inside storage pockets as well. Very large for your beanie and gloves. I would recommend this jacket to anyone who is looking for a good all around puffy.
Jordan M.