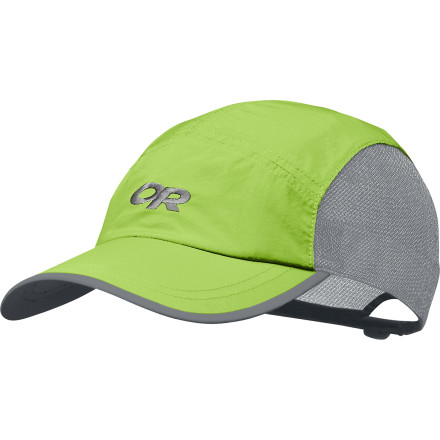 Colors
Enjoy the game.
The Outdoor Research Swift Cap shields your eyes and keeps your noggin cool for those hot days barbequing or watching the ball game. The Swift Cap's Coolmax headband wicks moisture, while its mesh liner and lightweight, quick-dry Supplex fabric aids in ventilation. Outdoor Research gave this hat a shaped, plastic-stiffened bill to give it a worn-in look.
Performance cap for active days in the sun
Mesh lining provides ventilation during a warm run or hike
Quick-drying and water resistant for river days
Buckle closure adjusts to fit most heads
Gets a little hot
Familiarity:

I've used it several times
I used this hat for a 4 day backpacking trip in the Uintas. It fits and feels great, but definitely keeps in more heat than I expected.
Chace Merritt
This hat is light and breathable enough so as to be almost unnoticeable while being worn. The adjustment mechanism is secure and intuitive. So far I have only used this hat for running but I can see it being useful for just about any outdoor pursuit that does not require a helmet.
Aaron Bender
Worn for years!
Familiarity:

I gave it as a gift but have feedback to share
My dad's worn a hat like this for years. It's light and breathable and he loves it. So I got him another color for his birthday.
Zach Amtower
Bought this as a gift
Familiarity:

I've put it through the wringer
I bought this for my brother, but have some feedback to share:
"This is my go-to hat when I'm trail running. It breathes extremely well, is lightweight which makes it comfortable for long jaunts, and keeps the sun out of my eyes. I've gotten this hat very dirty, but it washes easily and is like a brand new hat again."
Nick Johnson
Best sports cap ever
Familiarity:

I've used it several times
This is by far the best cap to exercise with. Soft, comfortable, well made, washable. I lost mine as it blew off in very high winds on top of a mountain so I bought another one.
James G.
Great cap
Familiarity:

I've put it through the wringer
This hat breathes very well. I use it when I go running or hiking through the woods. Usually stays snug on the head.
Brennan Wilson
Great cap, but put it inside your pack
Familiarity:

I've put it through the wringer
Great for backpacking or any other sweaty outdoor adventure in the sun. Nice ventilation, good adjust ability. One gripe is that the buckle comes undone when lashed to your pack. Lost one on a hike that way, but it was my fault for not placing it inside my pack.
Russel G.
Go To Running Hat
Familiarity:

I've used it several times
This is my go to running hat. It dries quickly and washes well. Its also super comfortable. I got the white because its cool in the sun.
Joe Torreano
Hats off to OR on this one
Familiarity:

I've put it through the wringer

Fit:

True to size
Bought this hat for running to keep sweat out of my face but not trap too much heat. With it's low profile and lots of mesh it does a great job of that. Used it tonight on a run. Pretty standard hat other than that.
Only complaint is that it is almost too low profile that I have to keep a sharp eye on it sometimes lest it blow away.
Bradley W.
Height:
6'1"
Weight:
195lbs
I don't give 5/5 very often. It's has to be a home run. This is a home run. Light weight, breathable as you can get while still blocking the sun, it is adjustable in the back like a belt with a clip. I too live in topical South Florida, and this is a nice hot weather hat. I recently went to Wyoming and there was snow up in those mountains in Sept, and it worked for hiking there too. Love it. Super comfortable and hugs your scalp (i.e.-lowish profile). If you sweat and overheat easy but still need a sun blocker this is it. Make more, make it forever. I bought 3 figuring they might DC or ruin it by changing it.
Karl
Florida Heat/Humidity Has Been Conquered
First the reviews that say it is not adjustable are incorrect. The strap connected to the buckle on the right side as you look at the back of the cap slides through to tighten or loosen the band. The reviews that it sits like a yarmulka or is otherwise too small appear to be a result of not checking the strap for adjustment. The size actually runs large. I have a freakishly large head and it is one of the few caps that has enough webbing to properly size out to my head. The design and materials are just about perfect, with very lightweight materials that dry super fast and protect from the raging Florida sun and moisture. The brim material insert is a polymer and waterproof (some hats are cardboard) and can be washed repeatedly and still keep going. I am on my second one. I still have the first one. It is about 5 years old and is getting discolored. But not at the headband where other hats do. The material used in the headband is extremely resistant to stains and releases oils from sweat with very little effort. This hat quite literally will last you for years. I forgot to mention it looks awesome too.
mgh105433926-0
cool hat....literally. light and cool
Familiarity:

I've used it several times

Fit:

True to size
I recently purchased this hat for my husband, and he loves it so I got one too. I read from several reviewers that it's not adjustable? It most certainly is! There's 2 clips one on each end of the webbing in back. The side where the webbing doubles over through the clip is where it's adjustable. The tail end of the webbing is tucked under the headband part of the flap. It's kind of hidden at first, but look inside the cap, and run your finger to separate the flap and you'll find the secure end and the loose end tucked in there...adjust it through the clip and then pull that loose end and smooth it out under the flap. Hope this helps...
Anne J.
Best ball cap for people who live in hot weather year round or great summer cap for the rest of the country. Great colors to choose from have several colors for different occasion. Gets dirty just throw on wash and go dries in minutes.
Terry B.
Height:
5'9"
Weight:
245lbs
Wish I could adjust the fit
Familiarity:

I've used it once or twice and have initial impressions

Fit:

Runs large
There is a buckle in the back to open and close it, but no way to make it tighter or loser. I keep opening and closing the buckle, but of course that does nothing. This review is before wearing it even once.

Most confusing is that people say it is adjustable, but mine isn't. Otherwise it is such a fabulous hat, so I'll take the time to cut the straps and sew it to fit me.

Follow up: Once i cut the strap to make it smaller - it became clear that there was a way to adjust the cap. It is hidden inside a tube of cloth along the brim.
A simple note would have stopped my frustration and stopped me from cutting the strap.

It fits perfectly now that's I've sewn it.

Monica Schroeder
Pro's and cons
Familiarity:

I've used it once or twice and have initial impressions

Fit:

True to size
Another poster said - "Depth/size was small, in which it didn't even make it down to my ears felt like it was sitting on my head instead of actually being worn". Kinda like a yamaka, well not really, but it's not a typical depth hat, its smallish on my large Mellon. That said, it's super light weight, adjustment was light and OK, rain resistant material, it's a decent lid. In most cases I want it to breath, be super light and cool, and block sun and rain, and it clearly excels at those things. Be prepared though, it is a smaller hat design, not to be confused that it won't fit, it fits fine, it just doesn't come down to the ears like most ball caps or other hiking caps.
Bryan T.
Not a fan of current edition
Had a swift cap a few years ago and it was great. Got the 2016 version and it felt like I was wearing cheap cardboard on my head. Depth/size was small as well, in which it didn't even make it down to my ears felt like it was sitting on my head instead of actually being worn. Back adjustment doesn't allow it to get tight when its windy out. Returned for Sunday afternoon cap which is at least five times better in use of quality materials and fitment.
Srgsx
Love the OR swift cap! I wear it all the time when out on the trails. It's light, breathable, and comfortable. It doesn't get much better than that.
Casey Cazeaux
Lots of Km under these brims
Familiarity:

I've put it through the wringer

Fit:

True to size
This is my go-to running hat and I ALWAYS wear a hat while running. I'm currently on my third, and not because of wear (lost one, and tend to misplace things enough that I need two...). I use it for training and hard core races. Protects from the sun without being annoying and keeps a little bit of heat in when I climb. This photo is after 48km , 3600m Matterhorn Ultraks race! My only complaint: sometimes in high wind I really need to cinch down the hat and there is a lot of extra strap which can be annoying, especially during a race. I have a big head so I'm not sure what all the extra's for...I have also washed them many times, in the machine (on gentle) no problems though I do have to bend the brim back into shape a little. I have had white, green and pink and they all keep cool pretty well and don't seem to show sweat. Also, seems to keep all but extreme forehead sweat contained! I have tried other hats and highly recommend this one.
Rebecca S.
Excellent all-sports cap and
Familiarity:

I've put it through the wringer

Fit:

True to size

Size Bought:

one size
I bought one of these caps in the high-viz Lemongrass color back in 2011 before moving to Belize. I bought it for myself, but my husband ended up using it nearly all the time since he needs the sun protection on his head. In the past four years, it's been through countless runs, hikes, walks, and bike rides, and it still looks brand new. Lightweight, easy to wash, quick-drying, and attractive; it doesn't get much better than this! In fact, we just ordered four more in different colors after having such a great experience with the first one. And this time, I don't think my husband will steal my pink one!

EmilyInMexico
Height:
5'2"
Weight:
105lbs