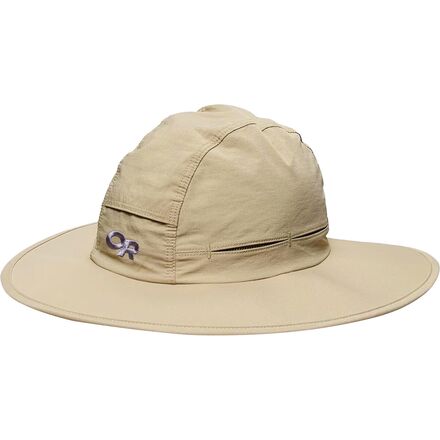 Colors
Stay on the Sunny Side.
Whether you're trekking through the mountains or fighting your way through crowds of tourists, adventures abroad should never catch you without proper headwear. The Outdoor Research Sombriolet Sun Hat, complete with foam-stiffened brim floats , keeps the sun off your head during ray-intensive explorations. A mesh-lined crown and moisture-managing headband help keep you dry, while crown vents let you cool down the think tank when you're overloading on the gorgeous views.
A wide brim hat fit for traveling or river floats
Fabric is rated to UPF 50+ for defense against sun
Chin strap keeps hat secure on head
Headband wicks away moisture and dries quickly
Piping along brim enhances hat's wind resistance
Finally A Hat That Fits! :)
Familiarity:

I've used it several times
I've ordered size XL sun brim hats online before, and they always run small. This is the first one I found that fit me perfectly! Brim was wide enough to keep the sun out of my face all day. No more burnt forehead, and cheeks for me! :)
Meta Muasau
Lots of brim
Familiarity:

I've used it several times
Nice wide brim hat to keep the sun out of your face and off your neck while hiking.

I found that it does run a little small and you will want to size up. My head measures 22½" and found the Medium to tight on my head. Bumping up to the Large was a much better fit.
Robert Jensen
Like Holly said: Head Size Matters.
Familiarity:

I've used it several times
Ordered the medium, definitely should have gotten the large.
But let me tell you: this hat kept me cool and protected me from the sun quite well on a 10-day Yellowstone trip; I would have been in trouble without it. It was comfy to wear, the brim didn't blow up and reduce sun protection, and the cord mostly kept it snugly on my head whether horseback riding or kayaking. I will say that they could do a better job with the little thingy that adjusts cord length - in really gusty conditions I had to hold on to the cord because I didn't trust the chintziness of the part. (Only reason for 4 stars) One additional nice thing: it's a little longer in the back to protect your neck area; I was looking at kayaking photos and other than the guide, I'm the only one with a fully protected neck.
10/10 would again.
Kathryn O.
Head Size Matters
Familiarity:

I've used it once or twice and have initial impressions
I'm a female with thick hair that I often wear ponytail to keep my neck cool. My head is a bit larger than standard head size. So I brought the mens sand xl and it was fantastic to block out the sun off my face. Glad to own one for the first time.
Holly T.
She loves it!
Familiarity:

I've used it several times
I bought this for a friend who was going backpacking in Yellowstone. She loved it! I think OR makes some of the best hats (not just hats) out there and that's why I chose this one for her. I knew UPF protection and something that would breathe well and dry quickly would be great features and this hat does those things very well. Let me know if you have any questions : )
Zachary Cox
Does the Trick!
Familiarity:

I gave it as a gift but have feedback to share
My dad is hiking Mt. Kilimanjaro , and needed some sun protection!

I ordered the Khaki color, and although a bit goofy will keep him protected from the sun and wicks away moisture!
Colleen ONeill
the best!
Familiarity:

I've used it several times

Fit:

True to size
This hat is super goofy looking yet funky in its own way. This hat is sturdy and flexible! It does everything that its suppose to do and plus more. It works great in wind, sun, and rain! Going to wear this all summer long!!
Miranda Howell
Height:
5'7"
Weight:
135lbs
GREAT HAT
Familiarity:

I've put it through the wringer

Fit:

True to size

Size Bought:

XL
Well my son liked this hat so much , he just purchased 4 more !!!! Three for him and one for his Dad. He also told me a coworker asked about the hat and he passed on your contact info ---
rebecca brown
Height:
6'2"
Weight:
200lbs
Bought this hat for my son for his Birthday and he is very happy with everything about this hat--- EXCEPT ----the draw string will NOT stay tight under his chin in the Las Vegas winds. He has had to chase the hat down the street a couple of times when it blew off his head. Any way to remedy this issue or is it a faulty part ? I would hate for it to be lost to the winds ---it's not really a cheap hat.
rebecca brown
Agree with the positive reviews
This is a great hat and fits well and gets the job done. I took it down to Moab recently and wore it all the time out hiking to keep the sun off
Jonathan Armitage
Florida Tested and Approved
Familiarity:

I've used it several times

Fit:

True to size

Size Bought:

XL
If you are looking for a hat to keep the sun off of your head, neck and face, that will hold up to the wind conditions, and not make you pay for it in sweat and heat exhaustion, then this is the hat for you.

I've tried many types of hats to keep my pale, Irish skin from too much sun exposure. This is the only hat that checks all the boxes to be considered useful. The brim has a foam insert the is advertised as a floatation feature. I can't speak to those capabilities, but the same foam insert keeps the brim from blowing up when breeze at the beach would norally fold the brim of your boonie hat. I really liked this!

The hat is made of a light-weight material, with nicely placed vents to allow air in, and heat out. This makes this a hat that you can keep on your head, not in your hand. Most hats tend to make me too hot to keep it on my head, and also become saturated with sweat. This hat has done a good job at making me feel cooler in the direct sun, and stay on my head. What I would expect out of a hat.

This is my go to hat if I am going to be in an environment where I am trying to keep the sun off of me, in windy or calm conditions. I would definitely recommend this hat for activity having to do with sun exposure.
Rick M.
Height:
6'3"
Weight:
250lbs
Texas Tested
Familiarity:

I've used it once or twice and have initial impressions

Fit:

True to size

Size Bought:

Large
I just got this hat today and took it out into the Austin afternoon for a test drive. The temperature was about 103 and the heat index a balmy 114, and this hat performed excellently. It kept the sun off my pate. It shaded my neck and face and all around my head. And it was the lightest weight and most comfortable hat I've ever worn. I think I've found me the perfect hat for the screaming sun of Texas and the more mellow, but just as dangerous sunshine of Santa Fe.
Jerry K.
Schweet!
Familiarity:

I've used it several times

Fit:

True to size
This is a schweet hat. The size fit my big ole noggin perfectly. Brim is big and has a lightweight but durable core to prevent it from becoming wavy. Also it does a nice job with sun protection and not making my head feel to hot. I intend to use it for backpacking also. Tested it and noticed the back of the brim touches the top of backpack at times but was able to flip the back of brim slightly upwards and it holds in place. That small amount of impedance with a hat hitting your BP can be a real pain in the neck. I'm using a 48L pack so its not that tall. If you have a tall pack you may find it difficult to wear this when on trail.
Overall this is a great light weight product! Does everything its supposed to do and comes highly recommended
Lloyd D.
This is the one!
Familiarity:

I've used it several times

Fit:

True to size

Size Bought:

XL
Finally a hat that fits my giant head....I'm a size 7 1/2, which doesn't seem to be too big, but for whatever reason I am normally unable to find anything off the rack that fits...

I recently lost a 60 cm Columbia bora bora that fit tight and did a decent job, and decided to try again with something new.

So glad I did!

Bought this in XL and I actually have a hat that doesn't feel like it's cutting off blood to my brain while making me go bald at the same time.

The brim is huge, a solid 2 inches at least wider than the Columbia, and also keeps it's shape which I like. (The floppy look wasn't really my thing.) This has an Australian look to it, not sure how else to describe it.

My neck is covered, my forehead is covered, everything is covered!

Well made, comfortable, breathing vents all the way around, this thing is fantastic...well worth what I paid and I'll do it again if need be.

Shipped quick, couldn't be happier really.

If you are on the fence because of the price, jump off and just do it.

Your head will thank you.

Thanks Outdoor Research!


Robert H.
Sun Hat
Familiarity:

I've put it through the wringer

Fit:

True to size

Size Bought:

m
Live in Southwest Florida sunny and hot , keeps sun from burning your head and ears . Would recommend to anyone who enjoys the sun or works in sun .
Terry B.
Height:
5'9"
Weight:
245lbs
Yes, this is the hat you want
Familiarity:

I've used it once or twice and have initial impressions

Fit:

True to size
Yes, this is the hat you're looking for. If you're like me - you've been hunting and researching a while. The versatility of this hat is unlike any other and this is the one you want!
cassidy H.
Big ol' brim!
Familiarity:

I've used it several times
This hat is ideal for days on the river where the sun is blistering down from above. The brim is HUGE! which is awesome. The shade this thing provides is unmatched to any other hat i have had. borderline sombrero with a little more style points.
Greyson G
Biggest Brim I Could Find
Familiarity:

I've put it through the wringer

Fit:

True to size
I've been wearing one of these hats for several years now. I'm a window washer that works in the sun 3/4 of the year, All day everyday. It really protects with its 50+ Rating and huge brim. Not only does it protect my bald head but my nose and neck too. Wearing this has been much nicer than having sunscreen in my eyes all day. It breathes really well and doesn't overheat me. My only drawback is that it stains from sweat over time. But with the amount of wear it gets I think that's inevitable. I think this is my third one in 9 years.

It runs true to size but I buy them large so they sit lower on my head
jason markey