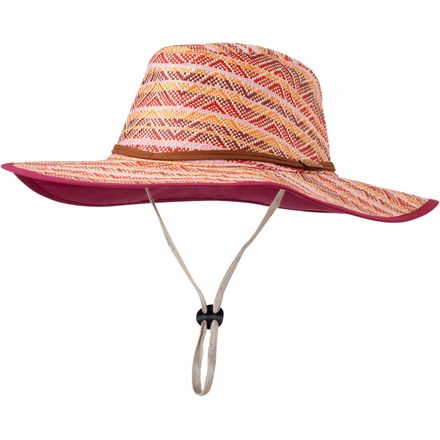 Colors
Beachy goodness.
Grab a cocktail and a lounge chair, because you'll want to seriously relax when you're in the sun with the Outdoor Research Women's Maldives Hat on.

Paper straw
Cotton poplin sweatband
Removable chin cord
Internal tie adjustment
I love the fun colors of Rio ...size wise it was a bit big for me (my head measures about 21.75 inches around) but the inner adjustment helps tighten it up sufficiently . It arrived a bit 'crushed' but it settled nicely - so lay it flat and press it out - punch up the cap & it will be fine in a few hours ...the thing that bugs me is the leather band around the outside of the hat is crossed - which I thought was a defect but in researching this hat & and finally finding a 360 degree view of it , seems they are made this way ...I suppose there is a reason for that but apparently I am a bit OCD becasue it bugs me ...otherwise I really like this hat so I'll get past the 'defect' ...tee he.
Lori M.
It is a cute hat. But it couldn't fit me, it was too small. I gave it to my friend's daughter and she loves it.
Blandine S.
Unanswered Question
Is the hat crushable/Packable?
Jan
How wide is the brim on the Maldives hat?
Is the straw flexible or stiff?
El
the brim is 3.5 inches wide, and the straw is flexible.
Travis Tzioumis