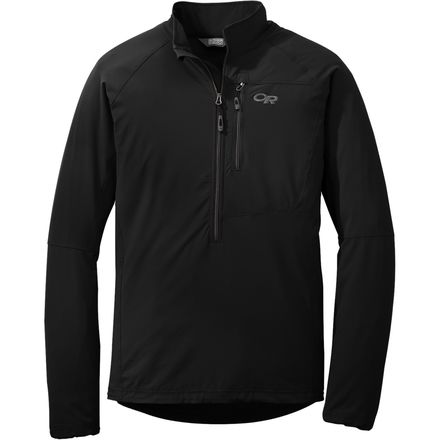 Colors
Ferocious in the Ferrosi.
From the top of Mount Olympus to the rock walls of Half Dome, the Outdoor Research Men's Ferrosi Windshirt provides protection and performance throughout all of your alpine pursuits. Crafted with a water and wind-resistant fabric, this pullover shields you from the elements and features a chest pocket that also doubles as a stuff sack for when the Ferrosi is not in use.
Water and wind resistant
Quarter zip
Chest pocket doubles as stuff sack
Perfect!
Familiarity:

I've used it once or twice and have initial impressions

Fit:

True to size

Size Bought:

Large
I purchased a large and it fits great. I am generally mid way between a medium and large. As in, a medium usually is tight at the shoulders and chest but the bottom of it fits my waist well. A large on the other hand usually fits my chest and shoulders but the bottom is wide enough to fit two of me.
This in a large fits excellent top and bottom. Plenty of movement, just enough extra room for a thin base layer if needed, and it breathes well. As for wind blocking ability, it does block the wind, but keep in mind, it also breathes. If it's a summer weather wind, no worries. If it's cold enough to be talking windchills, then I don't believe it's quite up to that task. But I think for a chilly spring through fall start where you know it's going to warm, but perhaps be a bit breezy on the summit, this is the perfect piece.
James D.
Height:
5'7"
Weight:
165lbs
Ferrosi /fur SHur SHert/ n. untiring top
Familiarity:

I've put it through the wringer
Ferrosi , actually pronounced /fur rozi/, is derived from the Italian 'Ferroso' which means either 'iron or containing elements of iron' or 'using all senses'. Either way, this has become my go-to shirt for outdoor activities when the air temp is cool/cold and the wind is blowing.

I wanted specific features for a windshirt; 1/4 zip, stretch fabric, wind/water resistance, pit zips and a minimalist design that could be worn comfortably alone or under gear and/or tucked in at the waist. It also had to be affordable (less than $100.00) and it had to look good both off the path and on the street. I found several candidates from big name outdoor companies and companies that specialize in selling US government contract gear; I made the right choice!

I'm 5'9", 176lbs, and live an active/athletic life; running, climbing, camping, LEO/SWAT and then there's the real hard stuff- husband and parent. The size medium fits me almost perfectly. As a comparison, I wear a lot of Marmot, Mountain Hardwear and Patagonia clothing. Marmot and MntHrd mediums, no matter if it's underwear, base, mids, outer, fit me perfectly; Patagonia medium (IMHO) is hit or miss throughout their product range. So if you aren't sure about your size, consider what you wear from Marmot or MntHrd.

It appears Ferrosi fabric is a combination of Cordura brand Naturalle and Invista Lycra which creates a soft cotton-like feel and drape (how the fabric hangs from your body [think favorite cotton t-shirt]) combined with durability and stretch. It's a great mixture of yarns that bridge the gap between comfort and technical ability.

The technical characteristics stand out as soon as you put this shirt through the paces. In light rain the drops bead up and roll off and range of motion is great. The snug cuffs, zip up neck and snug waist hemline help maintain the inner micro climate around your upper body and keeps you comfortable. Take the shirt off, hang it up and it will dry out quickly. (It helps to turn it inside out and allow the perspiration on the inner surface to have better access to air flow.) One great benefit I've noticed so far is the lack of odor after wearing the shirt. There are t-shirts and shorts that I can't wear twice because of after odor from sweat and general man-fumes; this shirt doesn't appear to have that problem. At least not a couple of months into using it. Time will tell.

If you've read other reviews then you're aware that the 'pit zips' aren't really pit zips. I can't be more puzzled by how or why these came to be. The pit zips are located at the wrist cuff on each arm and the zip pulls rest in the area of where you would buckle your watch. You pull towards your elbow (almost all the way to your elbow, in fact) to open the zip and separate the sides. The wrist cuff is held together by an elastic band so you can sill wear the sleeve as usual. (Visualize your traditional black motorcycle jacket with the zippers on the cuffs...that's what these look like.) The problem is determining a function for the pit zips, since they aren't anatomically close to your pits. They really don't help vent anything; I've run with them wide open and it didn't affect the airflow at my torso. When closed the zipper pulls rub the heel of your hands and can be annoying. One thing you can do is unzip the pulls about two inches and stick your thumbs through. Thumb/pit/loop/zips? Someone should have stood up in the Ferrosi Windshirt design meeting and said, "Um, Mr. Nordstrom, about these pit zips..maybe we put them by the armpits?." A better system would have been a venting solution like the Marmot Essence Jacket; open slit near the pits (weird, right?) that have mesh on the inside. Boom, done!

Other than that one gripe, it's an awesome shirt that is up for any task. I look forward to buying other Ferrosi family members (pants, shorts, button-up shirt) in the future.

BTW...Backcountry was a great site for purchasing; best price by far!
Roger S.
Functional protection from the elements
Familiarity:

I've put it through the wringer

Fit:

True to size

Size Bought:

Large
The Ferrosi Windshirt is a great shirt for chilly outdoor excursions when you need protection from wind and rain. I've used this in Central Oregon, Idaho and the Wasatch and it's been up to the task at each stop along the way. The shirt breathes decent, personally I like the sleeve zippers, and the chest pocket that doubles as a stuff sack is a unique feature. Although to be perfectly honest I don't use it. Not the best thing I've used from OR but certainly a reliable piece of gear that is a very valuable jacket to include in your pack.
Chasen Fairfield
Height:
5'11"
Weight:
200lbs
Unexpected Surprise!
Familiarity:

I returned this product before using it

Fit:

True to size

Size Bought:

Large
I ordered this because I have had similar wind shirts like this one above; and they worked great. However, when I got this one it had zippered arm vents going from elbow to wrist. Allowing it to become a short sleeve shirt; but when you roll the sleeves up there is nothing on the shirt to keep them up so they just fall down.
The shirt works great for its purpose but the arm zippers make wearing it feel awkward. I wish I would have liked this since my last one (without arm zippers) worked so well.

Christopher P.
Height:
5'8"
Weight:
160lbs