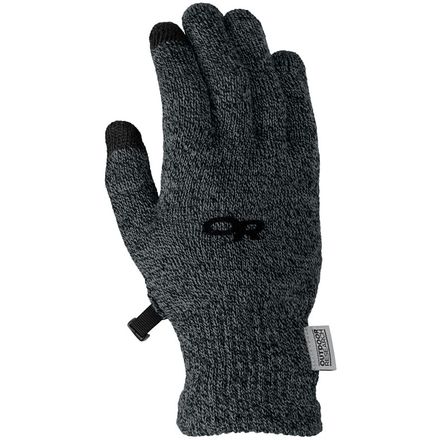 Colors

Detail Images
Odorless technology.
The merino wool Outdoor Research BioSensor Glove Liner breathes well wicks moisture, and fights odor. You can also use your smart phone with the BioSensor, because the mad scientists at Outdoor Research have figured out how to make touchscreen-friendly fingers.

**Updated Review** Wrote a review of these less than two weeks ago. Wife and I went for a hike yesterday where she fell and the gloves became wet, but not soaked. We took them off when we got to our vehicle and let them dry on the dash for the 40 minute drive home. Took them inside to line dry any residual moisture. Went to put them on this morning and they shrunk to the point she could not even get them on. How they did this, I have no idea. They were not exposed to any direct heat source, not put in a dryer. It is beyond disappointing to buy a product to use and you get less than two weeks use from it because it shrank with never being washed. It will be the last piece of OR gear I buy for either one of us. I expected a more morefrom a company like OR.
Adam
Bought a pair for my wife and myself. Great liners under our mittens. It was -30 today and the hands stayed pretty warm. Only downfall is the "touch" ability of the index finger and thumb is not very responsive. Great glove if you are looking for just liners. If you need the touch maybe another pair.
Adam
Bought a pair for my wife and men's for me. These are great for warmth and fit. It was -30 today in Maine and these were perfect for liners under our mittens.
Adam
These are my go-to lightweight gloves and liners. I love being able to work my phone without my fingers freezing off. They stretch in all the right places and keep my hands toasty. Great gloves!
Emery Gaylord
Runs Small
Familiarity:

I've put it through the wringer

Fit:

Runs small

Size Bought:

Small
I looked in every local store for a liner glove that was black or gray and fit correctly and couldn't find one so I bought this in the size that fit me most often in other brands. They weren't small enough that I'd bother with the return fees and hassle but small enough that they're tight and the thumb doesn't fit comfortably. Also, the touch screen tips worked great at first but have since diminished in responsiveness. Perhaps a wash would help? Other than that, these gloves are great for just wearing around, hiking, and short runs.
Rachel P.
Love these Gloves!
Familiarity:

I've used it several times

Size Bought:

M
I primarily use these gloves for running and they have been perfect for me! They are super breathable which is perfect, and the touch screen compatibility shocked me by actually working with the cantankerous touch screen on my phone. They also fit perfectly as liners with my ski mittens and I definitely could tell a difference in warmth. They are also tiny enough to pack for pretty much anything. The downside is that they do not stand up to wind well at all, but that's pretty much to be expected of a liner glove, and they are a little slippery in terms of driving in them.
Jani Holder
Height:
5'4"
Weight:
115lbs
Stylish and functional!
Familiarity:

I gave it as a gift but have feedback to share

Fit:

True to size
I got these as a gift for my Mom and she loves them! The merino wool feels great and the BioSensor feature allows here to use her phone without getting exposing her hands to the cold. They work great as glove liners but all so can be used on their own as driving/casual gloves or during high output activities such as hiking.
Jeremy Collett
Height:
5'6"
Weight:
140lbs
Good gloves
Familiarity:

I've put it through the wringer

Fit:

True to size
They work great under my mittens. Very happy with the warmth, color and texture for the price. No issues using my phone with them on. So nice not to have rank, wet hands inside my mittens!
Megan Allyn
Height:
5'6"
Weight:
116lbs
Pretty disappointed
Familiarity:

I've used it several times

Fit:

True to size
I got the gloves in gray, which I think is really pretty.

Pros:
- The merino is quite nice, it's soft and pretty warm for its weight.
- Touch fabric is knitted onto the finger*tip*, not just the fingerpad. When it's just the fingerpad, using the on-screen phone keyboard is nearly impossible.

Cons:
- The gloves are really thin. As in, I can see my skin color through the knit.
- No grippy stuff on the palms or anything, so they are slippery on a steering wheel, your phone, etc.
- Durability seems really bad. I've had them for two weeks and already I've got some major pulled threads in the fingertips; the OR logo on one of the gloves is peeling off the back; and when I reached in my pocket to grab my car keys a key actually pierced through a hole in the notch between index and ring finger.

Neutral
- My pair (bought direct from OR) didn't have the little black clip to attach them together. It makes them more stylish but easier to lose I guess.
- Touch capability works well sometimes and not at all other times. I have a glass screen protector on my phone.

My last pair of knitted touch gloves had grippy palms and knitted touch fingertips, lasted nearly 4 years, and I paid $4 for them. Pretty disappointed with these gloves already.
Maia B.
Gloves
Familiarity:

I've put it through the wringer
I bought these for my wife. She uses them for running and as a liner when skiing. The gloves pilled up pretty quickly. They are quite warm considering how thin they are. They don't really seem to work with a smartphone very well, but that may be due to the screen protector.
Matthew Kiel
OK
Familiarity:

I've put it through the wringer

Fit:

True to size
I purchased these to use on the JMT on cooler nights. They got the job done, but didn't hold up as well as I wanted them too. They began fraying, and I found them to be a bit itchy. They did a good job fighting odor, and worked well enough on a touch screen (no complaints about those two features.) As a previous reviewer noted, I had some issues with these gloves getting stuck on the velcro on my rain jacket. Used these briefly in Colorado last week in 10 degree (F) weather (alone, not under a pair of gloves or mittens), and they kept my hands warm. Ultimately giving the liners 3 stars because of durability and comfort.
Audrey Nguyen
Height:
5'2"
Weight:
112lbs
Decent Gloves
Familiarity:

I've used it once or twice and have initial impressions

Fit:

True to size

Size Bought:

Medium
These liner gloves are pretty warm, and I like the fact I can use my smart phone with them. For some reason the thumb and pinky sleeves are a bit long on me so there is excess fabric I have to deal with. Otherwise the fit is great, I can tell these will last a long time.
Lindsay Northrop
Height:
5'6"
Weight:
140lbs
Good liner
Familiarity:

I've used it several times

Fit:

True to size

Size Bought:

Small
I bought these to use under my Montana mittens for a recent trip to Banff, Canada. They were great liners and definitely better than being bare-handed while trying to text in single digits. I like the wool type liners because they are sleeker than neoprene but they did get stuck in all of my velcro pieces on my boots and coat which was annoying and I already have two holes after just one week. I found the tech tips to be very functional but my husband has a screen protector on his phone and they barely worked at all so that's definitely something to consider.
Meredith A.
Holding up better than wool
Familiarity:

I've used it several times

Fit:

True to size
I got these after 2 failed attempts with wool. My finger busted through the tips on both pairs. However these have held up great. I wear them under mittens when skiing so I can slip off the mitts at any time and have 5 functional digits to answer my phone or pull out the resort map.
Andi
Height:
5'9"
Weight:
140lbs
Sleek and Functional
Familiarity:

I gave it as a gift but have feedback to share

Fit:

True to size
Great light weight glove liner. Very durable and responsive on a touch screen smart phone. I have experienced other touch screen compatible gloves but occasionally would have issues with the functionality of the touch screen finger tips. Not with these gloves. I bought them for my girlfriend and she loves them. Great buy if you are looking for a glove liner that is simple, sleek, and very functional with a smart phone.
Steve Joyce
Unanswered Question
How do these hold up compared to the...
How do these hold up compared to the Smartwool glove liners?


Steve
loved em
Familiarity:

I've used it several times

Fit:

True to size
Bought these for my daughter. She used them in Wyoming with mittens. She loved them. Touch screen pads on fingers worked well. She wore them as light gloves several times also.
Robert D.