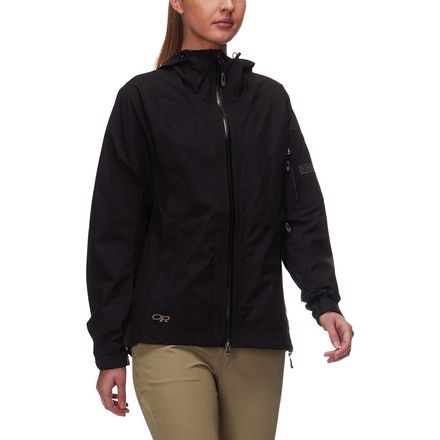 Colors

Detail Images
Travel dry, travel light.
Normally, in the world of outdoor clothing, the terms "full-featured" and "lightweight" are mutually exclusive. The Outdoor Research Women's Aspire Gore-Tex Paclite Jacket is the exception to the rule. At just 13 ounces, you'll barely know you're wearing it at all. That is, of course, until the rain starts. The guaranteed waterproof, breathable Gore-Tex Paclite membrane easily shrugs off the storm. Outdoor Research also designed the Aspire with its TorsoFlo venting technology to allow you to dump heat in a hurry without getting soaked. The adjustable hood, cuffs, and hood seal out the weather, and the Aspire stuffs into its own pocket for easy packing once the sun comes out.
Packable weather protection for backpacking and hiking
Waterproof, breathable Gore-Tex membrane for total storm protection
Fully taped seams eliminate waterproof weak spots
Hem-to-underarm vents allow air to flow freely while hiking
Fixed hood for complete upper body protection
Compact design stows away in backpack for easy carrying
Adjustable hem and cuffs allow you to seal out drafts and weather
Women-specific fit has a bulk-free fit and feel
Great quality jacket
Familiarity:

I've put it through the wringer

Fit:

True to size

Size Bought:

Small
This jacket held up amazingly during hours of heavy rain and wind during a 5-day trek. My friends' rainjackets ended up soaking through, and I was completely dry! Highly recommend!
Caroline B.
Height:
5'4"
Excellent rain jacket
Familiarity:

I've put it through the wringer

Fit:

True to size

Size Bought:

small
For years, I have been on the lookout for a rain jacket that's both functional and light. It's surprising how difficult a task that has been! This jacket has checked all of the boxes. I wear it for heavy rain in the city and wore it as a windbreaker while hiking in Patagonia. Its performance has been amazing and it has never let me down: cuffs stay dry, pockets stay dry, it doesn't make a crinkly sound when I move, and doesn't cause a greenhouse effect while wearing. An excellent purchase!
Leslie M.
Height:
5'5"
Weight:
120lbs
Great for rain
Familiarity:

I've used it several times

Fit:

True to size

Size Bought:

Small
I love this jacket as an outer shell but it still provides some warmth too! The hood is one of my favorite parts because it doesn't slide back, it covers your head nicely and sort of has a little visor on it. The cut on the bottom is nice too... I like that the back is cut a bit longer to cover your back if you were to bend down. I'm knocking a star off because it's a little bit stiff in the arms. I find that if I raise my arms it's tight. I wouldn't want to size up though because then it would be baggy.
Morgan
Height:
5'3"
Weight:
110lbs
Great outer shell!
Familiarity:

I've used it several times

Fit:

True to size

Size Bought:

small
Great performance over an extensive hiking vacation. Completely unaffected by brambles/thorns. 5'4 132lbs 36/26/39 small fit well with room for layers; but that was pretty much at the maximum hip-size limit. I don't really understand why so many jackets have drawstrings to tighten them yet are still cut for women without hips~ That said, although I didn't have any room to tighten the bottom it didn't ride up with a base layer and a packable puffer underneath. I feel like the medium would've been too roomy everywhere else.
Desiree C.
Height:
5'4"
Weight:
132lbs
Awesome Rain shell!
Familiarity:

I've used it several times

Fit:

True to size

Size Bought:

Small
I bought this Jacket as a gift for my girlfriend and she LOVES it. The two highlights of the jacket are the breathability and the hood! The hood is big enough to wear a hat under, but small enough that it will not blow off your head, and actually stays very secure in the rain! The jacket is easily breathable enough to hike in, and keeps out that really cold clammy feel you can get wearing shells. The only downside so far has been the main zipper is a bit difficult to start, but it has lasted her a season of teaching in the outdoors in New England!
Zachary Ingrey
Height:
5'4"
Weight:
110lbs
An overall disappointment :/
Familiarity:

I've used it several times

Fit:

True to size

Size Bought:

xl
**** a positive before all the negative: I adored ADORED the poncho side zips, still do. *****



I got this jacket early 2018, to wear on a 9 day/200km hike in the Scottish highlands, in late April 2018.



The morning of day 2 (of 9 days), I went to put my mobile in the pocket after gearing up in waterproofs, it was going to be a rainy day in the hills. I heard a thunk as I walked away, and it was my phone, lying on the scree. I wiped it off, and chastised myself for having mistaken the open poncho zips as my pocket. I put it in my pocket again, and stepped away. Thud. WTF.



Turns out the bottom of the pocket's seam had completely shorn away, I wasn't imagining things. Pissed off to high heaven, as my gloves were using the only other functioning pocket. The gloves got relegated to my pack, and my mobile took over the only other secure pocket. Thank god it was still working.



At the inn that night, I was able to sew the pocket relatively back together, and reinforced the other one just in case. Fine. I'm pissed off, but at least have two working pockets at hand for the 7 days ahead.



Evening of Day 3, the bottom of the main zip was a bit sticky when I went to take it off for the first time that day (meanwhile, I'd rigged rope to my phone that morning in case the *sides* of pockets gave out. Stupid me had forgotten to pack duct tape, not that I should have to be worrying about repairing my rain coat). The jacket suddenly gave way, as well as the metal zip stop at the torso bottom.



F*ck.



Got my needle and thread out again, thinking I'd have to sew the main zip entirely shut for the day ahead, but managed to squeeze enough of the zip together to have it catch and zip up. Only proviso, I would definitely have to put it on and off as a poncho, NOT dare unzip fully, or be faced with being soaked the next day's 24 kilometres.



Huh. I got fricking soaked regardless. Must have been something wrong with that run of Gore-Tex fabric, because it was leeching through by day's end (and continued to, the rest of the 6 days). I emailed Rab UK while crying in my plate of chips, and they wouldn't be able to get me a jacket until another 50 or so kilometres further on, when I was closer to a town. I was well and truly stuck with this Aspire.



Fast forward to when I got back to Canada in May, and filed a Warranty claim. They'd replace it no problem, but didn't have my size left, and "could I wait until the 2019 Aspire jackets come out in September." * the OR fellow I dealt with via email was perfectly pleasant.



"No problem, I'll just wear this jerry-rigged OR jacket for the hikes I have planned this summer, and wait till September. Ugh." I was offered OR credit, but I didn't want a cheaper one, and wasn't about to spend more for a higher-end Outdoor Research. Ideally I'd have got my money back so I could buy a Rab. Alas.



Fast forward a couple of months, I emailed for a new replacement last Tuesday. I was asked if I could email them again on Friday "to remind them," (uh, what?) as they should have stock in by then.



So. I just received my 2019 replacement Aspire, in the red, today. Except, it's really orangey red. Visibly different from the cherry red 2018 I'd initially purchased and loved. And they want me to send back the original FrankenAspire on my dime, about $17 in shipping fees.



Just...No.



So, I'll have to wait a couple of years to justify buying from a different manufacturer. I'm stuck with this orangey red Aspire for now (I do like the new chest pocket). I'll be back in Scotland for two weeks next May, and again in September, and those times I'll remember to wrap duct tape around my poles in case I have to fricking tape myself into the damned thing if bits give out again. I'm crossing my fingers it was an overall shitty manufacturing run, but hopes aren't high.


suzymca1739323
Height:
5'2"
Unanswered Question
I am 5'6" and weigh 138. I want this jacket for general backpacking, canoeing (in October in BWCA) and snowshoeing. I wear 32/30 jeans and size 10(generally). Not sure if I should get M or L. Suggestion? Also for the pants...
Thanks!
Peggy C.
Unanswered Question
Can I get a sizing rec?
37", 33", 37", 5'7"
I have broad shoulders and long arms, and would like to be able to wear a down underneath. Thanks!
-A
amandamc88
Can someone recommend a sizing to me?
bust: 34.5"
waist: 27"
hips: 36.5"
height: 5' 7"
I wear small in most things, but I would want a little room for my nano puff. Is there a lot of give in this jacket? Should I get small or medium?
Alice L.
Alice, a small will work well for you!



Thanks for the question -



Leta

OR Rep
Leta Kalfas
Unanswered Question
Is there some way to secure the hood if it is not used like in biking ( roll it up and secure with a tab) or does it just have to hang? Thanks, Jim
Jim Z.
Any way to get it in the turquoise color shown in the photos above in a small?
Kurt J.
Hi Kurt,

Unfortunately it looks like that color was an older model and we don't have any more ordered to come into stock, sorry about that!
Kayla Weiser
Kings Peak, UT, 13,527'

A friend said "those aren't pit zips, they're hip zips." It's a good description. When the sides are fully unzipped, this jacket provides protection from rain while preventing overheating. I also like that I can unzip the front and sides from the bottom. so the jacket drapes over my pack's hip belt. It's lightweight, packs well, and I love the red color.
Marlo
OR TorsoFlo hem-to-bicep side vent zips
A tip of the hat to Sierra Trading Post for having made a photo available that portrayed at least a portion of the TorsoFlo vent system on this jacket. I'm sure people have pined for such a thing to be made readily accessible.

Photo credit: http://www.sierratradingpost.com/outdoor-research-aspire-gore-tex-paclite-jacket-waterproof-for-women~p~2408w/
James Howard
This jacket seems great for most seasons,...
This jacket seems great for most seasons, especially for layering...but would this jacket be comfortable for use during summer in humid weather? Where I live, we get moderate to heavy rain...the Columbia jacket I have now soaks through. Also, I am a very petite person at only 98lbs and 5'2"..will the XS be too large?
Kersey
Concerning the worry about sizing, would you please provide some more measurements to compare to OR's sizing guide (i.e. bust, waist, hips)?

To digress, as for whether or not this jacket would be comfortable for use in moderate to severe humid regions that are frequented by torrential downpours, I would say that you could make a safe gamble at minimizing (if not altogether eliminating) that problem. The reason I say that is that this jacket has OR's TorsoFlo vent system, so there are zips that go from the lower hem of the jacket up to your bicep; those are really massive vents, relatively speaking, so the worry about overheating while using it should be overwhelmingly attenuated.
James Howard
Outdoor Research Foray and Aspire Jacket
Men's Foray Jacket and Women's Aspire Jacket

The lightweight, waterproof, breathable Outdoor Research men's Foray Jacket and women's Aspire Jacket are GORE-TEX shells with all-season features, and provide solid protection when heavy rain sets in for the long haul. Waterproof and extremely breathable GORE-TEX fabric shrugs off the wear-and-tear of the trail, while TorsoFlo side zippers allow poncho-style ventilation when body heat needs to escape. These backpacking and hiking jackets work as hard as you do, but pack down tight once the weather breaks. Tested by the IFMGA test team and refined in accordance with their feedback, the Outdoor Research Foray Jacket? and Aspire Jacket? are ready to repel even the most inhospitable wet weather.
Outdoor Research