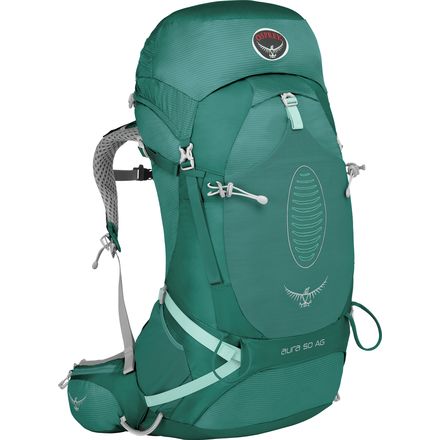 Fit, function, and fantasticalness.
Osprey's Aura AG 50 Women's Backpack checks all the boxes. It fits perfectly, works well, and has just the right amount of gizmos and gadgets to keep you organized and happy. It all starts with Osprey's Anti-Gravy Suspension, which uses a seamless panel of lightweight mesh that extends from the top of the back panel all the way to the hip belt, providing superior ventilation and a fit that's naturally contoured to your back. The upshot is effortless comfort and ventilation, so you can cover ground on multi-day trips without stressing about your pack.
The comfort of the Aura is boosted by the Fit-on-the-Fly hip belt, which allows seamless adjustment of the padded portion—not just the buckle straps—so it rides comfortably on your hips. Internal and external compression straps keep your load from bouncing around, and the removable lid pocket lets you size down if you're looking to travel light and quick. Osprey integrated a special sleeping bag compartment on the bottom of the Aura, included an internal reservoir sleeve, and finished the package off with a compressive FlapJacket back pocket that cinches your load down further and lets you tuck a layer away for easy access. We'd also be remiss not to mention the top and front-panel access points, which let you quickly and easily find gear no matter how deeply it's stashed away.
Women-specific backpack overnight and weekend backpacking trips
Anti-Gravity Suspension system disperses weight to hips
Heavy-duty nylon fabric withstands serious wear and tear
Top and front-panel access for easy packing and access
Fit-on-the-Fly hip belt adjusts to bulky layers while hiking
Sleeping bag compartment helps keep gear organized
Removable top lid doubles as daypack for quick summit bids
FlapJacket back storage and compression panel
Reservoir sleeve allows for quick hydration on the trail
coolio
Familiarity:

I gave it as a gift but have feedback to share
I got this as a gift and she loves it! Used it many times and fits perfect. Super light but is durable! Check size chart of torso measurements is the most effective way to order correct size.
Jessica Callister
This backpack is great! It feels unbelievable. No strain on the back, and planty of space for my gear.
Audrey Lytton
I LOVE this pack! But....
Familiarity:

I've put it through the wringer
I originally purchased this pack because I have had multiple spinal fusion back surgeries and knew the AG system would help make backpacking more comfortable for me. I chose the 50L instead of the 65L so I wouldn't overload and strain my back. I have taken this pack on multiple 3-4 day treks and it has been absolutely wonderful for me... with one exception. The sleeping back compartment is cool.. but it still takes up a ton of room in the pack that could be used for other gear (this happened to me when I realized I couldn't fit my sleeping bag AND my bear box in the pack together). I don't know why the sleeping pad/bag straps aren't on the outside of this pack like other packs from Osprey. I have had to Macgyver some exterior sleeping bag straps which is a bit tedious when trying to pack up quick in the morning. I love this pack so much and it has treated me well, but it would be awesome if Osprey could make this 50L pack with the straps on the outside to maximize space efficiency.
Natalie D.
The Best
Familiarity:

I've put it through the wringer
The anti gravity was a life saver for my trip. I spent a month backpacking through Vietnam at the start of summer. This bag offered awesome support and the compartments are well divided and perfect for staying organized!
Teresa Nguyen
BUY THIS BACKPACK NOW
Familiarity:

I've put it through the wringer
This is by far the most amazing pack I've ever owned. I love ospray and have a few of their other bags. The new anti-gravity system is a game changer. It distributes the weight really well on your hips and is super comfy. The bag is the perfect size for a few day tour in the backcountry. It also has lots of great straps for attaching tent poles / sleeping pad / snow shoes.
Elizabeth S.
Amazing pack
Familiarity:

I've used it once or twice and have initial impressions
I can not say enough about Osprey. I have multiple packs I use for biking, hiking or city travel. Love them all. This particular pack I bought for backpacking hikes here in Texas later in fall and possibly for my trip to Asia next year. I love how every little detail is thought through and I still explore new cool features this pack have. Great organization, lots of packets placed exactly where needed. Good design to fit you hydration kit. The AG does big difference in how this pack feels on your back. I am planning to purchase Osprey airporter to pair it with my pack so I can check it on the airport and not worry about it being damaged.
For reference I'm 5'5" tall, 130 lb, spine length 19" which threw me right in between small and medium. I tried both pack sizes in gear store and decided to go with medium. I love the fit.
Thank you Backcountry for selling the best gear!!!
julinnka
You can't go wrong with Osprey
Familiarity:

I've used it once or twice and have initial impressions
I purchased 2 of these packs for first time backpackers. Osprey offers so many options for adjustments on these packs that they really can and do fit everyone The AG frame allows for breath ability and is very comfortable to wear. The first time out, these packs hiked Mt. Nebo and although part of the trail is in direct sunlight, both people were able to take their packs off and put htem back on without that back 'freeze' from sweat stains. These packs are able to hold at least 25lbs of gear with plenty of room. The hip belt did leave bruises on one user with a very small frame. After molding the hip belt specifically to her, no further bruising occurred. This pack was the perfect purchase for first time backpackers and will most likely be their go too for packs in the future.
Chanae H.
Awesome weekend pack!
Familiarity:

I gave it as a gift but have feedback to share
I got this Osprey pack as a gift and she loves it! The Aura 50 is the perfect pack for a weekend backpacking trip, enough room that you don't have to pack ultra light and not to big and bulky.

Will definitely be purchasing Osprey backpacks in the future.
James McMahon
Love it!
Familiarity:

I've used it several times
I've been needing a good backpacking pack for a while now and I've been looking at a lot to see what I like best and how they fit me, but I always found myself going back to this one! I really like the anti gravity frame. It fits me well. So far I've only did camping trips, it fits all of my gear with no problem. One day I will hike with it and I know that I won't have any issues with this pack. I'm 5'8 and I got a size Medium, it fits me just right. I love ordering from this site! I recommend this pack! If you do order this pack I hope you enjoy it just as much as I do! :)
Jessika F.
Love it!
Familiarity:

I gave it as a gift but have feedback to share
I got this as a gift and she loves it! Used it many times and fits perfect. Holds enough for those long weekend trips!
Casey Jorgensen
Awesome pack, AG frame is the best!
Familiarity:

I've used it several times
The AG frame on this pack is why I love it so much. It gives amazing support, but also the anti gravity frame pulls away from your back and let's your back breathe a bit on long sweaty hikes. Great pack!
Lauren
Hey folks, this is a great video from Osprey that walks you through all of the cool things to look forward to on your new Aura. If you haven't decided to go with the Aura, after watching this, you just might!
Leta Kalfas
Great Pack!
Familiarity:

I've used it several times
This was my first pack. I reviewed various different brands but I am SO happy I picked this one! The Anti-Gravity is amazing!

I used this bag to travel across the country for a business trip that transitioned to camping in Sequoia National Park. I wasn't sure the bag would fit as a carry on but I removed the top lid and had no issues traveling with it.

I am 5'3" and I got the small, the adjustable torso size and the waistband made my cross country journey through airports so much easier and then it was great while I was camping! I also was worried about finding a pack that would be comfortable, I have a large chest and was worried about the fit. I had the bag fully packed and with everything adjusted to my size it fit perfectly and the chest straps didn't give me any unwanted cleavage. I'm so happy with my choice!

Emily Winn
Awesome Weekender Backpack
Familiarity:

I've put it through the wringer
Osprey's Anti-Gravity Suspension system is awesome and in my opinion, well worth the cost of their backpacks! After wearing a couple of different backpacks, from dirt cheap to name brands, Osprey is my now go-to backpack for most of my outdoor needs. The fit and comfort is perfect and the mesh backing keeps my back fairly cool while hiking. Other unisex backpacks I have used have always had issues with the hip belt, but not this pack!
There is plenty of space for all my gear and straps on the outside to attach additional gear, like trekking poles. Generally for a weekender, I carry about 25-30lbs of gear, and have not had any issues fitting all my stuff (including a large 2 person 4 season tent) into my pack. My only grip would be to add sleeping pad straps, for winter camping I like to have both a foam pad and inflatable pad for extra warmth.
I highly recommend this pack to all my friends who are looking to purchase one for the first time!
mountaintopK
Sweet Pack
Familiarity:

I gave it as a gift but have feedback to share
This pack isn't super technical, but it holds all of the features you'll need to enjoy a nice weekend of backpacking! For my GF 45 liters works well and isn't too big of a load for her even if she uses every cubic inch. When we are just doing a day hike the compression straps are awesome to get the bag more low profile. It's durable and decently lightweight and you can't pass up the lifetime warranty from Osprey. The Anti-Gravity is extremely comfortable and BREATHABLE! You will get a less sweaty back with this design that's for sure. The large amount of adjustability on the pack helps you find the perfect fit for your size. Definitely would recommend the Aura to any entry level-intermediate backpackers!
Sam Hurst
Great pack, not really what I wanted
Familiarity:

I've used it once or twice and have initial impressions
This seems like it would be an awesome pack for the serious backpacker, which is not me. I was looking for something for day use for climbing, and this just isn't what this bag is designed for. I will say that it feels really comfy, even under heavy loads, but I could just not get used to the suspension system. I didn't really like how the hip belt clamped down on me, and it had too many bells and whistles. Pack felt a bit too bulky for my taste, but I think it would work well for some. Overall is seemed well constructed with durable material, and some cool features, but just wasn't what I was looking for.
Brenda C.
Does the Aura or Ariel allow for a-frame ski carry?
kjade
Hey Kjade, you can make an a frame carry work, but it wasnt DESIGNED to do it as well as some of our other packs. But it certainly can!



Hope that helps, and Happy New Year!



Leta

Osprey Rep
Leta Kalfas
Is this carry-on size or is it too big?
Callie
Callie, I am so sorry for the delay here. I missed your question. he frame of the Aura 50 is about 25 - 26" tall, which is greater than the 22" max size for carry on. So technically it cannot be carried on. Now.... i have seen way bigger packs carried on without a word from the airlines, but that's a chance you will be taking if you try!



Hope that helps!



Leta

Osprey Rep
Leta Kalfas
What are the dimensions when everything is compressed? Especially minimum height? I'm looking to be able to get a bag I can use as a carry-on (airline recommends ~22x16x9 inches), even if it means initially underfilling it on my there, and checking it on the way back home when I am carrying more. Thanks in advance!
BNash
Hey there - Leta from Osprey here. This will not compress in length. Depending on your size of frame, you are lookng at at or around 30" top to bottom. Again, the length cannot compress, just the width around. Hope that helps!



Leta
Leta Kalfas
Great pack
Familiarity:

I've used it several times
My wife used this pack on a 2 night camping/hiking trip to the summit of Mt. Whitney. It performed admirably. She carried about 25 pounds and was comfortable for the whole trip. The suspension seems to live up to all of the hype.
Edward F.