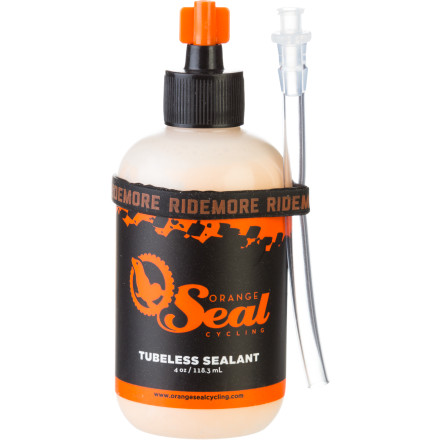 Colors
Nanites are particles of multiple sizes and shapes found in Orange Seal's Sealant, available here with the Twist Lock Injection System. When a tire's casing is compromised, those nanites quickly fill any holes, up to a 1/4-inch in diameter, keeping the air in and you rolling.
While the nanites do the clogging, latex does the sealing, and both of these ingredients are planet friendly and biodegradable. Because Orange Seal is for the cyclist by the cyclist, weight was a major consideration when developing the mixture. Due to this, Orange Seal can boast that 4oz weighs less than 120 grams.
Orange Seal Sealant with Twist Lock Injection System comes in 4- and 8-oz sizes, with the latter being enough for two mountain tires.
Solid sealant!
Familiarity:

I've put it through the wringer
Would definitely recommend! Had a puncture on trail and this sealant held my tire very well. Easy to use and pour in as well.
Jesse Ramirez
Great Sealant! No complaints
Familiarity:

I've used it several times
I have ridden with this sealant for the last 2 months and I have no complaints. It comes will an installation tube which makes installation super clean and easy.
Carly Stark
2500mi over city streets: No Flats
I have used Stan's with tires: Hutchinson Secteur 28, Specialized Roubaix Tubeless, Schwalbe Pro/Pro One with pretty solid results aside from some suspicious signs of corrosion on one alloy wheel and a giant golfball sized glob that dried inside and distorted one tire. Orange Seal is a bit better. Most of the time I don't even notice that my tire has taken a hit and resealed. The color of the sealant is easier to distinguish from grime which helps spot when tires have sprayed sealant. Unlike Stan's my Orange Seal tires don't weep sealant, and I have not had any situations where I had to limp home on residual pressure. I was reluctant at first to try Orange due to its much higher cost. But since it seems to hold as well or better than Stan's, and it doesn't ball up or degrade inside the tire, it seems to last longer. If you do puncture, your frame will tell you (and it peels off just fine).
James B.
Great Product
Familiarity:

I've put it through the wringer
There are a few sealants out there to choose from. I chose this setup because it doesn't gum up in my tires when it should be coating the tire to prevent air from leaving.
Grant
Seals It Up.
Familiarity:

I've put it through the wringer
Seals up tubeless tires and punctures well. Have used this on CX, road, and mtb bikes. Does tend to dry out fairly quickly so check often.
Eric White
Flat-less life
Familiarity:

I've put it through the wringer
I've been running Orange Seal for 3 years with not flats (that I know of and on the bike that I'm running tubeless on). That 's good news. The applicator tip is rungs on the ladder above the other sealant applicators i've used.

Remember to shake well.
Mark VV
Much better than Stans
Familiarity:

I've put it through the wringer
This stuff is great! It's well-worth the higher cost of Stan's as Stan's has compounds (I think it's Nitrogen-based?) that can actually corrode your wheel's spokes/nipples, and having to replace a wheel is far more costly than a little more cost of sealant! I've gotten a few decent-sized tears in my tire and it sealed them up, but I have to say it dried out faster than anticipated - filled one tire back in July and by early Nov it was dry inside.
Jennifer Chase
I have Stan's in my tire. Is it o.k. to put this in my tire in a couple of months?
cookie monster
I wouldn't. These are somewhat different mixes and the old will likely decrease the performance and longevity of the new. Do the smart thing: unmount your tire, wash off all the loose latex and any remaining slop from the wheel and tire, let it dry, then set your tire up using a single sealant that is completely fresh.
James B.
Have not had to use this yet
So I can't say if it works well or not, but I have it when I need it!!
J. Kemple
I wouldn't ride with anything else
Familiarity:

I've put it through the wringer
Ive tried others and can easily say nothing works as good. Other sealant has failed with the same holes that orange sealant comes patches. Ive had this stuff keep me riding through a thorn field and not lose a bit of air. It wasn't until I got home and started picking thorns out of my tires that I noticed how bad it was. It's as easy as a spin of the wheel to seal the holes up.

I have also been out in the desert with a gash in the side wall about an 1/8 of an inch long sealed up.
Mark Eichner
Orange Seal vs Stans
Familiarity:

I've put it through the wringer
There are really only 2 products that I have used with success in tubeless setups. Stans and Orange Seal. I personally think they both are 5 stars as they both execute a good seal with tubeless setups. In my experience Stans seals up nicely and is reliable, however, needs to be replaced more frequently than Orange Seal. Orange Seal is more expensive but lasts longer in the tire. If you get a flat and the stuff gets anywhere on your frame it's super tough to clean off, which is a good testament to how this stuff seals up in a tire. One other difference between Stans and Orange Seal is Stans will produce sealant goblins and tires are a pain to clean out, Orange seal settles over time and will peel out with much less effort. Good things on both products but make sure you choose one or the other as you don't want to blend them.
Bryce Sacks
Sealant Magic?
Familiarity:

I've put it through the wringer
I was an early adopter of tubeless--dating back to ghetto tubeless setups, gorilla tape and homebrew sealants. Years later tubeless is mainstream with purpose built rims and tires and sealant (thank you Stans for paving the way). I've been pleased with Stans for years but bought some orange seal last year on a whim. When a buddy got a small sidewall tear ripping on a downhill last summer, we redosed with stans and tried to inflate again--no luck. Before going through the effort of a tube, we tried my Orange Seal and it plugged the hole. There must be something about the square things in Orange Seal (glitter for you homebrewers???). Anyway--I dislike that OS is more expensive than Stans. But I hate resorting to a tube even more. OS is now in the tires of my bike fleet (including OS Endurance in the bikepack rig, and SubZero in the snow bike). I'm dinging it one star for price.
Josh R
Best New Sealant
Familiarity:

I've used it several times
The best part about this stuff is the little particles that plug up bigger holes. Where Stan's just forms a chunk that eventually blasts through the puncture hole, this stuff seems to seal up more permanently. It will dry out if your tubeless setup is either not sealed properly or you use too thin of a sidewalled tire.

EDIT: Stans race has the hole pluggers, but I still love this stuff.
Zane Dordai
Great so far
Familiarity:

I've used it several times
I have been using this for about a month with no issues. I added it to some road tubes on a commuter bike. I have run over a bunch or goat heads and this has sealed up great. Stans is what I used to the past and so far this is working just as well.
Chris Ringel
I bought this stuff and added 4oz per tire as directed on the instructions. It seated and all was fine. I rode my bike around the block to make sure that everything was good, and then put my bike in my house. I don't have any room in my garage, so I keep my bikes in a spare room. Went to go out for a ride the next weekend only to find my front tire flat. I tried pumping it up with my floor pump, but it was leaking air out of one of the side walls. When I took the wheel off to take to the garage it hit it with the compressor, I noticed there wasn't any liquid noises coming from the tire, so I opened it up to find it was completely dry. Like I never put anything in it.
I don't know what all the hype is about this stuff, but I'll stick with Stan's.
John
I am used to using a turkey syringe to squirt Stan's into my removable valve cores. The orange seal technique is way faster and cleaner. Stan's has been an awesome product and I was reluctant to switch because it's been so reliable, but it dries up quickly in Utah's dry heat and has to be re applied every month and a half or so. I use Orange Seal in my latex tubes for cross racing and in my tubeless MTB tires with carbon rims.
Pete OBrien
How many 29 inch tires does the 8 oz size seal?
los5bruins
I would recommend that you use at least 3-4 oz for a larger volume tire. You can get away with 2 in 26" and 27.5" but anything above a x2.0 size you will want to use more. I would say that this 8 oz bottle will do 2 tires perfectly fine.
Gavin McBride
4 oz per tire. So, (2) 29ers.
Douglas N.