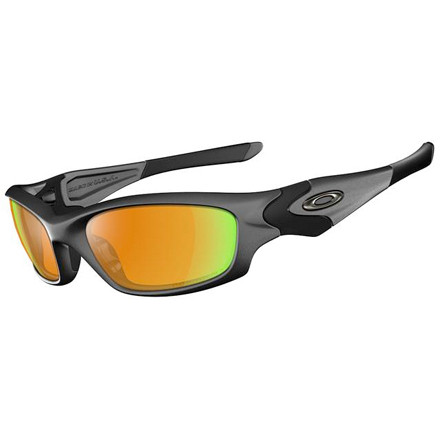 Colors
Fits well
Familiarity:

I've used it once or twice and have initial impressions
nice and snug on your face
Andrew H.
Looks great
Familiarity:

I've used it once or twice and have initial impressions
Looks great havent had any issues
Andrew H.
Great glasses. Look great and stay on my head pretty well when hiking. I love the polarized versions to eliminate glare. I have the Irridium black and they do a great job.
Alexander S
I just got these for a gift, so I'm not going to be able to give them a thorough test. They're both lightweight and sturdy; I could wear these all day without discomfort, and they feel like they'd last forever. And they really are distortion-free, very comfortable on the eyes. I may have to get them for myself.
Gerald E.
Can a RX be inserted into this lens?
Can a RX be inserted into this lens?
George Flores
They sure can be, check out oakley's webpage for the product

http://www.oakley.com/products/5717/19856

"Available with Oakley prescription lenses (+2.00 through -4.00 combined power)"
Andrew McManama
Aiiight... Not only is the Straight Jacket my favorite pair of shades, they are the best pair of shades. Ive gone through 3 pairs, not because they broke because they were misplaced and or stolen.

On top of that I was able to rip Jackson Hole Backcountry on a Blue Bird day wearing these, instead of googles, and they worked great.

On a boat in the summer; great.

At a zoo in the spring; great.

While taking SAT's; great, well probably.

The bronze ones are also my favorite ones they give a great color to the snow in the winter, which companies me well, because i don't like googles.
Ryan Moriarty
Unanswered Question
Does anyone know where to get the side...
Does anyone know where to get the side socks for this version? I have had mine since 2006 and the side socks are just about gone. I have bought the new version socks 4 times because Oakeys online crew cant seem to figure it out.
Harrison
Expensive, but just what I was looking for
After a day on the mountain behind my goggles these things have been awesome to throw on for the ride home. I bought them mostly for being out on the water later this year, so it was a huge surprise how nice polarized lenses are when driving or walking around. After owning them I would gladly purchase another pair.

I bought the rootbeer pair, and the color on my face makes them look like a very subtle black. as opposed to how shiny black the others are.
Walter Joyner
Ordered these sunglasses and got them in a few days shipped to Puerto Rico. Shades are awesome and shipping was fast!. Always have wore Oakley's and always will.
Ed H.
Is there a size difference between the...
Is there a size difference between the polarized Oakley Straight Jackets and the standard Oakley Straight Jacket? I have a larger face and want to make sure I order the appropriate glasses.
chnicho22138370-0
Nope -- polarized vs. standard is just a lens difference. The "Asian fit" version often works for those with a smaller/flatter nose bridge and/or larger head though.
Jeffrey M.
I ordered a pair of these sunglasses with some reservations as to how they would work being that I had never ordered a pair of polarized sunglasses. These glasses work great, they block out the sun better than any other pair of sunglasses I've worn, and at the same time they look really stylish. Awesome pair of sunglasses!
Sixersrule
Field Tested these for Oakley
I remember the day the design team from Oakley sent me the polarized straight jacket and frog skins in the yellow lens, green lens, and black lens. I field tested them in all condition both on the water from sun up to sun down. I was in all weather conditions, overcast, bright sunny days ect. These glasses by far fit the best and gave full wrap around protection. I personally liked the green lens the best, but they are not making them anymore. I use to endorse Revo until Oakley started making the polarized lens, they really do well above the rest because these glasses are designed for the human head with eye protection priority. They are lighter than glass lens and far better for impact protection. Also Oakley has the best customer service. They really stand behind their product, and it is fast and easy to get through the phone to someone without all the messages and instruction. So if you want quality products, quality customer care, after all you only have one pair of eyes, then get yourself not one pair but two pair of the Polarized Oakley sunglasses.
Feel free to contact me with any questions. I do not work for Oakley, just helped them with field testing their lens. flyguide@yahoo.com
Flyguide
Why all this Oakley hype? It´s embarrassing that I wasted all that money on these crappy shades. They slip all over my face when it gets sweaty, and the iridium coating wears off-I´ve had 2 pairs off my warranty. And cleaning them off is not something you want to try without having hot water&soap at hand. But the transmission is OK, though.
skibum
Outstanding optical clarity and no distortion. I've used these glasses for a couple of weeks on a ski trip to Alta and steelhead fishing in PA. They are the best polarized sunglasses I have ever owned and also look really good. The polarized lenses are definitely a cut above non-polarized versions of the same sunglass as far as glare reduction and being able to see into water. If you can afford it, you won't be disappointed.
Andrejs Plume
Oakley Straightjackets - Very Cool!!
These shades are extremely stylish and do a great job of cutting glare without distortion. They are also very comfortable - so light that you hardly notice you're wearing them. They are a little pricey, but I highly recommend them for anyone looking for a serious pair of sunglasses.
Mike W.