Oakley

Frogskins Urban Jungle Collection Sunglasses
Item #OAK015W
Oakley
Lens Tints
RATE OF TRANSMISSION
CONTRAST
PROTECTION INDEX
CONDITIONS
STANDARD SUNGLASSES
CLEAR
93%
neutral
0
low light
RUBY CLEAR IRIDIUM®*
92%
increased
0
low light
YELLOW
90%
increased
0
low light
HIGH INTENSITY YELLOW IRIDIUM®*
86%
increased
0
low light
PINK IRIDIUM®*
68%
increased
1
low light
PERSIMMON
61%
increased
1
low light
HIGH INTENSITY PERSIMMON IRIDIUM®*
59%
increased
1
low light
TITANIUM CLEAR IRIDIUM®*
54%
neutral
1
low light
GOLD CLEAR IRIDIUM®*
53%
increased
1
low light
BLACK PERSIMMON IRIDIUM®*
44%
increased
2
flat to low light
VR50™ PINK IRIDIUM®*
43%
increased
2
flat to low light
LIGHT RED® IRIDIUM®*
40%
increased
2
flat to low light
G40™
40%
increased
2
flat to low light
P42®IRIDIUM®*
40%
increased
2
flat to low light
EMERALD SLATE IRIDIUM®*
32%
neutral
2
flat to low light
G30™* IRIDIUM®*
30%
increased (golf specific)
2
flat to low light
VR28®
28%
increased
2
flat to low light
G26™IRIDIUM®*
26%
increased (shooting specific)
2
flat to low light
VR28® BLUE IRIDIUM®*
26%
increased
2
flat to low light
G30™ BLACK IRIDIUM®*
25%
increased
2
flat to low light
SLATE IRIDIUM®*
23%
neutral
2
flat to low light
VR35™ GOLD IRIDIUM®*
23%
increased
2
flat to low light
BRONZE
22%
increased
2
flat to low light
GREY
17%
neutral
3
bright light
+RED® IRIDIUM®*
17%
increased
3
bright light
VR28® BLACK IRIDIUM®*
17%
increased
3
bright light
VR28®* GOLD IRIDIUM®*
17%
increased
3
bright light
JADE IRIDIUM®*
17%
increased
3
bright light
FIRE IRIDIUM®*
16%
increased
3
bright light
RUBY IRIDIUM®**
16%
neutral
3
bright light
G20 BLACK IRIDIUM®*
15%
increased
3
bright light
BLUE IRIDIUM®*
15%
increased
3
bright light
VIOLET IRIDIUM®*
14%
increased
3
bright light
CHROME IRIDIUM®*
14%
neutral
3
bright light
TUNGSTEN IRIDIUM®*
13%
increased
3
bright light
EMERALD IRIDIUM®*
13%
neutral
3
bright light
GOLD IRIDIUM®*
12%
increased
3
intense sun
DARK BRONZE
12%
increased
3
intense sun
WARM GREY
12%
increased
3
intense sun
24K IRIDIUM®*
11%
increased
3
bright light
TITANIUM IRIDIUM®*
10%
increased
3
intense sun
ICE IRIDIUM®*
10%
neutral
3
intense sun
BLACK IRIDIUM®*
10%
neutral
3
intense sun
DARK GREY
10%
neutral
3
intense sun
RATE OF TRANSMISSION
CONTRAST
PROTECTION INDEX
CONDITIONS
GRADIENT SUNGLASSES
BROWN GRADIENT
38%
increased
2
flat to low light
BLACK GRADIENT
35%
neutral
2
flat to low light
BLACK VIOLET GRADIENT
26%
increased
2
medium light
VR50™ BROWN GRADIENT
25%
increased
2
medium light
DARK BROWN GRADIENT
24%
increased
2
medium light
G40™ BLACK GRADIENT
22%
increased
2
medium light
BLACK GREY GRADIENT
24%
neutral
2
bright light
RATE OF TRANSMISSION
CONTRAST
PROTECTION INDEX
CONDITIONS
PRIZM™
PRIZM™ TRAIL
36%
increased
2
PRIZM™ GOLF
30%
increased
2
PRIZM™ ROAD
20%
increased
2
PRIZM™ FIELD
15%
increased
3
PRIZM™ SHALLOW WATER POLARIZED
15%
increased
3
PRIZM™ DAILY POLARIZED
14%
increased
3
PRIZM™ SNOW
13% +/- 5%
increased
3
PRIZM™ DEEP WATER POLARIZED
12%
increased
3
RATE OF TRANSMISSION
CONTRAST
PROTECTION INDEX
CONDITIONS
POLARIZED SUNGLASSES
LIGHT GREY POLARIZED
35%
neutral
2
medium light
AMBER POLARIZED**
30%
increased
2
medium light
00® GREY POLARIZED
20%
increased
2
medium light
AMBER BLACK IRIDIUM®* POLARIZED
18%
neutral
3
medium light
SHALLOW BLUE™ IRIDIUM®* POLARIZED
21%
increased (angling specific)
2
bright light
00® RED IRIDIUM®* POLARIZED**
20%
increased
2
bright light
BRONZE POLARIZED
19%
increased
2
bright light
+RED® IRIDIUM®* POLARIZED
18%
increased
2
bright light
GREY POLARIZED
17%
neutral
3
bright light
DEEP BLUE™ IRIDIUM®* POLARIZED
17%
neutral(angling specific)
3
intense sun
VR28®* POLARIZED
17%
increased
3
bright light
FIRE IRIDIUM®* POLARIZED
16%
increased
3
intense sun
GREY GRADIENT®* POLARIZED
15%
neutral
3
intense sun
VIOLETIRIDIUM®* POLARIZED
14%
neutral
3
bright light
CHROMEIRIDIUM®* POLARIZED
14%
neutral
3
bright light
G30™ IRIDIUM®* POLARIZED
14%
increased
3
intense sun
VR28® BLUE IRIDIUM®* POLARIZED
14%
increased
3
bright light
EMERALD IRIDIUM®* POLARIZED
13%
neutral
3
bright light
TUNGSTEN IRIDIUM®* POLARIZED
13%
increased
3
bright light
00 BLUE IRIDIUM®* POLARIZED
13%
increased
3
intense sun
SAPPHIRE IRIDIUM®* POLARIZED
13%
neutral
3
bright light
TITANIUM IRIDIUM®* POLARIZED
12%
increased
3
bright light
24K IRIDIUM®* POLARIZED
11%
bright light
3
intense sun
VR28® GOLD IRIDIUM®* POLARIZED
11%
increased
3
intense sun
BROWN GRADIENT®* POLARIZED
10%
increased
3
intense sun
00® BLACK IRIDIUM®* POLARIZED
10%
increased
3
intense sun
VR28® BLACK IRIDIUM®* POLARIZED
10%
increased
3
intense sun
ICE IRIDIUM®* POLARIZED
9%
neutral
3
intense sun
BLACK IRIDIUM®* POLARIZED
9%
neutral
3
intense sun
GOLD IRIDIUM®* POLARIZED
9%
increased
3
intense sun
RATE OF TRANSMISSION
CONTRAST
PROTECTION INDEX
CONDITIONS
PHOTOCHROMIC SUNGLASSES
VR50™
50%
increased
1
flat to low light
ACTIVATED
10%
3
intense sun
CLEAR BLACK IRIDIUM®*
69%
neutral
1
flat to low light
ACTIVATED
23%
2
sunny
RATE OF TRANSMISSION
CONTRAST
PROTECTION INDEX
CONDITIONS
TRANSITIONS SUNGLASSES
LIGHT GREY
38%
neutral
2
partly cloudy
ACTIVATED
8%
3
intense sun
G40™
40%
increased
2
partly cloudy
ACTIVATED
8%
3
intense sun
VR50™
50%
increased
1
flat to low light
ACTIVATED
10%
3
intense sun
CLEAR BLACK IRIDIUM®*
69%
increased
1
flat to low light
ACTIVATED
23%
2
intense sun
RATE OF TRANSMISSION
CONTRAST
PROTECTION INDEX
CONDITIONS
SNOW GOGGLES
BLACK IRIDIUM®
15%
increased
3
medium to bright light
BLUE
N/A
increased
N/A
flat to low light
GOLD CLEAR
N/A
increased
N/A
flat to low light
GOLD IRIDIUM®
22%
increased
1
medium to bright light
RUBY CLEAR
67%
increased
2
low light
VR50™ EMERALD IRIDIUM®
30%
increased
2
medium to bright light
PERSIMMON
55%
neutral
1
flat to low light
Protection Index (in compliance with the standard PrEN 1836)

Index 0: aesthetic, very low protection
Index 1: for weak sun luminosity
Index 2: for average sun luminosity
Index 3: for strong sun luminosity

*Iridium lens coatings reduce glare while balancing light transmission and color recognition in every type of weather.

**THIS TINT IS NOT APPROPRIATE FOR DRIVING
Select style & size:
Select options
Select options

Matte Clear/Chrome Iridium, One Size

Sale:$48.00
Tech Specs
Case Included:
yes, microbag
Manufacturer Warranty:
1 year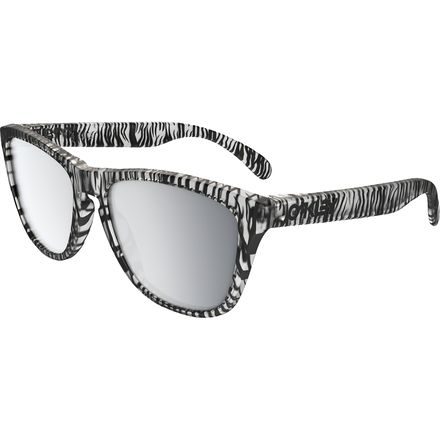 Colors

Detail Images
Better than aiight.
Anyone who remembers the good old days from the 1990s knows how influential the Oakley Frogskins Sunglasses were from the Urban Jungle Collection, which is why Oakley reinvented them. Way more bomb dot com than gigantic blue jeans and boy bands combined, these sunglasses have a stylish O Matter frame and light Three-Point Fit. They are also made with crisp Plutonite lens and include a soft microbag.
Proposition 65 Warning for California Consumers: This product contains chemicals known to the State of California to cause cancer and/or birth defects or other reproductive harm.
Plutonite lens
O Matter frame
Three-Point Fit
Included microbag