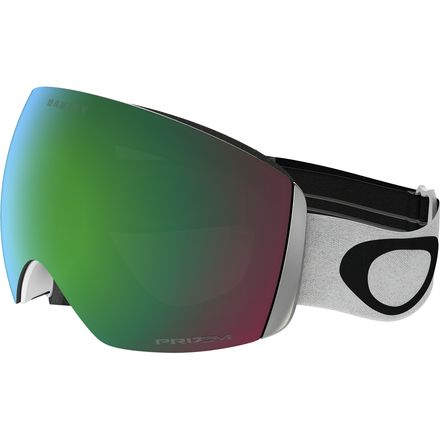 Colors

Detail Images
Spot your landings with precision.
Realizing that its athletes spend the majority of their time in the air, Oakley drew inspiration from fighter pilot helmets to provide its airborne elite with the optics they need to spot landings with precision. The Flight Deck Prizm Goggle sports an expanded lens volume to optimize peripheral vision, and it's situated on the low-profile Ridgelock sub-frame that allows for quick lens switching as light conditions change.
The Plutonite lens material blocks 100% of UV rays and features Prizm technology designed to provide excellent light transmission for optimizing contrast and visibility. Triple-layer face foam keeps them comfortable enough for all day wear, and the dual ventilated lens, along with an anti-fog coating, keeps your field of vision clear on muggy storm days. So when you finally get tired of blaming your goggles for not sticking your landings; pull on the Oakley Flight Decks.
Proposition 65 Warning for California Consumers: This product contains chemicals known to the State of California to cause cancer and/or birth defects or other reproductive harm.
UV-blocking Plutonite lens with integrated Prizm technology
F3 anti-fog coating
Expanded lens volume
Dual vented lenses
Standard fit
Low-profile frame design
Compatible with most prescription frames
Iridium glare reduction lens coating optional
Please see size chart for information on lens options
Solid optics
Familiarity:

I gave it as a gift but have feedback to share
Gave this as a gift to my brother in law - he's hyped on the optics and fit of the goggle itself. He did mention that the goggles are somewhat clunky when it comes to swapping lenses. I have never done it on these goggles, so it could just be user error.
Sunn Kim
Need it, Want it, DO IT!
Familiarity:

I've put it through the wringer
Do you NEED proper protection from the sun with ideal contrasting superior from regular shaded lenses?
Then you will WANT the newest Prizm lenses from Oakley. These lenses are perfect for 80% of conditions in the snow. From Bluebird skies to light snow, The Jade, Sapphire and Torch Iridium will get you set up. Have a bright day? Get the dark lens, have a whiteout day? get the hi--pink lens. You can't go wrong with this set up with an extra, low light lens on the side.
The XM size is ideal for the smaller of faces as well. Women love this size.
DO IT!!!
Travis Flitton
Awesome Goggles
Familiarity:

I've put it through the wringer
Oakley makes great goggles. The flight deck is no different. The peripheral vision in this goggle is amazing. Even though the goggles have an oversized fit they fit perfectly with my Smith Vantage helmet.
Aaron Provine
awesome goggles
Familiarity:

I've used it several times
These are amazing goggles for the mountain. Its like UHD for your eyes. I can see so well with these and are also very comfy
Brian Scholl
Favorite Goggles
Familiarity:

I've used it several times
These goggles are awesome. I've used them on bluebird days and during whiteout conditions. They don't fog up at all which has always been my biggest issue with goggles. I'd highly recommend these, the quality is hard to beat.
Paige Carter
great style, performance is top notch
Familiarity:

I've used it once or twice and have initial impressions
Great looking goggles. They look so good, they are very clear and they fit the face well. They are a good fit with most helmets.
Nick Cowin
No Complaints!
Familiarity:

I've used it once or twice and have initial impressions
My sister loves these. Has used them only once or twice, but they fit her face well, they don't fog up, and the view is crystal clear in all conditions so far.
Carly Mueller
Nothing Better
Familiarity:

I've put it through the wringer
I've owned the flight decks for a few years now and they're by far the best goggle I've owned. I love the super wide range of view, they're crystal clear, and the prizm snow lens that I recently picked up to toss in them make them pick up every little detail and contrast in the snow! They also integrate perfectly with most Smith helmets. I have the prizm jade lenses and they've been so great. Would highly recommend giving the flight decks a go, you will not be disappointed!
Caleb Lecker
Best Goggles I Have Owned
Familiarity:

I've used it several times
In my opinion, a good pair of goggles can make or break a day on the mountain. I have tried them all and nothing compares to the satisfaction I have experienced with these goggles. I simply cannot get enough of their quality
Chris Jacks
Great Goggles
Familiarity:

I've used it once or twice and have initial impressions
Lightweight, great quality and look good. What are do you need?!
Brandon H.
Oakley knows what they're doin!!
Lightweight, great visibility and an excellent stylish design! What else do you expect from Oakley?
D Trent Childs
This Tech is no joke
Familiarity:

I've put it through the wringer
Oakley has been developing this technology for roughly 15 years. The same tech that goes into the prizm is also used in helmets designed for pilots in our armed services. These goggles will offer the user a more defined view of the mountain as it optimizes lights in colors that our eyes cannot naturally filter. By doing so it allows us to see definition in the snow and terrain giving us the ability to see more of the mountain. I love the fit on the flight deck, they seal against my helmet reducing drafts. The goggles don't fog up unless there is excess moisture. I have 2 pairs to rotate every other day so they can dry out appropriately. The other nice feature of these is the silicone inner band on the strap. This allows them to get a superior grip on your helmet keeping them in place for hours of skiing. The foam outlay is soft and plush and does not abrade against the skin of your face. This particular goggle is best for larger framed faces however, I have a pretty narrow face and make it work just fine. Long story short, if your looking for greater vision on the mountain, than this is going to be the answer for you for most if not all of your snow needs.
JP Rambo
See EVERYTHING
Familiarity:

I've put it through the wringer
My favorite part about these goggles is how well you can see everything. I have never had a pair of goggles that I can see just about a full 180 degrees of vision without any frame or side obstructing my view.



Oakley has consistently produced world class skiing and snowboarding goggles for years so their performance and style is really no surprise to me. I went with the black and Hi Pink Prizm lens options. I would HIGHLY recommend having at least two lenses to swap in and out depending on what kind of day on the mountain it is (storm day v. blue bird).



These are a large frame so if you aren't comfortable in large frame glasses or have a slightly large face size, I would size down to the XM's.



Questions on lens options, whether you need to go with the flight decks or flight deck XM's? Hit me up and I'll get you dialed in.
Zach Lassek
Girlfriend is Stoked
Familiarity:

I gave it as a gift but have feedback to share
I gave these to my girlfriend as a gift and she is loving them. She reports they are comfy and the vision is great with the prizm lens.

They look great too, she's relatively small so they are definitely pushing the limits of being too big for her, but they work. Great thing is they fit me too, so I can steal them when she isn't riding :)

I'm assuming quality will be great considering I still use my Oakley Crowbars that are going on 5 seasons old and going strong.
Vinny Mauro
Super Sick!
Familiarity:

I've used it once or twice and have initial impressions
The flight deck is one of the largest frame goggles on the market, you get a very large field of view. Not only that you get a fantastic lens with Prizm technology for color clarity and reduced glare. The flight deck looks great and performs great, the only reason this gets 4 stars is because changing lenses isn't very easy, other than that these goggles are super sick!
Samuel Nichols
How to change lenses
Familiarity:

I've used it several times
It took me a few tries to understand how to pop out the lenses on these goggles and get them back in. The lens and the frame fit together like a zip lock bag with little tabs. Just follow the steps below.

Step 1: Grab the goggle by the outside of the lens

Step 2: Pop out the tab at the top of the goggle right above the Oakley logo by gently pulling up on the rubber tab at the top of the frame

Step 3: Work your way around the outside of the goggle, carefully popping out the tabs, finishing with the last tab in the center of the nose bridge.

Step 4: To reinsert the lens just reverse the process. start with the center of the nose bridge and work your way around, making sure all tabs click into place for a flush fit, finishing with the top tab.
Nicholas Dey
Real life HD
Familiarity:

I've used it several times
Puts other goggles I've used in the past to shame. Great vision quality, and love the design (no rim around the edge).
Gabe
Big Face, without a trace
Familiarity:

I've put it through the wringer
Fit my big face awesome. and give an excellent profile of view!
Alex Quitiquit
Great Goggles but Scratch easily
These are amazing Goggles but they scratch very easy. The first day I used them I got two scratches very fast. Both scratches not related to snowboarding accidents just common wear .
Darren A.
Oakley Flight Deck with PRIZM Lens
Familiarity:

I've put it through the wringer
Holy crap! These are, hands down, the best goggle on the market. I rode in full sun, shade and flat light. I lifted them from my eyes to see what difference they made. I knew the flat light was being filtered, but not like I thought. It was like night and day. I am so happy I have these in my possession.
Vance M.