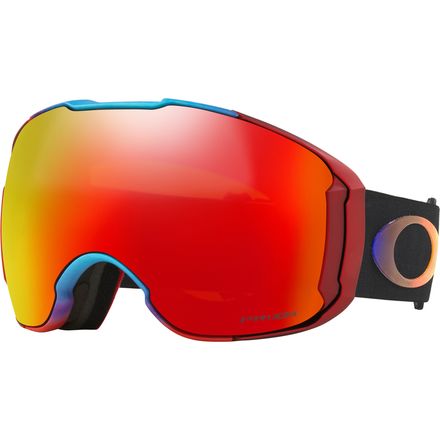 Colors

Detail Images
Uncompromising vision for high-stakes riding.
From pro-sized parks to heli-accessed lines, the Oakley Airbrake XL Prizm Goggle delivers uncompromising vision with its oversized design and color-boosting Prizm lens. SwitchLock technology promotes convenient lens swapping when stormy conditions barrel down on your local mountain. Taking advantage of SwitchLock, the Airbrake XL comes with a second Prizm lens for quickly adjusting to variable alpine conditions.
Prizm works by emphasizing colors where the eye is most sensitive to detail, allowing you to visualize nuances in terrain and features lurking just beneath the snow, even in glaring-bright conditions. Adding to Prizm's exceptional clarity, the F3 anti-fog coating prevents condensation from obscuring vision during socked-in storms and soggy spring days.

Proposition 65 Warning for California Consumers: This product contains chemicals known to the State of California to cause cancer and/or birth defects or other reproductive harm.
Oversized Airbrake goggle with Prizm lens technology
Prizm lens boosts contrast for uncompromising acuity
Rigid exoskeleton with flexible O Matter faceplate
Switch Lock technology allows for rapid lens swapping
Outrigger frame attachments for helmet integration
Bonus Prizm lens included
More pro than con, strong google overall
Familiarity:

I've used it several times
I've had these googles out on the mountain all season (14 days of skiing in various conditions) - I've also tried 4 lenses (due to an exchange): black matte lens/rose lenses and swapped them out for the sapphire/pink prism. I wish you could make custom lens combos, because I would prefer the (impossible) sapphire/rose option - the rose were hands-down the best low-light lenses I've ever used.
PROs: super cool look, great feel, excellent peripheral visibility, easy lens switch, and they don't fog/freeze up, stellar lens quality in terms of visibility/snow-sight. Also, I learned the hard way that they are strong - I took a direct face shot on a rock; the lenses took a mighty scratch, saving me from what would have otherwise definitely been a deadly blow.
CONs: the lens has popped on me once on the slopes - I noticed it right away, stopped and it was back in with no issues in 2 secs (and I didn't even need to take off my gloves bc they're so easy to swap), and the air gap other reviews mentioned is an interesting change from what most of us are used to. For sure, this is why the googles don't fog up, but also makes it slightly colder in terms of the face-feel, but I don't think it's problematic (assuming you ski.board with a helmet and a face mask on colder (ski) days). Although, I also mountaineer and I wouldn't bring these with me on Denali. Getting snow in them however has NOT been an issue.
Ashley T.
Negative 5 Stars If I Could
Familiarity:

I've used it several times
I have the Canopy, Flight Decks, Generation 1 of Airbrakes, and these XL Airbrakes should not be sold to anyone. These seem to be cheaply made, the plastic frame can easily be pulled apart with the two tab that keep the frame together. Snow from deep powder runs makes it into the goggle which then freezes to the inside of your lens. There are gaps between the lens and the frame that allow air and snow to get inside the frame while you are skiing or shredding. I am surprised that this Oakley Product made it to the retail floor!! Do Not Buy the XL Airbrakes!! They look dope, make a seamless fit between helmet and Goggle but do not perform well enough to walk out of the store after paying the retail or sale price. A pair of $60 goggles would work better. Do not Buy these! Will add pictures later.
Natedogg
Faceshots will find their way in
Familiarity:

I've put it through the wringer
CON: Doesn't seem to have a fully sealed lens system. Since it just kinda clicks in on the two sides seems like theres a small air gap around the lens. After getting faceshots snow has been finding it's way into the goggle. Not that you can complain on a day that warrants faceshots but this might get annoying over time. Side note, get the High Pink Prizm for low light, the one it comes with really didn't seem to be much different then the sun lens.

PRO: Great peripheral, sytle and fit is great. WIder nose gap is awesome since doesn't seem to put extra pressure on the nasal airway like some goggles can. Quality built.

Overall pretty stoked on it just the one issue of the snow creeping in.
McFarty
Great goggle from a great company
Familiarity:

I've put it through the wringer
The field of vision is huge on these goggles, and the pivoting point where the strap and goggle come together is a huge bonus, makes the goggle sit so much ergonomically on the face. The ease of switching lenses with the crystal clear prism technology 🙌 I love these goggles!!
Calvin
Sweet Goggles!
Familiarity:

I've used it once or twice and have initial impressions
The style of these goggles is what drew me to them but the fit and lens quality is just as impressive. The early season conditions have been funky with sun, snow, and snow guns blowing in your face.. these goggles have been great through it all so far.
CJ Brish
Great Looking Goggles
Familiarity:

I gave it as a gift but have feedback to share
Bought this as a gift for my brother for his birthday and he loves them. They look great, the optics are fantastic, and they fit well even with his Smith helmet.
Ari
OK but a couple things...
Familiarity:

I've used it several times
I ordered online, so sight unseen, based on reviews and specs. I was looking for low light/flat light lens and got the Prizm Pink. It is OK but nothing remarkable in my opinion. Two things about the goggles I don't like so much: 1. if you flex the frame too much, one side of the lens pops out so you have to be careful when stretching them over the helmet. Downside of removable lens I guess. So that in and of itself makes them feel fragile - many times I have popped the lens. 2nd, the strap buckle hits right at the helmet secure point. Not a big deal, just all of the above add up to a less than perfect goggle for a lot of money. On the positive side they don't fog up, though in that regard they also seem to let in more cold air to the face and eyes than my previous goggles.
John S.
Oakley Airbrake XL
Familiarity:

I've used it several times
This review is on the Machinist version of the goggles, comes with aluminum Oakley badges attached to the headband, which took a little bit getting used to at first but were not noticeable after first day of use.
The goggles are awesome! And very big on the face. I did not have a single fog up problem using them in mid 20s to low 30s temps @ Steamboat.
Peripheral vision is great with these goggles, you don't realize how much tunnel vision you get with standard size models until you try these out.
My Prizm lenses that came with the goggles are the Black and the Rose. The black were great on very bright days, but tough to see detail in the snow if it was even a little overcast out. The Rose are an incredible lens! Really help you pick out the bumps in even sunny conditions without being "too bright". I will most likely keep the Rose on full time but switching lenses takes less than a minute so no worries.
Highly recommend these Oakley goggles, price point would be the only negative. You can save a bunch if you get a pair with only one lens.
Matthew S.
Oakley Airbrake XL Prizm Goggle
Familiarity:

I've used it several times
Fit perfectly, clear vision, and a very very comfortable fit on top of the nose that locks in so smooth you can't even feel it's there. But they stick to your face like glue without any pressure.
Brian F
Best looking Goggles on the mountain...
Familiarity:

I've used it several times
I purchased the Oakley Airbrake XL Prizm Engine Room Special Edition goggles. I must say these are the best goggles I own. I own four other pairs of goggles from Anon, Spy and Zeal and these are absolutely incredible. The field of vision is superlative to other goggles and the Prizm technology from Oakley allows me to see things much more clearly. I've been riding pretty heavy this season in all lighting conditions and these have not disappointed me in any way. The lens changing system is extremely fast and easy to use. The goggles fit perfectly with the Oakley Mod5 Helmet as well. Every time I'm out on the mountain everyone wants to know where I got my goggles. I highly recommend these to any serious rider out there.
Bryan Caudill
perfect
Familiarity:

I've used it once or twice and have initial impressions
I love these goggles so much. The rimless design looks incredible.
Maria B.
Pretty cool
Familiarity:

I gave it as a gift but have feedback to share
Visibility is amazing in all light, Great fit. frame could be a little sturdier, they're soft to the point where snow can get in between the lenses and the frame. Easy fog when hiking
Patrick W.
These goggles are legit
Familiarity:

I've used it once or twice and have initial impressions
Oakley has some of the sickest goggles around. The airbrakes are a favorite of mine but these new XL's w/ Prizm lenses take the cake. I thought it was a gimmick but the prizm lenses offer a killer and clear view of the mountain in all conditions. The baked on mirror finish won't rub off after a fews wipes and the foam is as soft as kitty fur. You want killer goggles?!? Get these!
Jesse Ulibarri
Beyond your imagination
Familiarity:

I've used it several times
More cheap ski goggles, missed the lost
https://www.amazon.com/Benice-Goggles-coating-Anti-Fog-Protection/dp/B01C02JPOM/ref=sr_1_1?ie=UTF8&qid=1481608313&sr=8-1&keywords=benice&th=1
paddy