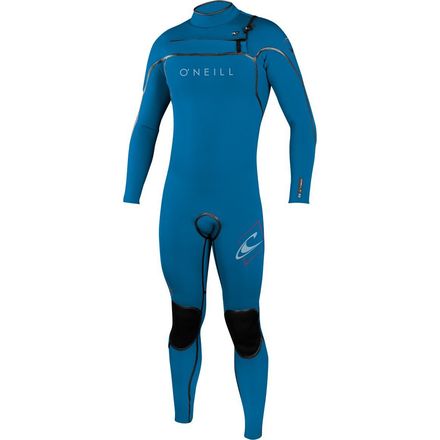 Colors

Detail Images
Insane stretch, crazy comfort.
There's nothing crazy about spending eight straight hours in the water when you're surfing in the O'Neill Men's Psycho One F.U.Z.E. FSW Full Suit. That's because this lightweight, stretchy, and quick-drying suit is made with ultra-soft and -smooth Technobutter 2 neoprene, as well as a host of other comfort- and performance-enhancing features that keep your mind on the waves in front of you instead of on that old, uncomfortable excuse for a wetsuit currently hanging in your garage.
Technobutter 2 neoprene is incredibly stretchy and lightweight, not to mention luxuriously smooth, and Technobutter 2 Air Firewall in the chest traps more heat in your core, where you need it most, so you stay warmer without having to wear a thicker suit. Single Fluid seam weld technology prevents water entry without restricting mobility. To further limit flushing, O'Neill equipped this suit with a Double Super Seal neck, Super Seal cuffs, and Plasma ankle seals so rushes of cold water don't send you into shock.
In the same way hallucinogens expand your mind (or so we're told), O'Neill's LSD (Lumbar Seamless Design) uses a large panel in the rear area of the wetsuit to expand your range of motion. The F.U.Z.E. chest entry system offers easy on-and-off, minimal bulk, wide adjustability, and stretch. Krypto knee pads enhance durability and offer improved comfort, and an integrated key pocket ensures your car or hotel key doesn't end up on the ocean floor.
Technobutter 2 neoprene
TechnoButter 2 Air Firewall neoprene panel
Single Fluid seam weld technology
Strategic seamless paddle zones
LSD: Lumbar Seamless Design
F.U.Z.E. closure system
Double Super Seal neck, Super Seal cuffs, and Plasma ankle seals
Krypto Knee Padz
External key pocket with loop