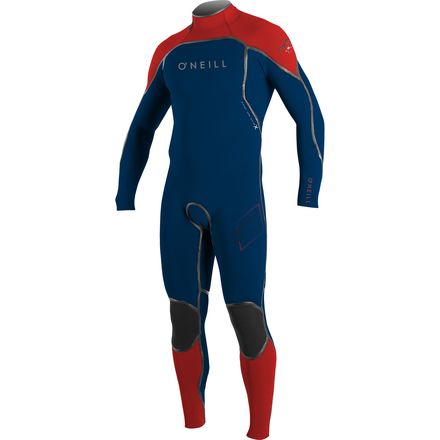 Crazy good.
The name of O'Neill's Psycho 1 Z.E.N. Zip 4/3 FSW Youth Wetsuit might be a little long, but the suit is so warm and comfortable that some complicated pronunciation is worth the trouble. O'Neill made it from warm, stretchy, and quick-drying TechnoButter neoprene, finished the seams off with a Single Fluid weld for durability and comfort, and included a Double Super Seal neck and Super Seal cuffs to prevent flushing and improve the Psycho 1's waterproofing. O'Neill even integrated Plasma seals as an extra watertight layer at the ankles and wrists.
The Psycho 1 is warm and dry, but it's also highly flexible, thanks to seamless Contortionist shoulders and strategic seamless paddle zones that make long hours in the water easy and comfortable. The Z.E.N back zip is easy to use and has a drain hole to quickly shed water, and O'Neill integrated an external key pocket, so the kids don't get locked out of the house when they cruise down to the beach for a morning surf sesh.
TechnoButter neoprene
Single Fluid welded seams
Double Super Seal neck closure
Super Seal cuffs with Plasma wrist and ankle seals
Z.E.N back zip with drainholes
Contortionist seamless shoulders
Strategic seamless paddle zones
External key pocket
My son tested this wetsuit out in the 34.5 degree Fahrenheit whitewater of the New River this past weekend. We surfed in the rapids for over 3.5 hours both Saturday and Sunday. The suit combined with his neoprene hood, mittens and booties kept him very comfortable. The water was super cold and every roll was like taking a Slurpee to the face.
Ben Brown
Bought this suit for my 12 year old son to paddle whitewater in this winter, spring and hopefully this fall. The twelve fit him very well, he's about 5'1 and about 87 lbs. He says it is easy to move in and is very comfortable. I'm impressed with the attention to detail and seam work.
Ben Brown